The Minister of Health, Yang Berhormat Dr. Zaliha Mustafa, and Malaysia Healthcare Travel Council (MHTC) announced four (4) shortlisted finalists for Malaysia's first-of-its-kind Flagship Medical Tourism Hospital Programme, namely Institut Jantung Negara, Island Hospital, Mahkota Medical Centre and Subang Jaya Medical Centre. The shortlisted finalists were carefully selected through an extensive and rigorous qualifying process in 2022 that involved data analysis and on-site assessments. Further to this, the finalists are advancing into the next phase of the programme, the Acceleration Period, which will continuously assess their growth and development against best practices and benchmarks in medical and service excellence, as well as international branding, over a three-year period.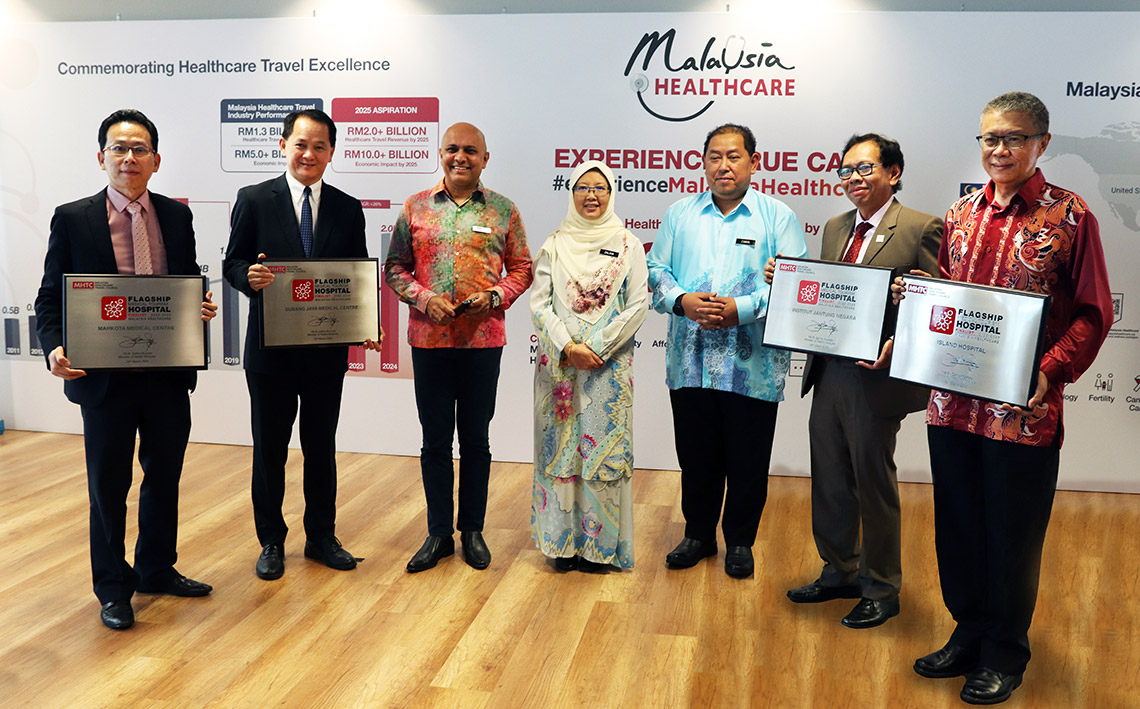 An integral part of the five-year Malaysia Healthcare Travel Industry Blueprint, the Flagship Medical Tourism Hospital Programme plays an instrumental role in transforming the healthcare ecosystem in Malaysia and the region. Through this programme, the country's top hospitals are intensifying their commitment and endeavours to raise the bar of excellence in delivering exceptional end-to-end services to their patients, further reinforcing Malaysia's position as a safe and trusted destination for healthcare.
In support of the growth plan during the Acceleration Period 2023-2025, the shortlisted finalists will be granted several incentives. These incentives include fast track facilitation to support the development milestones, flexibility of testing concepts with healthcare technology sandbox, access to programme mentors/ advisors that will assist with programme development, progress assessment and monitoring, as well as a special Investment Tax Allowance (ITA) for qualifying capital expenditures.
"I trust that the Flagship programme will promote innovation and excellence in medical services and bring us closer to achieving a more resilient healthcare system for the country and establish Malaysia Healthcare as a world-renowned and credible global healthcare brand. To this end, I am pleased to announce the provision of a Special Investment Tax Allowance (ITA) for the Flagship Medical Tourism Hospital Programme finalists, which will enable our shortlisted hospitals with the resources to make qualifying capital expenditures to support their growth plans during the acceleration period from 2023 to 2025. This special ITA will include technology investments aimed at driving digital transformation in healthcare, in line with Malaysia's IR4.0 aspiration," said Yang Berhormat Dr. Zaliha Mustafa, Minister of Health.
The Flagship Medical Tourism Hospital Programme is an essential step forward in further elevating Malaysia Healthcare as a world-renowned and credible global healthcare brand in the travel and tourism industry. It is consequently expected to play a significant role in the nation's progress and development. This will then have a positive impact on the country's socioeconomic opportunities, including increased job opportunities for Malaysians as a result of hospital expansions, which will boost township and district-level development.
"A homegrown pride and joy, this programme is set to increase the prominence of Malaysia Healthcare in the global arena. By 2025, our great vision is to see the Flagship Medical Tourism Hospitals be in the international spotlight, but also thrust forward as globally competitive market leaders, paving the way for industry advancement. We also look forward to driving direct investments in healthcare of up to RM250 million per hospital and increasing the nation's revenue from healthcare travellers by 30% over the next three years," said Mohd Daud Mohd Arif, Chief Executive Officer of the Malaysia Healthcare Travel Council (MHTC).
The Flagship Medical Tourism Hospital Programme is a collaborative effort between MHTC and global medical accreditation bodies IQVIA and Joint Commission International (JCI). IQVIA is a global leader in advanced analytics, technology solutions, and clinical research services for the life sciences industry, while JCI is an accreditation body that works to improve patient safety and healthcare quality in the international community through education, publications, advisory services, and international accreditation and certification.
"We are very pleased to collaborate with MHTC. We have a shared vision to continuously improve the safety and quality of care in the international community through education, accreditation and certification. To provide patient-centric care that is rooted in quality and safety, hospitals and other care facilities must commit to compliance with evidence-based standards and best practices. The selected hospitals have shown their commitment to patient safety and quality care," emphasised Jean Courtney, Interim President and Chief Executive Officer of JCI.
"The participating hospitals have demonstrated that they are immensely capable of taking Malaysia's healthcare landscape to higher levels; they are on par with stringent global standards alongside having cutting-edge treatment offerings and astute aspirations for the future of healthcare," said Jonathan Roberts, IQVIA's General Manager for Malaysia, Singapore and Vietnam.
MHTC is optimistic that the programme will fast-track the healthcare travel industry's recovery and growth. Building upon the positive growth recorded in 2022 – recording more than RM1.3 billion Healthcare Traveller (HT) revenue, reaching 76% of its pre-pandemic performance of RM1.7 billion in 2019, MHTC is intensifying its efforts to forge industry sustainability and resilience to further enhance Malaysia Healthcare's offerings, providing the best healthcare to the Rakyat and healthcare travellers.
Subscribe now to never miss a post!
Subscribe to our email updates or join us on our Facebook page, right now!
Travel related questions can be asked in our Telegram channel or in our Travel community.