Here comes March! How time flies by! If it's March, it must be time for the Formula 1 Malaysian Grand Prix and 1Malaysia GP Sale – a great month for lots of action on Malaysia's racing and shopping circuits! Besides these two signature tourism events, March is also the month for multi-coloured hot air balloons in various shapes and sizes to take to the Putrajaya skies in the annual Putrajaya International Hot Air Balloon Fiesta. Meanwhile, the Le Tour de Langkawi 2015 race from Langkawi to Kuala Lumpur will keep cycling fans on the edge of their seats. Besides sports, culture enthusiasts will have plenty to fill their days with events such as the Mah Meri Ancestors Day Festival, Chap Goh Mei Celebration, and Chingay Parade Festival. To give you some ideas of what to do this month, here's a line-up of well-balanced events for tourists, both local and foreign, to enjoy in Malaysia. Plan your trip well, or engage the services of a licensed tour operator/travel agent.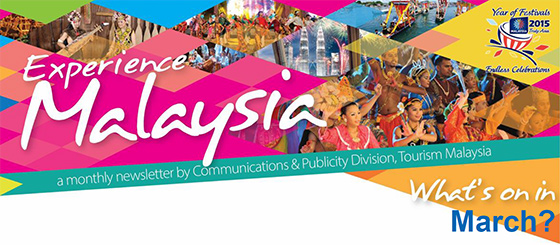 Putrajaya International Hot Air Balloon Fiesta (HABF)
Enjoy a spectacular scenery as beautiful helium balloons decorate the Putrajaya's skyline during the Putrajaya International Hot Air Balloon Fiesta. Photo enthusiasts and selfie lovers will have the time of their lives snapping away during this colorful spectacle, while other visitors can experience viewing Putrajaya from a bird's eye view with the 'Helicopter Joy Ride' attraction! Don't forget to bring your picnic mats to the picnic area, where you can pick up a bean bag and choose a spot to laze with a stunning view of the Putrajaya lake, while enjoying your preordered meal from the 'Balloon and Breakfast' menu!
Date : 12-15 March
Venue : Monumen Alaf Baru, Precinct 2 Putrajaya
Website : myballoonfiesta.com
Mah Meri Ancestors Day Festival
This annual festival of the aboriginal Mah Meri attracts many international visitors. The Mah Meri tribe of Selangor celebrates Hari Moyang (Ancestor's Day), a celebration about giving thanks to the spirits for all the good things that had been bestowed upon the villagers. It is celebrated by offering prayers and blessings to their ancestors especially to Muyang Gadeng, a female spirit guardian. Mah Meri people are skilful with craft work, their weaving skills are seen showcased in the neatly woven skirts, headbands and sashes worn during the celebration. This three-day festival features a special dance called Mayin Jo-oh, to invite the ancestral spirits to join the festivity. The men would wear wooden masks and perform with movements to reflect their daily routine which includes fishing and farming, while the women make music from bamboo, viola, drum, and brass gong.
Date : 7 March
Venue : Mah Meri Cultural Village, Pulau Carey, Selangor
Website : mmcv.org.my
Le Tour de Langkawi 2015
Asia's premier cycling event, Le Tour de Langkawi 2015 is back! Featuring 22 international teams, the race goes through states namely Kedah, Perak, Kuala Lumpur, Selangor, Pahang, Terengganu and Kelantan in one of the biggest events on the UCI Asia Tour Calendar. Organised by Human Voyage Sdn Bhd, the 20th edition of Le Tour de Langkawi (LTdL) from 8 to 15 March 2015 is set to cover more than 1,000km over 8 stages. The race will kick off from Malaysia's legendary island of Langkawi on 8 March for an eight-day journey to Kuala Lumpur via the east coast and Genting Highlands.
Date : 8 to 15 March
Venues : Kedah, Perak, Kuala Lumpur, Selangor, Pahang, Terengganu, Kelantan
Website : ltdl.com.my
Penang Sports Club International Soccer Tournament
This is the Veterans 7-aside football tournament that attracts footie stars of yesteryears including former international players who are still actively involved in the game. A total of 44 teams around the world will participate in this tournament, including teams from Malaysia, Indonesia, Thailand, Philippines, Australia, Maldives, China, Brunei, Hong Kong and Europe.
Date : 7 to 8 March
Venue : Penang Sport Club (PSC), Georgetown, Penang
Website : pgsportsclub.com.my
Chap Goh Meh Celebration
Chap Goh Meh is celebrated on the 15th night of the Lunar New Year and it is also known as the Chinese Valentine's Day. On this night, with the full moon shining down, young ladies of marrying age venture out to popular sea promenades to throw oranges into the sea, wishing for a good soul mate. In Penang, the celebration takes place at the Esplanade waterfront. Enjoy delicious Penang Street food as well as games, performances and a grand fireworks display.
Date : 5 March
Venue : Esplanade, George Town, Penang
Website : visitpenang.gov.my
1Malaysia GP Sale
The 1Malaysia GP Sale is held in conjunction with the annual Formula 1 Grand Prix race event. This event is one of the three great sales of the year besides the Malaysia Mega Sale and the Malaysia Year End Sale. Stores around Malaysia offer great bargains and discounts. Visitors who plan to attend the Formula 1 races should set aside some time to enjoy a shopping-spree.
Date : 14 March to 5 April
Venue : Throughout Malaysia
Website : tourismmalaysia.gov.my
Raptor Watch Week
Raptor Watch is an exciting event for birdwatchers. Enthusiasts converge at Tanjung Tuan to watch the annual migration of these birds of prey on their journey back to the northern hemisphere.
Organiser: Malaysian Nature Society
Date : 14 March
Venue : Tanjung Tuan Lighthouse, Melaka
Website : msnraptorwatch.wordpress.com
LIMA'15 Tourism Carnival
The biennial event organized by the Ministry of Tourism and Culture, Malaysia and is held in conjunction with the Langkawi International Maritime & Aerospace Exhibition (LIMA 2015), a dedicated exhibition for defence, civil and commercial applications.
Date : 17 to 21 March
Venue : Langkawi Island
Website : motac.gov.my
International Drum Festival
Drums are one of the signature products in Malaysia's tourism products. This festival showcases various drum performances and drum-making workshops to share this art of craft-making and playing to the new generation. This programme not only promotes Malaysia's great culture but is also a platform to hand down drum-making knowledge to the younger generation. Without this effort, Malaysia may lose the art and know-how of this craft that is popular amongst tourists.
Date : 14 to 15March
Venue : Stadium Sultan Muhamad IV Grounds, Kota Bharu, Kelantan
Website : tic.kelantan.gov.my
Formula 1 Petronas Malaysia Grand Prix
Catch the blazing action of high speed rubber burning on one of the world's most challenging tracks as the 2015 Formula 1 Petronas Malaysia Grand Prix returns. This season, eleven teams and 22 drivers will be competing at the world's hottest race in the Grand Prix City of Kuala Lumpur.
Date : 27 to 29 March
Venue : Sepang International Circuit, Selangor
Website : formula1.com
Subscribe now to never miss a post!
Subscribe to our email updates or join us on our Facebook page, right now!
Travel related questions can be asked in our Telegram channel or in our Travel community.