The 7th Putrajaya International Hot Air Balloon Fiesta (PIHABF) is set to once again thrill Malaysian and international visitors alike with flight, fun and food. Mark your calendars from Thursday to Sunday, 12-15 March 2015, and prepare to get sky high with all the action. The fiesta returns to its home in Precinct 2, Putrajaya for four consecutive days from 7 AM – 9 PM. ¬From returning favourites to first-time features, be sure to keep a lookout for these 2015 activities and attractions!
7 Reasons Why You Should NOT Miss the 7th PIHABF (#myballoonfiesta)
1. Night Glow with Fireworks
As one of the favourite annual highlights, this year will see Night Glow held over not one, but two nights. Watch the hot air balloons come alive as pilots ignite their burners, transforming their balloons into glowing bulbs set to float across the evening sky. Top it off with music and a spectacular fireworks finale on 14th and 15th March.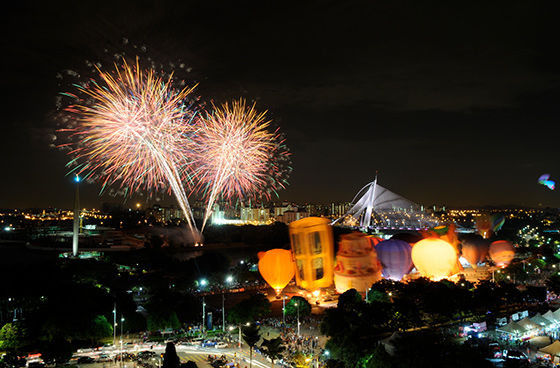 2. Van Gogh Balloon
Headlining the balloons is a first-time feature in Malaysia, the Van Gogh balloon. This special hot air balloon that will be celebrating its 150th anniversary, pays tribute to the famed post-impressionist European painter who played major influence on 20th century art.
3. Picnic Area
By pre-ordering a savory 'Balloon & Breakfast' set, enjoy a relaxing picnic with a stunning view of Putrajaya lake as you watch the morning flight of hot air balloons float across the blue sky. With food and Doof bean bags provided, all you need to bring is a picnic mat!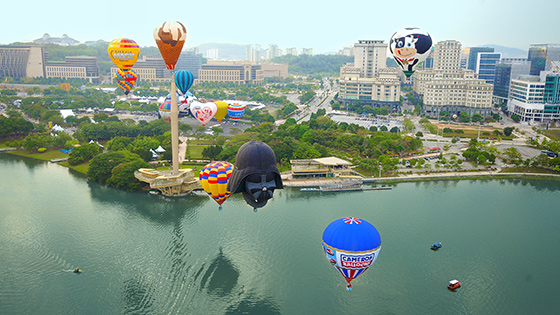 4. Helicopter Joy Rides
Once in a lifetime opportunity to experience Putrajaya from a bird's eye view, the Helicopter Joy Rides are the fastest selling online tickets! This year will feature a brand new chopper with business class interior including a carpeted floor, large windows, air-conditioner and leather seats brought to you by Amin Faried (M) Sdn Bhd. This stunning aircraft seats up to 6 passengers excluding pilot with rides lasting between 5-7 minutes.
5. Extreme Zone
Fancy a little sport while you visit the Fiesta? Outdoor and extreme sports-enthusiasts can make their way to the Green Zone to participate in the various kid- and adult-friendly activities including Sky Rider, Paintball, Spider Jump, Space Spin, Archery or have a tumble in the hamster roll. Also be sure to check out the opportunity to walk inside a gigantic hot air balloon!
6. Food & Bazaar Area
Need a snack or cold drink to freshen up while you scour the Fiesta grounds? Visitors without a breakfast package need not worry about coming to the Fiesta on an empty stomach, as the food bazaar area is sure to hit the spot with the various delicious offerings from stalls by Rock & Tulips and food trucks by Fried Chillies. Featuring an all-new look this year, the Bazaar area will feature a market fare with special appearance by local celebrities organised by KL CallingXoosha.
7. FIRST TIME EXCLUSIVE: Premium Tethered Rides with MyBalloonClub
Balloon enthusiasts as well as those in search of a unique breakfast experience can look no further. MyBalloonClub is a premium treat whereby members can break away from the crowds to enjoy a picturesque viewing of the hot air balloons flying against the blue sky while listening to live jazz music and dining on a gourmet buffet breakfast.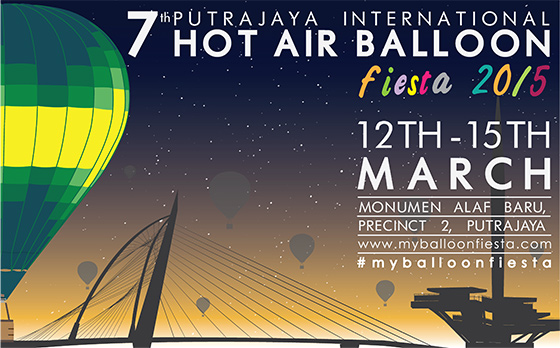 Subscribe now to never miss a post!
Subscribe to our email updates or join us on our Facebook page, right now!
Travel related questions can be asked in our Telegram channel or in our Travel community.