It's the beginning of summer in many parts of the world, but Malaysia is blessed with eternal summer all year long, perfect for all sorts of outdoor activities. We are taking advantage of the great weather to showcase beautiful orchids, lilies, and other flowers at the flower festivals in Putrajaya and Penang. Meanwhile, learn about our traditional cultures during the celebrations of World Harvest Festival, Sabah Fest and Tadau Kaamatan. Theatre, music and kite-flying are also happening in May. Take advantage of the long Labour Day weekend in the first week of May to savour the sights and sounds of Malaysia. Happy Labour Day!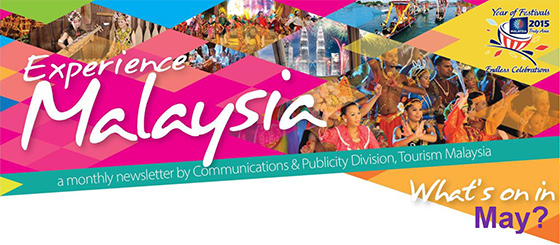 ROYAL Floria 2015, PUTRAJAYA
The 8th Royal FLORIA Putrajaya Flower and Garden Festival, 2015 will feature the spring and winter gardens as its new and major attraction with an exhibition of lilies totalling 150 species in specially designed gardens and exhibits. It was formerly known as Putrajaya Flower and Garden Festival (Floria) before it received the royal status last year, becoming Royal Floria Putrajaya. Come join us and don't miss out on one of the biggest flower festivals in Malaysia.
Date : 30 May to 7 June
Venue : Anjung Floria, in Precinct 4, Putrajaya.
Organiser : Putrajaya Corporation
Website : floriaputrajaya.com.my or facebook.com/putrajayafloria
Melaka International River Festival 2015
Melaka's diverse culture and ethnic heritage comes alive at the Melaka International River Festival 2015. Watch decorated floats, colourful Melaka trishaws, musicians and other exciting performances take to the streets and rivers of Melaka. Amongst the competitions that will be held during the event are Remote Control Power Boat, Dragon Boat Competition, Sungai Melaka International Marathon, Ratu Kebaya Beauty Pageant and Cultural Performances from the various Ethnic Groups.
Date : 30 May to 14 June
Venue : Dataran Sungai Melaka & Taman Rempah, along the Malacca River
Organiser : Rivers and Coastal Development Corporation Melaka
Website : ppspm.gov.my
Penang Anime Matsuri Summer Party 2015
For the first time ever in sunny Penang Island, from the producer of Anime Festival Asia, comes the first ever outdoor Anisong party, the summer party of Anime Matsuri! Happening in the heart of Penang's heritage area, George Town, expect an exciting 2-day event with power-packed activities such as Akihabara X town, Creators Market, Cosplay Celebrities, Japan Food, Outdoor Anisong concert & party and a good chance to showcase your best yukata (kimono)!
Date : 23 to 24 May
Venue : Esplanade, George Town Penang
Organiser : SOZO
Website : pamsummer.asia / penangglobaltourism.com
LEGO Friends Musical Performance in Asia
Celebrate the magic of friendship at LEGOLAND Malaysia Resort with the power of music and catch the LEGO Friends LIVE at the newly refurbished and fully air-conditioned LEGO City Stage. Join Olivia, Emma, Stephanie, Mia and Andrea in their first musical performance in Asia! Bring your kids to dance and sing along as the girls showcase their famed musical talents and perform original LEGO Friends songs.
Date : 14 March to 12 June
Venue : LEGO City Stage, LEGOLAND Malaysia Resort
Organiser : Malaysia Resort, Merlin Entertainments Group
Website : legoland.com.my
Sabah Fest 2015
Come and join one of Sabah's biggest and most vividly decorated cultural parades that incorporate dance, music, fashion, food and more. The Sabah Fest 2015 presents a wonderful blend of cultural and natural heritage that is richly embedded in folklore prelude to the state-wide Harvest Festival celebration. This superbly entertaining cultural extravaganza is where visitors can expect a slice of the most decadently stuffed cultural activities, shows and delicacies. Whether you are an explorer with a taste for culture or just a tourist looking for new experiences, this 2015 Sabah Fest is the perfect destination for you!
Date : 1 to 3 May
Venue : National Department of Culture and Art, Auditorium
Organiser : Sabah Tourism Board (Sri Pelancongan Sabah)
Website : sabahtourism.com
Tadau Ka'amatan, Harvest Festival
The Ka'amatan is an age-old ceremony celebrated in order to appease the rice spirits in the northern district of Kota Marudu and it marks the launching of Sabah's month-long Kaamatan or Harvest Festival celebrations. It acts as a Thanksgiving Day for a bountiful harvest by the locals there with various cultural and traditional sports events such as slingshot competition, arm wrestling, and stilt-walking games. The crowning of the Harvest Queen would mark the close of this prosperous celebration. Visitors are welcome for a taste of this traditional festival as well as to enjoy and participate in the various competitions and activities. It's a great opportunity for visitors to experience the hospitality and celebrations of the Sabahans.
Date : 30 to 31 May
Venue : Penampang, Kota Kinabalu, Sabah
Organiser : Kadazan Dusun Cultural Association (KDCA)
Website : sabah.com
MUD: Our Story of Kuala Lumpur
This vibrant cultural musical show centres around three Malaysian friends hoping to make their niches in the frontier town of Kuala Lumpur during the 1880's mining boom. This charming little play was put together by a string of talented actors, with the hopes of celebrating the people of Kuala Lumpur and all of its charms. Whether you are a historian interested in the story of how Kuala Lumpur gained its name and how it came to be; or just here to support a Malaysian production, these enthusiastic ensembles of actors will always be ready on stage for your viewership twice a day, 7 days a week!
Running Time : Daily shows at 3pm and 8:30pm
Venue : Panggung Bandaraya, Jalan Raja at Dataran Merdeka
Organiser : MUDKL
Website : mudkl.com
World Harvest Festival 2015
The World Harvest Festival is an ethnic festival that is one of the highlights of the Gawai Dayak celebration and provides an opportunity for visitors with an appetite for culture to learn the cultures, traditions and aspirations of the Dayak community. The main highlight of the World Harvest Festival is the theme play which had received rave reviews from the media in the past. Visitors can also sample traditional food that will surely tickle your taste buds as well as participate in a series of workshops by local cultural troupes. The popular ethnic beauty pageant lends colour and vibrancy to the event as it is one of the most highly-anticipated portion of the festival. Join us at this culturally-packed event at the 2015 World Harvest Festival.
Date : 1 to 3 May
Venue : Sarawak Cultural Village, Damai
Organiser : Sarawak Cultural Village Association
Website : scv.com.my
Penang International Dragon Boat Festival
The dragon boat was traditionally made in the Pearl River Delta region of China's southern Guangdong Province. It is one of a family of traditional paddled long boats found throughout Asia. Races were then held as part of the annual Duanwu Festival or Duen Ng observance in China. This ancient game is then brought to Penang in the late 90's and there is now an annual Dragon Boat Race along the coast of the Telok Bahang Beach, in summery Penang. Witness the colourful and culturally designed dragon boats cruising along the Penang coasts. Whether you are an avid water sports lover or just looking to catch a glimpse of the colourful designs of the dragon boats, we invite you to be a part of this legendary festival and don't miss out on the opportunity to take captivating pictures of the event.
Date : 30 to 31 May
Venue : Teluk Bahang Dam, Penang
Organiser : Penang International Dragon Boat Festival Committee
Website : penangdragonboat.gov.my
Penang Floral Festival
Flower enthusiasts should make a beeline for the Penang Floral Festival where 800 different types of orchids of various species and hybrids will be on display at Penang Botanic Gardens. Workshops, contests, exhibitions and classes on floral related topics will be held at this event along with the sale of plants and gardening equipment. A competition for Bonsai, Orchid plants and potted plants will also be held prior to the festival and the winning entries will be placed at the venue as part of the exhibition. What a great excuse to put on your summer dress and sun hat and to come have a walk through our beautiful botanical garden for a date with nature!
Date : 30 May to 7 June
Venue : Penang Botanical Garden Grounds
Organiser : The Friends of the Penang Botanic Gardens Society (FRIENDS)
Website : botanicalgardens.penang.gov.my
Kuala Lumpur Big Kitchen Festival 2015
The sights and smells of the Kuala Lumpur culinary scene will fill the atmosphere of Merdeka Square on the 29th of May to satiate the hunger of food lovers everywhere. The three-day festival is filled with music performances, a culinary workshop section and fun activities designed especially for food-loving individuals! A wide variety of food trucks and stalls will line Merdeka Square, serving up all kinds of local, fusion and even gourmet selections. Enjoy all kinds of street food, fine dining, food trucks, desserts and even a special Big Kitchen pantry filled with local products and herbs & spices. Visitors will have plenty to sample from as they walk the lanes of the festival. The KL Big Kitchen Festival is truly a foodie's must-go-to event.
Date : 29 to 31 May
Venue : Merdeka Square, Kuala Lumpur
Organiser : Kuala Lumpur City Hall Tourism Unit
Website : visitkl.gov.my
Borneo Jazz Festival
With the on-going effort to promote jazz music, the inaugural Borneo Jazz Festival is back for its 10th anniversary in Sarawak. The two-day exciting festival of Jazz music will be celebrated by the best performers' line-up promising the festival to be a hit celebratory note by bringing back favourite performers from the past years from different countries to celebrate a decade of Jazz by the sea. The performing bands will cover a wide range of jazz genre from all over the world. From the local scene, "All The Best", a five-piece ensemble with Miri-born Syafiee Obe Hairunie, who is also the conductor of the Kuching SONS Jazz Orchestra to lead the local challenge. It parades contemporary jazz with a twist of Malaysian flavour with added Latin rhythms. Jazz lovers are guaranteed a night of soul filling, ear licking, head swaying, music. Come party with us old-school style at the 2015 Borneo Jazz Festival.
Date : 8 to 9 May
Venue : Park City Everly Hotel, Miri
Organiser : Sarawak Tourism Board
Website : jazzborneo.com
The National Wau Festival of Kelantan 2015
Join us at one of the biggest kite-flying events in Peninsular Malaysia that celebrates the beauty of Malaysian kites, one of which is wau bulan. Literally translated as "moon-kite", it is an intricately designed Malaysian kite (normally with floral motifs) traditionally flown by men in the Malaysian state of Kelantan. This year's Kite Festival brings all the brave, chest banging kite-flying champions out there to compete in The Best Wau Take-Off, Best Wau Flying Competition, Rokkaku Competition, and The National Kite-Flying Performance which is known as one of the best kite flying shows in Asia. Get a taste of Kelantan culture as you participate in the many kite-making workshops, competitions, expos and many more!
Date : 27 to 30 May
Venue : Pantai Genting Tumpat, Kelantan
Organiser : Kelantan Tourist Information Centre
Website : tic.kelantan.gov.my
Subscribe now to never miss a post!
Subscribe to our email updates or join us on our Facebook page, right now!
Travel related questions can be asked in our Telegram channel or in our Travel community.