April is an exciting month to travel around the country to experience the Malaysia Year of Festivals. Let the Bajaus of Sabah share their love for the sea with you during the colourful Regatta Lepa race. Or enjoy the traditional food, culture and past times of the Sarawakian Melanaus during the Kaul Mukah Festival. There's also a silat carnival, featuring Malaysia's martial arts tradition, going on in Kelantan. For more modern pursuits, Penang's World Music Festival, Ironman 70.3 Putrajaya and shopping bargains during the Grand Prix sale promises lots of fun. To give you some ideas of what to do this April, here's a line-up of well-balanced events for tourists, both local and foreign, to enjoy in Malaysia. Plan your trip well, or engage the services of a licensed tour operator/travel agent.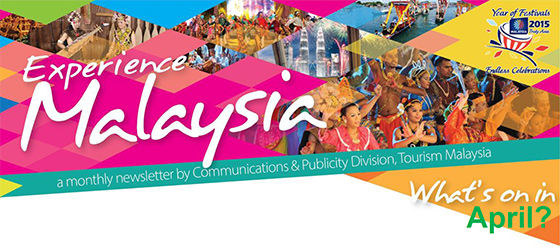 Penang World Music Festival
Penang World Music Festival features a colourful assortment of performances ranging from traditional to fusion. Experience mind-blowing performances by international musicians from Spain, Germany, South Africa, India and more. Marvel at the fusion of historic and contemporary attractions, right in our UNESCO Heritage City. We invite you to experience food that will exhilarate your taste buds while indulging yourself in this all-in-one music and culture trip.
Date : 11 to 12 April
Venue : Esplanade, Penang
Organiser : Penang State Tourism
Website : penangworldmusic.gov.my
Labuan National Water Festival
This water-splashing event invites visitors to come and enjoy, relax, eat, play and compete in numerous water-related activities such as fishing, round-island kayaking, cross-channel swimming, and shore fishing. Take part in a beach tug-of-war competition, test your agility in climbing a slippery pole or take out the competition in a fun pillow fight! Visitors are also welcome to join the Labuan International Sea Challenge which is part of the annual Malaysia Water Festival; it is among the biggest and popular water sports events in the country. If you are a water sports lover, then Labuan is the place for you.
Date : 24 to 26 April 2015
Venue : Federal Territory of Labuan
Organiser : Ministry of Tourism and Culture Malaysia
Website : motour-labuan.com
1Malaysia Grand Prix Sale
The 1Malaysia Grand Prix Sale, held in conjunction with the annual Formula 1 Grand Prix, is a highly-anticipated sale in which shoppers can expect to buy fabulous products at a bargain. Tourists coming to enjoy the F1 race can later experience the Truly Malaysian shopping thrill off-circuit which not only offers the best prices with the best varieties of items but also offers an array of dining choices that will ignite your senses. From seductive culinary temptations and fun and recreation to relaxation and entertainment, experience it all at the 1Malaysia Grand Prix Sale.
Date : 14 March to 5 April
Venue : Participating malls throughout Klang Valley
Organiser : Ministry of Tourism and Culture
Website : tourismmalaysia.gov.my
Ironman 70.3
The Ironman event is not for the faint-hearted. If you have the iron will and determination to swim for 1.9 km, cycle for 90 km, and run for 21.1 km, then you might just cross that finish line with bragging rights. But if you don't, it's still great to watch the sheer physical and mental strength of man from the sidelines.
Date : 5 April
Venue : Millennium Monument, Precinct 2, Putrajaya
Organiser : World Triathlon Corporation
Website : ironman.com
Wings of Kuala Kubu Bharu- Selangor Bird Race
The fourth Wings of Kuala Kubu Bharu is a great opportunity for birders to come together to enjoy nature and expand their knowledge of the different species of birds and their habitats. Participants will go through 10 different checkpoints starting from the charming town of Kuala Kubu Baru, past the Kalumpung Hot Springs and ending at the Genting Highlands Awana Resort. The area is part of the Important Bird Area and has gems such as the Marbled Wren Babbler, Pygmy Wren Babbler, Large Niltava, Silver-Breasted Broadbills and three hornbills namely Rhinoceros, Great and Bushy Crested. Experience the green side of Malaysia here at the Wings of KKB Selangor Bird Race event.
Date : 24 to 26 April
Venue : Kuala Kubu Bharu and Awana Resort, Genting Highlands
Organiser : Hulu Selangor District Council
Website : wingsofkkb.blogspot.com
Nasi Ambeng Carnival
Nasi ambeng or nasi ambang is a fragrant rice dish consisting of white rice served with chicken curry or chicken cooked in soy sauce, vegetables, fried noodles, some salted fish, fried coconut flesh, and so on. It is cooked during important celebrations and served in a tray to be shared by four to five people. Come and experience the unique, communal dining style and delicious food of the Javanese-Malay people at the Nasi Ambang Carnival.
Date : 17 to 18 April
Venue : Banghuris Homestay, Sg. Pelek,Sepang Selangor
Organiser : National Department for Culture and Arts
Website : jkkn.gov
UNESCO World Heritage Exhibition
The UNESCO World Heritage Exhibition is being held at Sultan Abdul Samad Building, Kuala Lumpur. This exhibition features the four UNESCO World Heritage sites in Malaysia namely the cities of Melaka and George Town, the Archaeological Heritage of Lembah Lenggong, Gunung Mulu National Park and Kinabalu Park. Though small, the exhibition is packed with many interesting exhibits and information about each UNESCO site, and is a great stop before tourists decide to visit any of the actual destinations. The UNESCO World Heritage Exhibition runs until 31 December 2015. Admission is free.
Date : Until 31 December 2015
Venue : Sultan Abdul Samad Building, Kuala Lumpur
Organiser : Department of National Heritage
Website : facebook.com/jabatanwarisannegara
Regatta Lepa Fiesta
The Regatta Lepa traditional boat race occurs annually in April and it is a vibrant festival that pays homage to the lepa, the traditional single-mast sailing boat of the Bajau people of Semporna, Sabah. Witness a fleet of colourful lepas decorating the coast of Semporna during the annual Regatta Lepa event. Enjoy unique cultural performances, the Lepa Beauty Pageant, the Most Beautiful Lepa competition, fireworks displays and so much more!
Date : 24 to 26 April
Venue : Regatta Lepa Square, Semporna
Organiser : Sri Pelancongan Sabah Sdn Bhd
Website : sabahtourism.com
The Nusantara Silat Carnival
The Nusantara Silat Carnival 2015 is organised by the Kelantan Tourism Information Centre. This event brings silat practitioners all the way from Thailand, Indonesia, Singapore and Brunei. Kelantan is proud to be the birthplace of the silat jatuh which is a very unique form of martial arts. Visitors are welcome to learn about the unique martial art culture of silat in the beautiful and culture-rich state of Kelantan.
Date : 5 to 7 April
Venue : Kota Bharu City Hall Council, Kelantan
Organiser : TIC Kelantan
Website : tic.kelantan.gov.my
Kaul Mukah Festival
Come and experience the lifestyle of the Melanau community living along the coastal area of Sarawak, and celebrate one of their highly cherished traditional festivals. The Kaul Mukah is celebrated as a religious ceremony to appease spirits of the sea, land, forest and farm, making it the most important festival in the Melanau traditional calendar. The festival site is on the banks of the Mukah river estuary where visitors can relax, soak in the culture and participate in the activities, traditional games (a major highlight is the giant traditional swing called "Tibow") as well as savour their unique delicacies. The Kaul Mukah festival provides an amazing opportunity for visitors to experience the Truly Malaysia cultural heritage that in its essence is what makes Malaysia a diversified and culturally rich country.
Date : 25 to 26 April
Venue : Mukah Festival Ground
Organiser : Kaul Mukah Festival Committee
Website : kaulmukah.com
For more information, kindly visit the Media Centre of Tourism Malaysia's website at Tourism Malaysia.
Subscribe now to never miss a post!
Subscribe to our email updates or join us on our Facebook page, right now!
Travel related questions can be asked in our Telegram channel or in our Travel community.