Resorts and hotels at Penang Island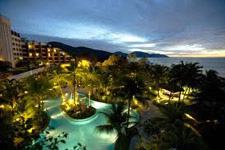 Penang Island roughly consists of four main tourist areas; Georgetown, Batu Ferringhi, Tanjung Bungah and Bayan Lepas. The north of the island is most popular among tourists. Most of the eastern parts of Penang Island are inhabited by Penangites that live in or around the capital city of Georgetown. In western Penang you will find many authentic kampungs and almost no hotels and guesthouses. If you are planning to stay at Penang Island then it is best to make reservations beforehand as the walk in rates (rack rates) are often very high. Sometimes internet rates can be a fraction of the normal rates; in some cases less than 50% of the normal price per night. If you are staying at Penang during peak season or public holidays, make sure you reserve in advance to guarantee the best possible price. Hotels in Georgetown and Batu Ferringhi are typically the most expensive compared to hotels in other areas of the island.
Our pages on Penang
On this page:
Tourist areas
Georgetown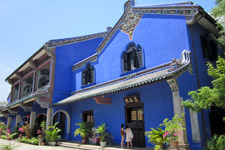 Georgetown normally is not the most preferred place to stay overnight. Tourists probably have a nicer stay at the coastal towns of Batu Ferringhi and Tanjung Bungah. Some however stay in Georgetown as it is easier to explore this wonderful city with its UNESCO historic city center. If you like to shop then it is advisable to stay nearby one of the huge shopping malls. G Hotel along Gurney Drive for example is located right next to the popular Gurney Plaza shopping mall. Other great hotels in Georgetown are: Evergreen Laurel Hotel, Traders Hotel, Eastern and Oriental Hotel and the very authentic Cheong Fatt Tze Mansion.
Batu Ferringhi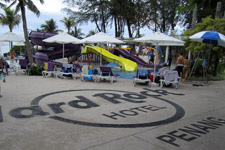 Batu Ferringhi is by far the most touristic town in Malaysia. The town is nothing more than one long stretch of hotels along the shore, with numerous residential areas inlands. Right along the beach the 4 and 5 star hotels are located. If you cross the main road that runs through the town, Jalan Batu Ferringhi, you will find many basic and affordable hotels and guesthouses. It has everything you would expect from such a popular place; great food courts, beautiful beaches (though not comparable to beaches the islands at the east coast of Peninsular Malaysia) and an inland waiting to be explored (preferably by motorbike or rental car). Some of the popular hotels and resorts at Batu Ferringhi are Shangri-La's Rasa Sayang, Parkroyal Penang Hotel, Shangri-La's Golden Sands, Lone Pine Hotel, Bayview Beach Resort and the Hard Rock Hotel.
Tanjung Bungah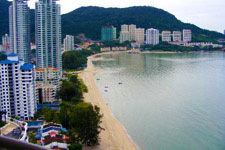 As Batu Ferringhi became more and more popular it expanded fast into the buzzing tourist town it now is. Some hotels settled in the neighboring town of Tanjung Bungah, also in the north of Penang Island and on route to Batu Ferringhi. Currently there are numerous hotels (mostly 4 stars and below) along Tanjung Bungah beach. The town has a nice food court and also some small shops. Hotels are reasonably priced compared to the hotels in Batu Ferringhi. Popular hotels in Tanjung Bungah are Flamingo Hotel by the Beach, Rainbow Paradise Beach Resort, Chymes Hotel, Copthorne Orchid Hotel and Tanjung Bungah Beach Resort.
Bayan Lepas
Bayan Lepas is the main industrial zone of Penang. Many international companies settled here because of the special conditions under the Free Industrial Zone. Though it is not the best place for tourists to stay overnight, it does have a couple of nice attractions such as the Snake Temple and the huge shopping mall Queensbay Mall. Penang International Airport is also located within Bayan Lepas. There are only a few hotels in this area, mainly catering for business travelers. The two most popular hotels within this area are Vistana Hotel and Equatorial Hotel.
Best hotels and resorts on Penang Island
Below a list with some of the best hotels and resorts on Penang Island (view all hotels and resorts at Penang here in a new page):
Map of Penang Island in Malaysia
Subscribe now to never miss a post!
Subscribe to our email updates or join us on our Facebook page, right now!
Travel related questions can be asked in our Telegram channel or in our Travel community.