Getting around Penang Island
Tourists can easily travel within Penang as there are numerous forms of transport readily available throughout the whole island except for a few not so crowded areas. Busses and taxis are the most common forms of transport on the island. Important attractions on the island are usually nearby one of the many bus stops. If you don't want to wait for the bus you can always take a taxi. There are always taxis in abundance at every tourist area on the island. Unfortunately Penang has a bad reputation when it comes to its taxi service. For years getting a taxi in Georgetown has been something people try to avoid using because of the bad taxi system on the island. Taxi drivers do not use meters, and especially tourists sometimes pay up to 6 times more for a trip then they normally would pay where the taxi to drive on the meter.
Our pages on Penang
On this page:
Busses on Penang Island
The best method of transport within and around Georgetown probably is the public bus. They go to just about every place of interest the island has to offer. A 10 minute bus fare will set you back less than 2 ringgit; this can be paid either by giving it to the bus driver or putting it in the container behind the driver.
When traveling from Batu Ferringhi the final stop of bus nr.101 route is in front of the Komtar building in Georgetown. You will know when you get there as this is usually the stop where everyone gets off as this is the main bus station in Georgetown city center. Island Plaza, Plaza gurney or Midland One Stop (though Midland is not that popular anymore) shopping malls are also popular stops along the route. Don't be surprised if the bus is not always on time, though things have improved greatly over the past years. Hardly any or no busses go at night so take into consideration you might have to get a taxi back.
Busses from Georgetown go to most main attractions on the island, like Botanic Gardens, Kek Lok Si Temple and Penang Hill. All major cities in Malaysia have bus connections with Penang. Busses go to Kuala Lumpur, Cameron Highlands and even Singapore on a daily bases.
A nice way to get to know Georgetown is by using the free shuttle that goes around town. This gives you the opportunity to see all interesting sights the Islands' capital has to offer.
Rapid Penang
Since their launch in 2007 RapidPG (Rapid Penang) has greatly improved public transport within the city but also throughout the rest of the island. Selected RapidPG buses even offer free onboard Wifi for its passengers. The value added service is available on two long-distance routes, namely on bus 101 (Weld Quay to Teluk Bahang via Batu Ferringhi) and bus 401A (Weld Quay to Penang International Airport). RapidPG is currently looking into expanding this great innovative service. Another great thing about RapidPG is their travel passport that is especially popular among tourists. With this passport you can travel unlimited on the RapidPG buses for a period of one week. A RapidPG passport will set you back a mere RM30; which is very cheap compared to taking taxis during your stay in Penang. Below some of the locations on the island where you can buy the special one-week tickets:
Rapid Penang Sdn Bhd Main office, Lorong Kulit (042381313) (website)
Rapid Penang Information Booth at Penang International Airport
Weld Quay Bus Terminal
Naza Hotel, Tanjong Tokong (048909300)
Corpthorne Orchid Hotel, Tanjung Bungah (048923333)
Berjaya Georgetown Hotel, Midlands One Stop mall (042277111)
Numerous RapidPG Kiosks
Normal rate of RapidPG is RM1.40 for the first 7 kilometers. RapidPG busses are wheelchair-accessible. Some routes go to the mainland for easy connection to other busses or trains to numerous locations within Malaysia. Check the map of RapidPG bus routes here.
Taxi on Penang Island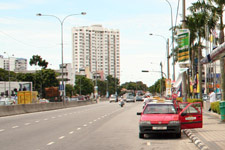 Another way of getting around is a taxi, using one of these is handy getting from and going to the airport or when trying to reach more secluded parts of the island. As of 2006 it is compulsory for taxis to use a fare meter. Fixed prices are no longer legal; prior to 2006 you would usually pay a lot more for a taxi fare then with a meter price. Unfortunately not a lot has changed, despite the new rules. The taxi drivers claim that they cannot make enough money to get by when using the meter. They tell tourists they have no meter, despite the sticker on the side that says "meter taxi, no bargaining allowed". Drivers no longer come to HQ, and sometimes drive around without a license. Chances of getting a taxi fare on the meter are slim; the drivers have verbal agreements with each other.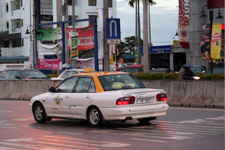 Because there were no rules prior to 2006 the island attracted a lot of taxi drivers. Because of this there were more taxis than clients, this lead to drivers asking a lot of money whenever they got the opportunity to do so. Now that a meter is compulsory there are just too many taxis. A taxi driver would charge RM30 to RM50 a fare, whereas with a meter the same fare would only cost RM5 to RM9. In August 2006 we spoke with a taxi driver who refused to use a meter; he explained that there were simply too many taxis. The drivers made their complaints about the low taxi fares when using the meter at the local government, but they took no notice.
Using the meter will stay compulsory and all drivers who ignore this will lose their license at some point as CVLB (Commercial Vehicles Licensing Board) repeals licenses of drivers that do not comply with the rules. The question is if the government is to blame. One thing is certain; it is not the tourists fault and they sometimes are victim of excessively high prices. A typical taxi driver on Penang is able to make a lot of money; 200 yards down the road would cost you RM10. And the drivers could easily charge such ridiculous amounts because if you would refuse a taxi other drivers wouldn't let you in either. If you don't feel like negotiating just get the bus as this is a way cheaper option.
There is an official taxi counter at Penang International Airport. Here you can buy your taxi ticket based on fixed prices. Below some examples of prices from the airport to certain areas within Penang:
Penang airport to Batu Ferringhi: RM70
Penang airport to Butterworth (mainland): RM70
Penang airport to Georgetown city center: RM40
Penang airport to Georgetown Gurney area (north): RM45
Penang airport to Tanjung Bunga: RM55
Penang airport to Tanjung Tokong: RM50
Penang airport to Teluk Bahang: RM80
Prices to the airport are usually similar or slightly higher. Best is it to arrange your transport in the hotel lobby instead of haggling on the street with your luggage. Hotels do charge a bit more, but they often use limousines and the drivers are usually very friendly and conscious about the safety of the passengers (whereas taxi drivers often only worry about how soon he can start another ride after yours). Do know that there is a surcharge between 00:00 and 06:00.
Car rental on Penang Island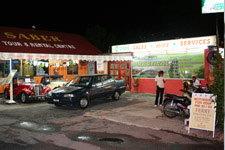 Though Penang is not that big it is still fun to rent a car during your stay on the island. Driving a car in Penang is perhaps not the safest way of transportation (especially around Georgetown traffic can be quite hectic), but it sure is a great way to explore the island. Another great thing about driving a rental car is that you can go wherever you want whenever you want to. Besides, if you're keen on taking a taxi otherwise then a rental car might even be cheaper. It is possible to rent a car in Penang from RM100/RM150 a day onwards.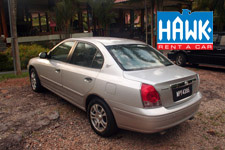 There are numerous car rental companies in Penang. We have the best experiences with Hawk Malaysia as this is one of the bigger local car rental companies. Hawk Malaysia has two offices in Penang; one at Penang International Airport and in Batu Ferringhi. Another plus of Hawk Malaysia is that you can also take the car out of Penang should you plan to do a road trip through Malaysia as they have numerous drop-off points throughout Peninsular Malaysia. When you drive a rental car in Penang make sure you either use an accurate map or rent a GPS system at the car rental company (Hawk Malaysia offers this service).
Motorbike rental on Penang Island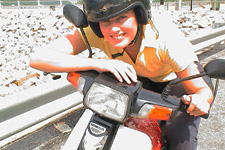 The more adventurous types are perhaps better off by renting a small but speedy motorbike/motorcycle. Penang is not that big, and you can explore over half of the island in one full day. Renting a motorbike is very cheap compared to other forms of transport on Penang. Usually the rental shops charge between RM40 and RM60 for 24 hours for a modern motorbike plus helmet. Common motorbikes are 125cc Yamaha and 125cc Honda. Always ask for a helmet, and always wear your helmet. Not only will it probably safe your life if you're lucky; your insurance company cannot hold that against you should you run into troubles. Though many great attractions on Penang are located around Georgetown; the trip from Teluk Bahang in the north of the island to Kampung Pulau Betung in the south is very scenic.
Trishaw on Penang Island
There is of course also the fun ride with a trishaw (or rickshaw); an authentic open-fronted, pedal-driven tricycle. These can be found mainly in centre of Georgetown. Taking a ride in one of these is definitely a must; but also quite touristy. The tricycle is often driven by older Penangites that drive these converted bicycles around all the nice - mainly historic - areas in Georgetown. Last time we went on one of these we felt sorry for the owner of the bike, he was that old he almost collapsed pulling us forward. We ended up driving him around for a bit, which made him the hero for the day. There are no fixed prices so you might need to haggle a bit for a better price. If you want to do a custom tour, then you might be better of paying an hourly rate instead of a fixed price.
Monorail on Penang Island
For years there are plans to build a monorail (or LRT: Light Rail Transit) on the island, but the construction has been put on hold numerous times already. Should they ever launch the train on Penang, then the red line would run from Penang International Airport in the south all the way to Tanjung Tokong in the north (via Georgetown) and the green line will run between Paya Terubong and Weld Quay Terminal.
Map of Penang
Below you can see a map of Penang. You can simply scroll through the map with your mouse. Use the markers on the left to zoom in or out of the city map.
Subscribe now to never miss a post!
Subscribe to our email updates or join us on our Facebook page, right now!
Travel related questions can be asked in our Telegram channel or in our Travel community.