Air Asia was the first to launch a new budget hotel chain on February 9th 2007 under the name Tune Hotels.com. You can stay there from RM9.99. It is actually a similar concept as Air Asia uses itself, the sooner you book, the lower the price per night. This means you can stay from a few euros per night at the border of the centre of Kuala Lumpur, at KLIA airport and at numerous other destinations within Malaysia.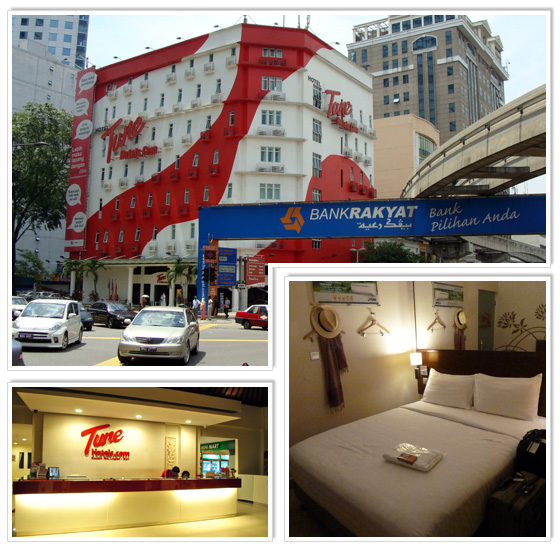 Tune Hotels has launched a wonderful website which you can find at http://www.tunehotels.com. I hardly ever see such clear and bright websites in Asia. Don't expect too much of the hotel of course; or actually expect just what you have paid for. For this low price you stay in a good accommodation, but you just go there for the night's rest. The price you pay per night is exclusive breakfast, without douche shampoo, no towels, no air-conditioning, no TV, no mini bar and not even a window. Some rooms do have a window, others don't. They clearly use the principle 'no frills'; well copied from Air Asia.
Usually there is a different theme on every floor (6 in total). The chosen themes are linked with the sponsor of the hotel. Every sponsor 'furnishes' a floor. There is a 'Maggie' floor where you only see Maggie advertisements on the walls (Maggie is a well-known noodle and sauces supplier in Southeast Asia).
The check-in time is at 2 pm, so you have to take that into account when you arrive early in Kuala Lumpur. You must check-out before 10 am. The hotel in Kuala Lumpur is situated at Jalan Tuanku Abdul Rahman and it's easily accessible with the subway. You get off at the Medan Tuanku station. This station is three stops from Bukit Bintang, so you are right smack in Kuala Lumpur city center.
Right now Tune Hotels has nine hotels within Malaysia, in the near future this will be expanded to several other cities in Malaysia. Some locations are; Kuala Lumpur City Center, Kuala Lumpur International Airport (LCC budget Terminal), Georgetown centre, Kota Kinabalu and Kuching. There also are Tune Hotels in Bali and even London. Within the next few years many new Tune Hotels will be opened in numerous big cities over the world (but mainly at destinations where Air Asia flies to).
Subscribe now to never miss a post!
Subscribe to our email updates or join us on our Facebook page, right now!
Travel related questions can be asked in our Telegram channel or in our Travel community.