Last summer I decided to buy a new pair of glasses. First I thought of buying sunglasses (prescription glasses), but later I flew back to the Netherlands with not only a new pair of sunglasses but also a pair of new regular glasses.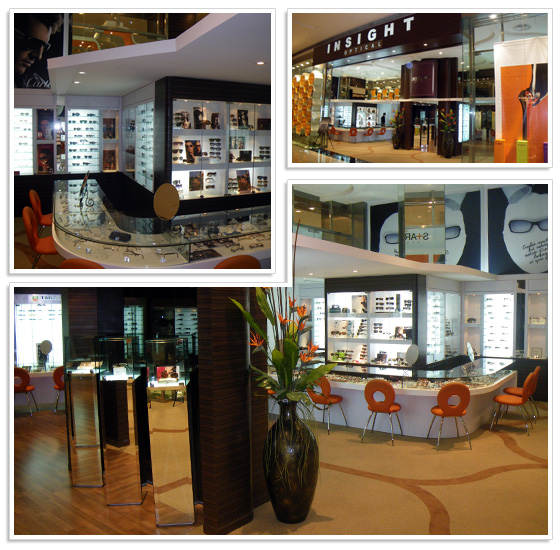 In the end we bought glasses at two different stores within Pavilion KL. Both shops are part of two large and well-known chains: Insight and Better Vision. You can find Better Vision on the third floor at the right side (from the entrance). You can find Insight on the ground floor, diagonally 'under' the main entrance. You can ask someone at the information counter when you can't find it; or check out the floor directory.
Better Vision was the first shop that we entered. A kind employee immediately came to tell us that we would get a large reduction in price, a positive incentive. I decided to buy Ray Ban sunglasses with prescription glasses. I couldn't choose from all available models, but only from models that would 'fit' lenses. Fortunately there were enough models to pick from. Although the glasses would normally be ready in two days, it took a little longer in our case because of Aidil Fitri (the end of the Ramadan – a national holiday) was celebrated on that day. I could pick up my glasses after three days. I finally paid RM620 for the Ray Bans.
The next day we accidentally walked through Pavilion again when we saw another shop: Insight Optical. They had a large range of Tag Heuer glasses; and exactly the glasses I tried on a few years ago. This time I couldn't resist ordering these glasses. It took two days as well here. This Tag Heuer contained great lenses (from Tag Heuer itself); titanium, UV protection, transition and anti-dazzle. I paid RM2200 for these glasses. This seems like a lot of money, but in Europe you pay at least double for these glasses.
In the end I had two very great deals at Better Vision and at Insight. In both cases we could negotiate well about a revised final price. The eye test were of very good quality (I had the test at both shops with the same results), the service was also perfect. I was called by both shops when I could pick up my glasses. I was not yet experienced in buying glasses in Malaysia, but it worked out perfectly (my girlfriend also bought two beautiful pair of glasses there). The range is much larger than in Europe and the prices are much cheaper compared to Europe. Here are some tips for buying prescription glasses in Malaysia:
When buying several glasses, you get a large discount.
Take the delivery time into account (min one day, max five days).
Make sure you stay in Malaysia for some time, so that you can go back if something is wrong.
Go to a trusted optician (and ask for extensive eye tests first).
Leave your hotel name and room number (or local phone number), so they can contact you as soon as the glasses are ready.
Let the employee call the factory to be confirmed that the glasses can be picked up within x days.
Find out in advance if coupons are available with extra discount for the frame (you can often find them in brochures).
During the special sale months (usually the megasale around August and around December) prices are often much lower.
Lenses are also cheap, so you could chose to only get new glasses in your existing glasses.
Many brands of sunglasses can be fitted with prescription lenses, always check up front.
Subscribe now to never miss a post!
Subscribe to our email updates or join us on our Facebook page, right now!
Travel related questions can be asked in our Telegram channel or in our Travel community.