GST (Goods and Services Tax) is a local tax on products, food and more. Tourists can claim this 6% tax under certain conditions. It applies only to the tax paid on goods (your purchases at shopping outlets), not the GST on food, accommodation, etc.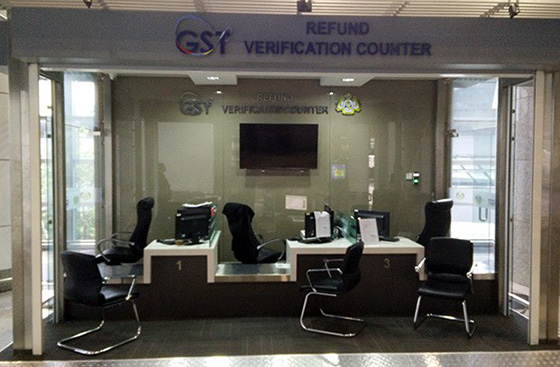 Below are the most important points to keep in mind when claiming GST in Malaysia:
GST is 6%. This 6% can be claimed.
A minimum of RM300 in a single receipt. If you have less than RM300, you cannot claim the GST.
The store employee must fill out a special form at the time of purchase. For this your passport required, so make sure you have it at hand (or keep a copy on your phone). Eventually, you'll get an envelope with the GST claim form along with original invoice.
If the total amount of claim exceeds RM300 (i.e., the total GST you are claiming, spread out over all purchases, all above RM300 in a single receipt) payment can be done to your credit card. If you claim less than RM300, that payment is in cash. After receiving your cash, you can head over to an exchange office.
The GST office can be found at the Arrivals Hall in KLIA (Kuala Lumpur International Airport) opposite Door (Exit) 1. This is at the very end of the hall, you can hardly see it from afar, and it is not indicated properly (probably to discourage claiming GST).
At the claim office, all receipts are taken and scanned. Possibly you must show your purchases, so make sure that you claim GST before checking in your luggage (should you keep the items bought in there). If you cannot show your purchases, you cannot claim the GST. Also, make sure that all forms are completed correctly. Incomplete forms will not be processed. The process goes quite smoothly, and the staff was very nice.
After your visit to the GST office, you will end up a Proof of Claim with the total receivable GST.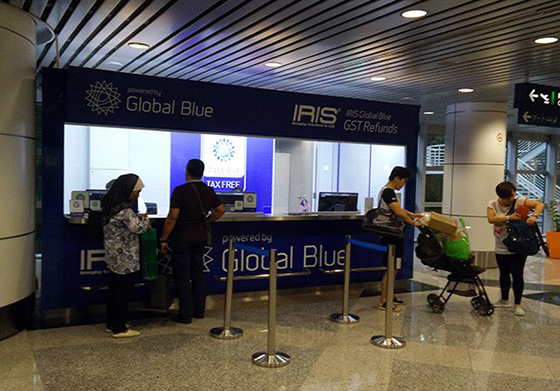 Now you can check in and head over to immigration. Important: Make sure to get your money immediately after you went through immigration. The refund office sits directly to your right (not easily visible, similar to the claim office). Once you move through the hand luggage scan, you cannot go back to the refund office. It's called IRIS GST Refund powered by Global Blue. Here will you get the money and also proof of payment. You can exchange local currency at one of the exchange offices.
Subscribe now to never miss a post!
Subscribe to our email updates or join us on our Facebook page, right now!
Travel related questions can be asked in our Telegram channel or in our Travel community.