Travel from Thailand to Malaysia
On this page:
By air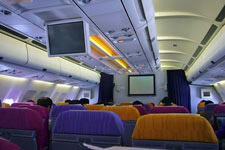 One of the most common ways to travel between Thailand and Malaysia is by air. From the capital city of Thailand – Bangkok – there are daily flights to Malaysia (same goes for the other way around). The best airline to use is probably AirAsia, not only do they offer a very reliable service, they are extremely cheap. AirAsia flies for ridiculous amounts between Bangkok and Kuala Lumpur. After checking the AirAsia website we found out the cheapest flight costs only €20 for a one way ticket. Besides Kuala Lumpur you can also fly directly from Bangkok to Penang or Johor Bharu. There are also direct flights from Bangkok to Singapore; these tickets are also very affordable.
Since AirAsia is a very solid and reliable low cost airline, there's no need to use more expensive alternatives like Thai Airways or Malaysia Airlines. There is no need to pay that much for a mere 3 hour flight. One of the reasons to consider another airline could be if they offer a better connection when you are looking for a connecting flight. Another reason might be that ticket prices are pretty much the same when you buy them only a few days before your flight. In those cases we would advise to go for Thai Airways or MAS.
Tip: When traveling by air within Southeast Asia, be sure to check AirAsia's website (or low cost carrier Firefly – owned by MAS) for very affordable airline tickets.
By car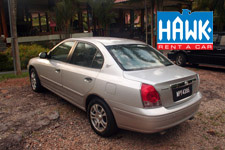 It is easy to get a rental car in Thailand. Just make sure you get one at a well-known car rental company. Also make sure you can drop the car off at a branch in Malaysia, this way you do not have to worry about returning the car after your self-drive trip. If you are already in Thailand, you already have all the right documents. Do not forget your departure card when crossing the border with Malaysia.
The road system in Malaysia is great and links directly to the Thai road system. There are two main highways in Malaysia, the north-south expressway (Thailand to Johor Bahru) and the east-west highway (state of Kedah to Kota Bharu). The north-south expressway takes you to Thailand (Bukit Kayu Hitam), or – when entering from Thailand – will be the start of yourself drive journey through Malaysia. The north-south expressway is a toll way, which means you have to pay a small charge to drive on it. Driving in Southeast Asia is very affordable, mainly due to the cheap petrol prices. Driving is also a very nice way to explore both countries, you will be amazed how many beautiful villages you will encounter during yourself drive trip.
Things to keep in mind when driving from Thailand to Malaysia (or Malaysia to Thailand):
As you cross into Malaysia you lose an hour due to differences in time zones. Make sure you adjust your watch.
Tip: Borders are not open 24h; usually they are in business from 6am to 12pm (Malay time zone). Just to be on the safe side, try to make it well before closing hours.
By bus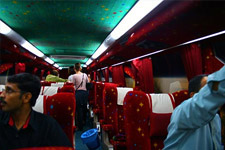 Busses usually take about 21 hours to take you from Bangkok to Kuala Lumpur or vice versa. Taking the bus is the cheapest method of transport compared to all other travel options. This does not mean the ride itself is unpleasant; usually time flies and express busses are very spacious. You can compare it best with your airplane seat (that is if you are flying with Malaysia Airlines or Singapore Airlines), you can flip the seat almost completely backwards.
Beware of inferior bus operators in Thailand. I have heard stories about busses that stop every hour for a rest stop at a petrol station. This is usually nothing more than a place where the bus driver hopes you will buy stuff at the shops. Same goes for border crossings, especially when entering Malaysia. Be warned; there's no entrance fee. There are also no visa costs or any other extra costs when entering Malaysia. Most tourists can enter Malaysia for free and stay for as long as 90 days (more on tourist visas).
Usually there is some minor entertainment on board. When we took the bus years ago, they showed numerous blockbuster movies on the small television screen. Unfortunately subs were in Chinese, and because of the noise of the engine we did not hear much sound.
By train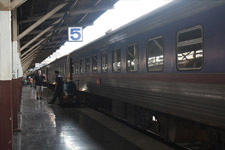 Thailand and Malaysia is connected by a splendid railway system. There are daily trains from Bangkok to Kuala Lumpur (and vice versa). Traveling by train is a very nice way to travel between both countries. You can even travel directly to Singapore. There is a daily International Express train between Bangkok and Butterworth (northern part of Malaysia). This train leaves Bangkok at 14.45pm (from Hualamphong Station) and takes almost 24 hours to bring you to Butterworth. From here you can take the ferry to Penang (a beautiful island in Malaysia). You can also get off one stop before Butterworth, in Alor Setar. Here you can take the ferry to Langkawi (which is also a beautiful island in Malaysia). If you want to go directly to Kuala Lumpur, you have to wait until 21.45 in the evening for the connecting train to depart. You will arrive early the following morning in Kuala Lumpur. From here you can take a taxi to a hotel of choice.
Prices are usually very affordable. The complete trip between Bangkok and Kuala Lumpur will not cost you more than €50 inclusive of sleepers at both routes. More information regarding traveling by train can be found on the comprehensive website Seat61.com.
A very special way to travel by train between Thailand and Malaysia is with the Eastern & Oriental Express. This is a very luxurious classic train that runs weekly from Singapore to Bangkok (and even to Vientiane in Laos). Though very expensive, it will probably be one of your best experiences during your stay in Malaysia or Thailand. More information can be found on the official Orient-Express website.
Tip: When you travel by train from Singapore; head over to Johor Bahru across the Malay border first en by your tickets there. Ticket prices are much cheaper in Malaysia.
By boat
Besides entering Malaysia by land, you can also enter the country over sea. The only logical place to enter Malaysia from Thailand by sea is at Langkawi Island. 4 ferries depart daily from Satun in Thailand (also 4 daily from Langkawi to Satun). In approximately 1,5 hours you will arrive at Langkawi Jetty Point (Langkawi Harbor). Prices are quite affordable, a one way ticket costs RM30. Be advised that the last boat departs from Satun at 4.30pm (from Langkawi at 5.00pm). The first trip departs at 9.45am (both directions).
Subscribe now to never miss a post!
Subscribe to our email updates or join us on our Facebook page, right now!
Travel related questions can be asked in our Telegram channel or in our Travel community.