Hotels in Kuala Lumpur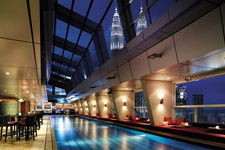 Many large worldwide hotel chains have presence in Kuala Lumpur. The best hotels in the city are located within the KLCC area (also known as the Golden Triangle). Outside the Golden Triangle hotels tend to be more basic and therefore better affordable. Our personal top 5 best hotels in Kuala Lumpur are Traders Hotel, Hilton, Shangri-La and Sheraton Imperial. This is only a top5, while there are many more great hotels in Kuala Lumpur. Which one you stay at is up to you; some like to have great views from the balcony, or they fancy a big outdoor resort style swimming pool. Others prefer a hotel above or right next to a big mall (mainly for the F&B choices). Traders has been voted best hotel for some years now by travelers, while it is the only 4 star hotel between all these 5 star hotels within the top5. This is mainly because of the fantastic location adjacent to Suria KLCC and the majestic views on the Petronas Towers from the SkyBar.
On this page:
Should I make reservations upfront?
Kuala Lumpur has so many hotels that you will always find something. Some travelers however want to have some certainty up front. Those would do best by making upfront reservations via one of the popular hotel booking websites. Most popular hotel sites are Agoda.com and Booking.com. As all of these sites buy rooms up front, some have better deals then others at any given day. Always check all the sites to find the best price. The hotel sites are only relevant for travelers that prefer to stay in 4 or 5 star hotels. Backpackers (or budget conscious travelers) often stay at affordable accommodation like B&B's, guesthouses and lodges. If you're not too picky there is always room available. Do keep in mind that sometimes during festivals, national celebrations and big events (like the Formula1 weekend) hotels and also guesthouses will be fully booked. Make sure you check this up front to avoid paying high prices at mediocre accommodation.
Affordable guesthouses around Changkat Bukit Bintang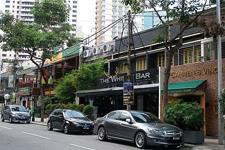 If you are looking for cheaper accommodation within Kuala Lumpur you'd best head out to the Changkat Bukit Bintang area. Here you can find numerous small guesthouses, with prices that range between RM50 to RM150 for a room (1 night). Changkat is a very popular area in Kuala Lumpur. It is very nearby Bukit Bintang where you can find all the popular shopping malls. Within walking distance from Changkat you will find the popular 'food street' Jalan Alor; where you can try almost every local (Malay and Chinese) dish available. Changkat itself is one of the most popular places in Kuala Lumpur; as here you will find many bars and great restaurants. The area is especially popular among trendy locals and among expats.
Affordable guesthouses around Petaling Street (Chinatown)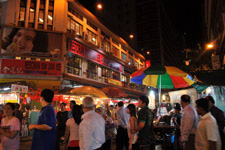 The same goes for the Chinatown area; here too are many affordable guesthouses, lodges and inns located. Chinatown attracts many backpackers because of the great backpack atmosphere in the area. Chinatown is most popular because of the night market. Here you can buy almost everything you like; from fake watches to fake sunglasses, from fake bags to fake clothing. If you stay in a guesthouse in Chinatown; you cannot walk to the city center. For that you need to take a bus, train or taxi.
Affordable hotels around Bukit Bintang
During our first couple of stays in Kuala Lumpur we stayed at Capitol Hotel. This hotel is not that expensive, and perfectly located within the popular Bukit Bintang area. Right next to the hotel are shopping malls Low Yat Plaza (it and gadget shopping walhalla) and BB Plaza (especially popular among local youth). We personally think Capitol Hotel has the perfect price/quality combination. Other personal favorite is Grand Millennium; which is perfectly located right next to Pavilion KL and opposite Fahrenheit88. Of all 5-star hotels in Kuala Lumpur the more local oriented Istana hotel often has the best prices (compared to other luxurious hotels in the city center).
Best hotels in Kuala Lumpur
Below a list with the best hotels in Kuala Lumpur partly based on our own experiences and based on reviews from tripadvisor:
Popular 5 star hotels in Kuala Lumpur
Popular 4 star hotels in Kuala Lumpur
Popular 3 star hotels in Kuala Lumpur
Popular 2 star hotels in Kuala Lumpur
Click here to check out some available guesthouses in Kuala Lumpur.
Map of Kuala Lumpur
Below you can see a map of Kuala Lumpur. You can simply scroll through the map with your mouse. Use the markers on the left to zoom in or out of the city map.
Subscribe now to never miss a post!
Subscribe to our email updates or join us on our Facebook page, right now!
Travel related questions can be asked in our Telegram channel or in our Travel community.