Kuala Lumpur City Center (KLCC) is usually synonymous with the Petronas Twin Towers and the hustle and bustle that takes place in and around it. This is only a natural assumption considering how KLCC is the focal point of Malaysia's capital city; an epitome of the country's modern and busy city life. Apart from being an important hub in the corporate world, KLCC is also a landmark often visited by tourists and locals alike. Quite simply, KLCC offers a good balance between business and recreation so while it may be common to see men in suits zooming across your eyes constantly in KLCC, it is also not a rarity to see families and friends enjoying a day out here as well.
Recreation options are plenty in KLCC. The main attractions are of course the twin towers themselves, the park that surrounds it, and a shopping and recreational complex in the form of Suria KLCC among others. One of the more recent places to visit that have sprouted in KLCC is Aquaria KLCC; quite simply a full-scale aquarium located within the walls of the tallest and most probably busiest building in Malaysia.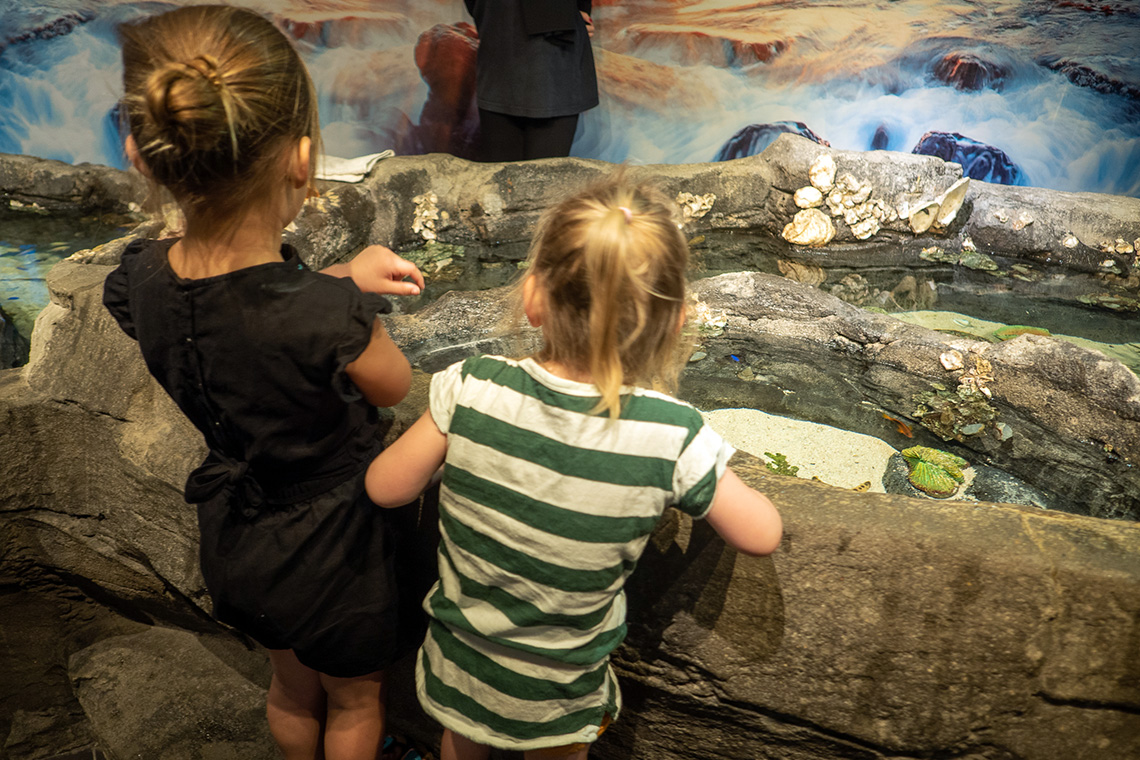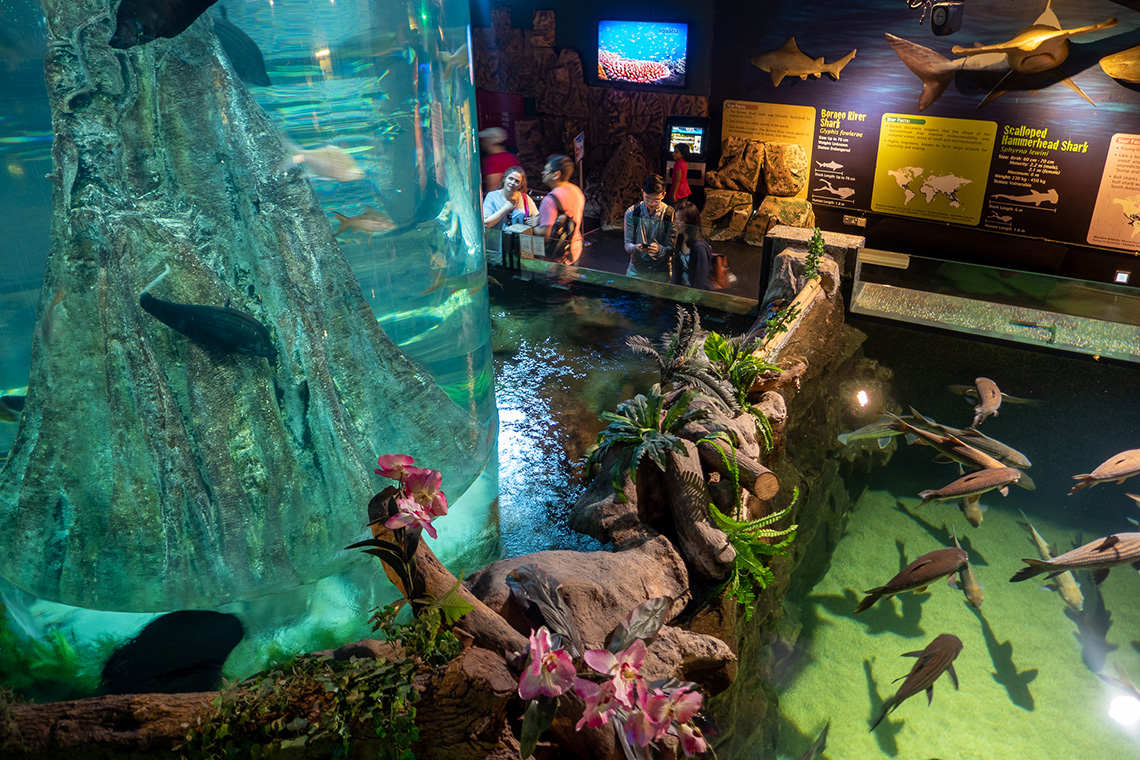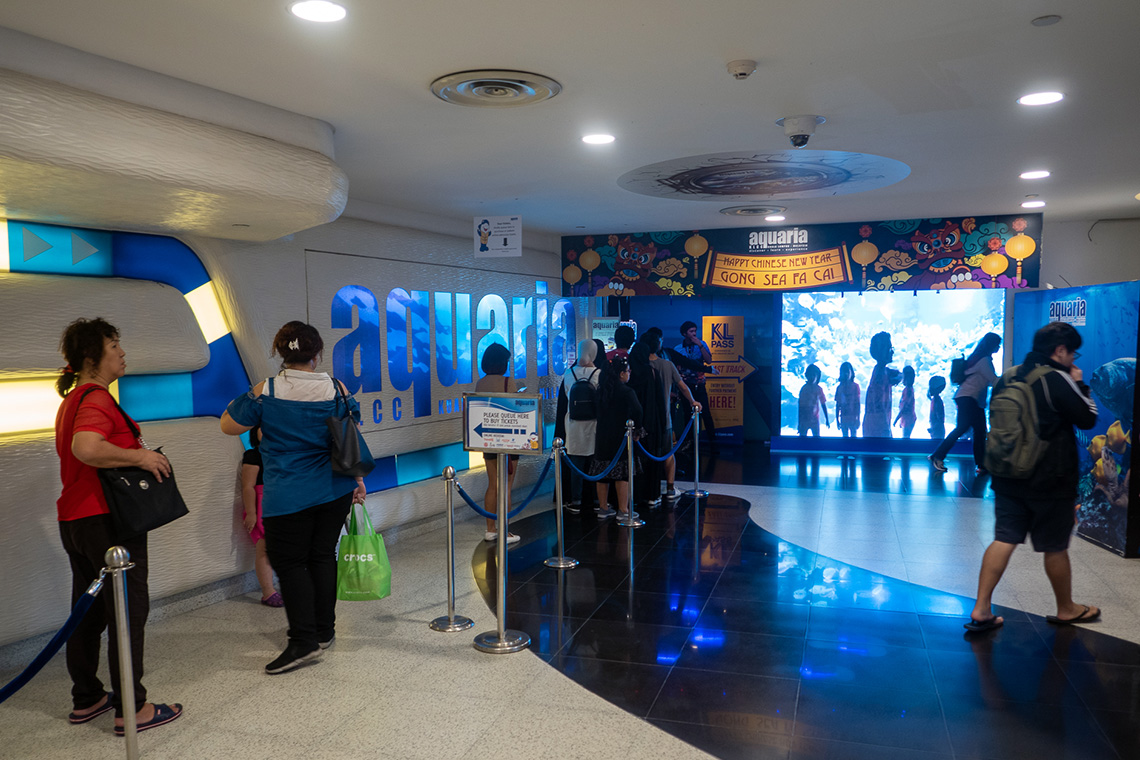 Launched in 2002, Aquaria KLCC is a sizeable indoor marine park which sprawls over 60,000 square feet in buildup area. Within its complexes are 5,000 exhibits, both aquatic and semi-aquatic, in which a wide variety of marine life and various wildlife thrive. Among the main attractions that inhabit the enclosures of Aquaria KLCC are visually stunning sea creatures that include giant pacific octopi, sand tiger sharks, green sea turtles and giant groupers as well as aquatic mammals such as water rats and coatimundis, raccoon like semi-aquatic mammals native to South America. Most of the wildlife that is exhibited in Aquaria KLCC is specially flown in from all around the world as only a few are native to Malaysia. The aquariums or habitats in which they are kept are beautifully constructed to replicate their natural habitats as closely as possible while making it more than pleasant to the eyes of the visitors.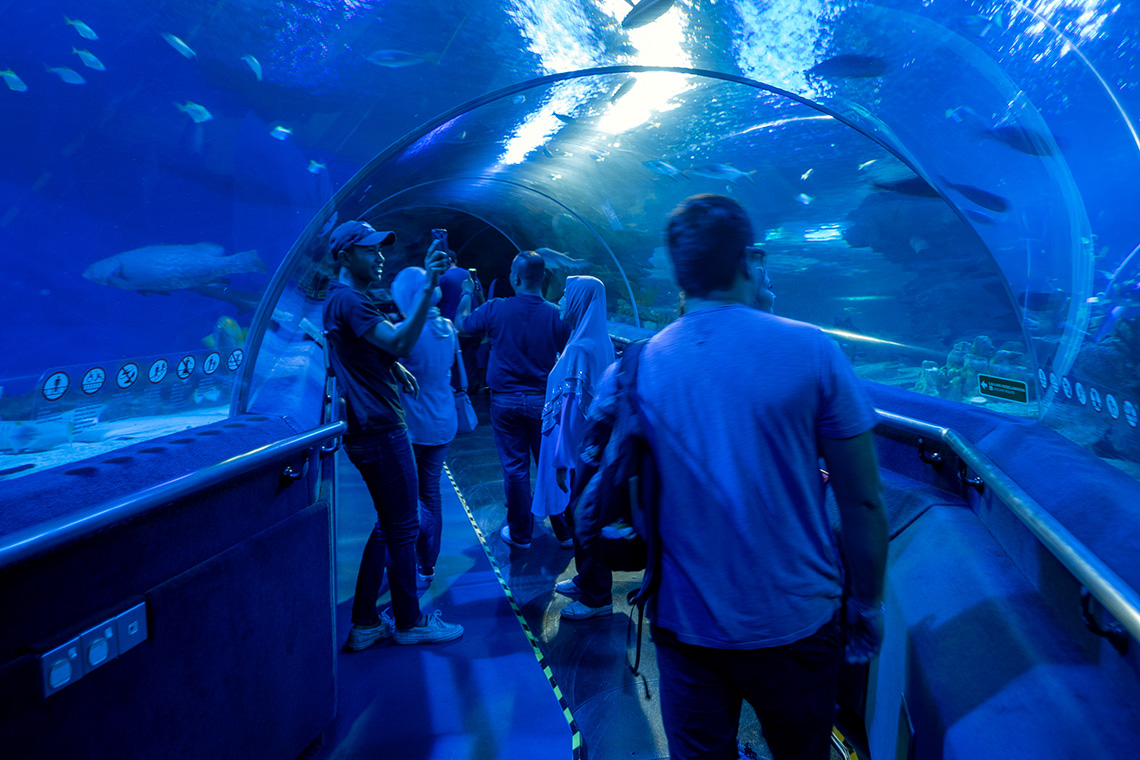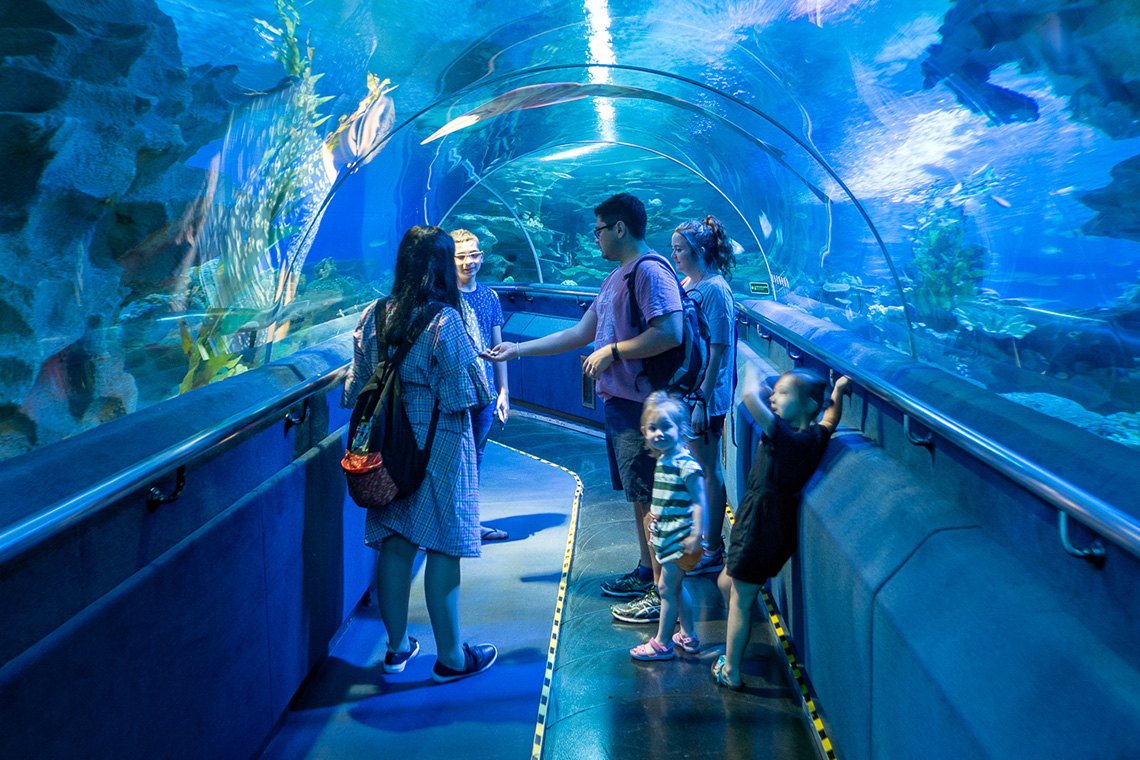 Exhibits are divided and sequenced in such a manner whereby visitors are taken on a 'Journey of Water'. These areas include the Flooded Forest, the Coast, and the Jewels of the Jungle among others, all of which are inspired by various geographical zones in which different types of wildlife flourish. There are also type-specific areas such as the Electric Zone which houses aquatic life such as the electric eel and the electric catfish as well as the Weird and Wonderful, an area exhibiting the less conventional but nevertheless fascinating creatures such as the venomous stonefish and pinecone fish. Probably the most impressive of these exhibit areas is the Oceanarium, basically a 90m underwater tunnel in which visitors are treated to an open sea display where they can get up close with many wonders of the ocean such as sharks, giant stingrays and turtles. There is also an interactive area known as the Touch Pool which is basically Aquaria KLCC's very own petting zoo. Here, visitors can physically interact with bamboo sharks, horseshoe crabs and horned sea starfish. Aquaria KLCC conducts feeding sessions every day (some exhibits daily, some exhibits on selected days) and potential visitors should look up the feeding times as these feeding sessions can further enrich the overall experience.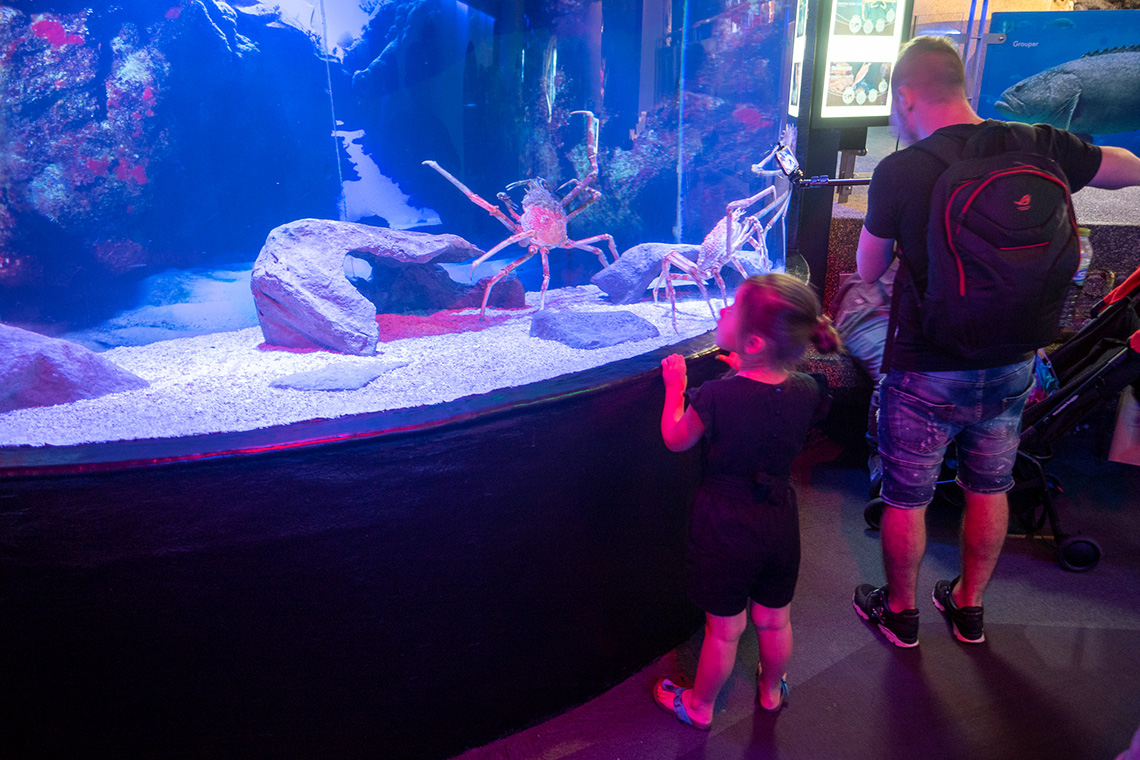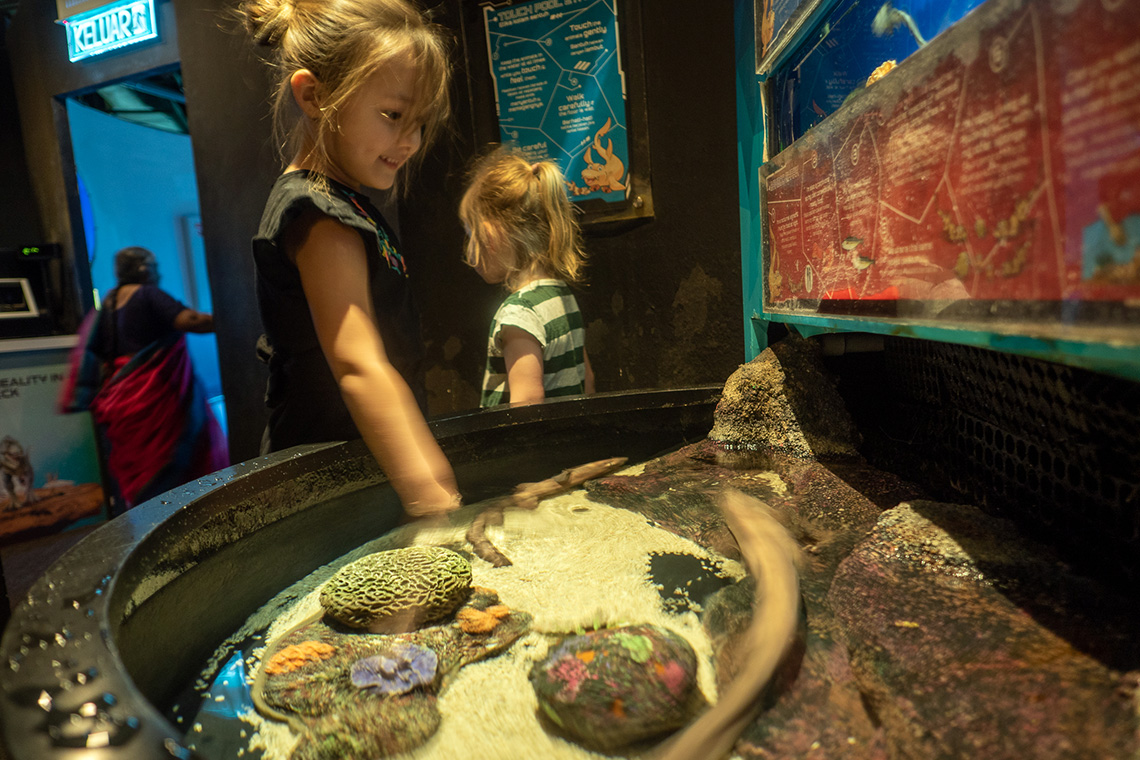 Opening hours
Aquaria KLCC is open every day of the week from 10am to 7pm. Admissions are allowed until 6pm.
Entrance fees
The admission fee is RM75 for adults, RM65 for children between 3 to 12 years old and RM65 for senior citizens (60 years old and above). MyKad/MyKid holders pay RM52 for adults, RM42 for children and senior citizens. Admission for all infants below the age of 3 is free. These fees are definitely worth paying for taking into consideration all of the natural wonders that are in store for visitors at Aquaria KLCC, making it a location that should not be missed by anybody who happens to be in the area be it a tourist or a KL local.
How to get to Aquaria KLCC
Visitors who come from Suria KLCC (or Putra LRT Station) can take the walkway through the underpass tunnel connecting from the lower-ground level of Suria KLCC (next to Cold Storage) to the Kuala Lumpur Convention Centre. From here it's a 5 minute walk through the underpass to Aquaria KLCC. From Bukit Bintang, you can exit Pavilion KL via the elevated pedestrian walkway, and walk to the Convention Centre in less than 5 minutes. Coming from outside KLCC, consider taking a Grab to KLCC Convention Centre.
Contact details & address Aquaria KLCC
Aquaria KLCC
Kuala Lumpur Convention Centre Complex
Website: http://www.aquariaklcc.com
Hotels & resorts near Aquaria KLCC
Hotels nearest to Aquaria KLCC are Traders Hotel, Impiana KLCC, Novotel KLCC, The Ascott Kuala Lumpur and the beautiful Prince Hotel & Residence.
Nearby attractions
Aquaria KLCC is located in the city center of Kuala Lumpur. This means it lies within walking distance to many other attractions. For example, you can easily combine a visit to the aquarium with a visit to the Petronas Twin Towers, or to the huge and popular shopping mall Suria KLCC. It is a mere 5 minute walk via the pedestrian walkway to Bukit Bintang, where you can find numerous huge shopping malls. Also, near Aquaria KLCC there is a GOKL bus stop, which makes it easy to travel to other areas within the city center (like Chinatown).
Suggestions?
Got any good tips to share with us? Do you know of any great things to do in Kuala Lumpur, or tips on the best places to eat? Let us know by leaving a reply below!
Subscribe now to never miss a post!
Subscribe to our email updates or join us on our Facebook page, right now!
Travel related questions can be asked in our Telegram channel or in our Travel community.