If you want to experience something different with your family, why not head over to i-City in Shah Alam. There is even a Snowalk located here which will give visitors a rare opportunity to experience snow in Malaysia. i-City is in fact a technology park which is situated in the outskirts of Shah Alam. It is definitely worth a visit but it is most advisable to come at night as the man-made trees come alive with a multitude of colours. The 'forest' is illuminated with LED lights that make it seem like you are living in your own fairy tale.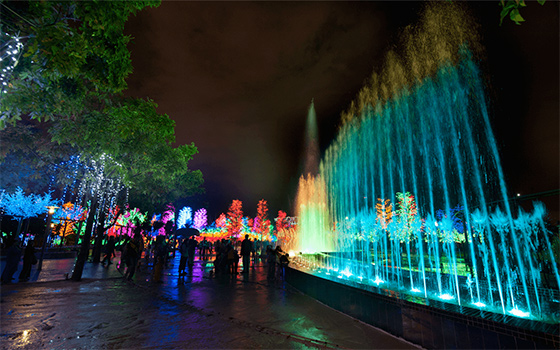 i-City is also known by another name, the City of Digital Lights, which gives an indication of what your sense of sight can expect there. If you are on the Federal Highway approaching the Sg. Rasah toll, i-City is hard to miss for rows of brightly lighted up trees stand for about a kilometre. Motorists have been known to make a detour to i-City after spotting the rows of brightly lighted up trees. If you think you are too 'old' to be dazzled by lighted up trees, you'd be wrong as the lights have tamed visitors of all ages.
After giving your sights a treat, stimulate your sense of touch at Snowalk, which is an indoor snow park. Visitors will be able to experience the cool weather which they would never be able to experience in Malaysia's tropical weather. This is of course a rare opportunity for most Malaysians who have never been in a snowfall, so Snowalk is definitely worth a visit. There are a variety of structures inside the Snowalk that will make the experience even more interesting such as snowmen, a bar that is made entirely out of ice (but no drinks are served here, unfortunately), igloos and other ice sculptures.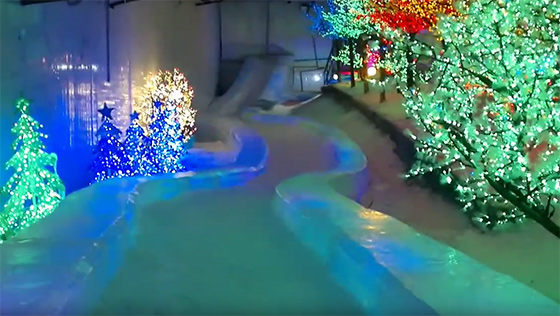 If you are wary about the cold, then it would be best to come prepare when you decide to visit i-City. If you do forget to come armed with jackets and mittens, fret not as warm jackets will be provided with the price of entrance. However, if you require extra clothing items such as boots and trousers, you would have to rent them.
The fun does not stop there as there are other activities all around i-City. For example, there is an amusement arcade for the young ones as well as the young-at-heart, a reptile house, various food stalls and a cinema screen. There is even Laser Warzone, which is a laser tag game where your goal is to 'shoot' your opponents with hand-held infrared-emitting targeting devices. Combine skills, strategy and stamina to 'gun down' your 'enemies' without feeling any aftermath of pain – truly an activity that would be enjoyed by all.
i-City is definitely worth a visit during the holiday seasons such as Christmas or even Chinese New Year where the lights will be put on to reflect the celebrations. The place is also a popular countdown spot at the stroke of midnight of each new year and was the venue for the 2011 edition of the MTV World Stage concert.
If you want to see something new but don't want to break the bank, then i-City would be the next place in the Klang Valley that you should head to.
Contact details
D-1-G, Jalan Multimedia 7/AJ
CityPark
40000 i-City
Selangor, Malaysia
Tel: +6 03 5521 8800
Email: [email protected]
Website: http://themepark.i-city.my/
Location of I-City Shah Alam
Subscribe now to never miss a post!
Subscribe to our email updates or join us on our Facebook page, right now!
Travel related questions can be asked in our Telegram channel or in our Travel community.