Better known as 'Bukit Lalang' by the locals, Broga Hill is named after the 'lalang', local species of grass that grows abundantly here. Standing at a grand 400 meters high, this hill is set in a lush tropical forest in Semenyih at the edge of the Titiwangsa Range which is 40 minutes away from Kuala Lumpur on the trunk road to Broga. It can be reached a short distance later after University of Nottingham, where the entrance starts at left from an oil palm estate opposite a rabbit park. Its breathtaking panoramic views, especially at dawn, are not secret from locals and tourists alike. Its easy accessibility on foot also contributes to its popularity. Thanks to that, the estate owner is able to make an income by charging a fee per vehicle that park on his grounds.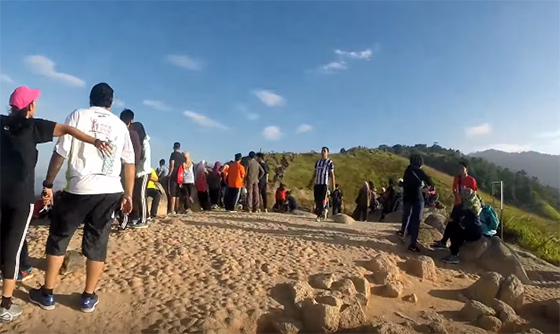 The climb up the first peak can be daunting for first timers. Fortunately, there are ropes tied to the trees to help beginners along. Your effort will definitely be paid off with the view that awaits you at the top. Other than view of sunset or sunrise that attracted most people to climb this hill, visitors will also be getting a spacious view of the plains, coated by a mixture of rainforest, oil palm plantations, villages and towns, along with distant mountains. If you are here before sunrise, you will be experiencing an almost surreal atmosphere with the mist rising from the ground from the warmth of the sun enveloping the landscape in a carpet of white.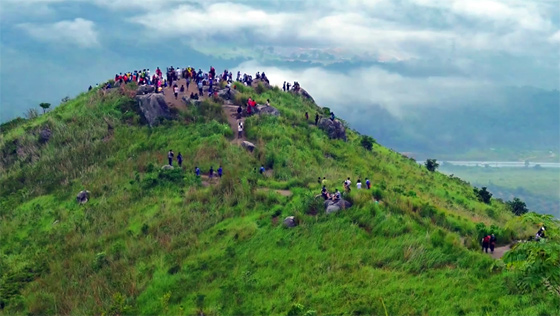 Undeniably, the mountain will be steep but the hike wouldn't be too difficult for beginners. If you are fast, 20 minutes should be sufficient for you to reach the top. For those with a lower fitness level plus a love for picture-taking along the way, they might take as long as 45 minutes or more to reach the highest peak. There are three peaks in total, each one ascends above the other through a clear path covered by tall grass on each side. From the summit, a proper jungle trail leads through the primary rainforest to Gunung Tok Wan, which is another one and a half hour hike on winding slopes. First timers are advised to wear trekking shoes, bring an extra t-shirt, drinking water, torch light if you plan to walk in the dark, basic first aid for emergency, energy food to sustain you if you need it and camera. It goes without saying that you should not litter, destroy plants and wildlife or mark rocks and trees.
After the tiring and fun hike, you can go to the Broga Sak Dato temple which is really gorgeous and large with a gigantic monkey god statue set on top of a mini hill accessible with a suspended bridge. This is another hot spot to many for its beautiful sunset as well as the devotees of the Stone Nato, a local deity. There are many smaller altars around the main temple buildings. After visiting, you can always stop by Broga Town for their local delicacies as well as fresh fish.
Location of Broga Hill Park
Subscribe now to never miss a post!
Subscribe to our email updates or join us on our Facebook page, right now!
Travel related questions can be asked in our Telegram channel or in our Travel community.