Cyberjaya was created at the dawn of the millennium about a decade ago. Now, it is a thriving and quiet little city with international credibility. The Silicon Valley of Malaysia is also home to many international students and workforce with universities and multi-national companies setting up campuses and offices here. Cyberjaya boasts of a science park, properly developed residential areas and not-so-nearly skyscraping offices. As such, the small city is deemed to be earth-friendly without over-the-top development that could jeopardize Mother Nature. Cyberjaya is also regarded as the IT-themed city and is located about 50 km south of the capital of Malaysia, Kuala Lumpur.
Truth be told, Cyberjaya isn't an attraction that would make visitors and tourists go 'ooh' and 'aah'. The city is still pretty much developing (though not rapidly compared to other major areas) but is still definitely worth a visit. If you drop by the lovely but advanced little city, be sure to stay at their Cyberview Lodge Resort and Spa. Rich in Malaysia's very own way of hospitality, the Cyberview Lodge Resort and Spa is the perfect getaway from a busy lifestyle. The luxurious resort and spa also offers award-winning tropical gardens and the tranquil ambience of a five-star boutique resort. It is definitely the place to chill and unwind, and beautiful enough to be a popular choice location for outdoor garden weddings.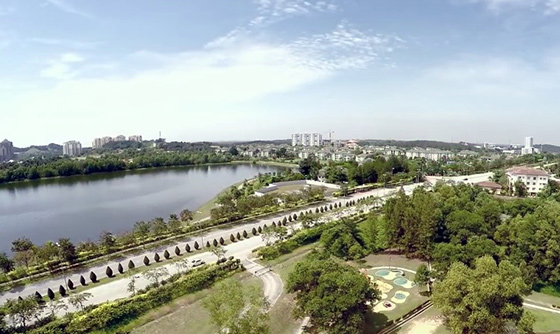 It is also highly recommendable that you visit the city's Street Mall. The award-winning boutique mall is the place where you can dine amidst the natural green surroundings, giving you a dining experience different from what you'd get at other mall' cafés or restaurants. Also, in line with the central futuristic theme that Cyberjaya has, the innovative Street Mall offers Cyberjaya residents chance to shop hassle-free by browsing and purchasing items online with just a click of the mouse.
If you are a sports enthusiast or think it is time you need a workout, head on down to Cyberjaya Community Club. The RM23mil double-storey complex houses a function hall, a coffee house, snack bar and shops that faces a scenic lake. It even features a mini sports complex equipped with a swimming pool, gymnasium, games room and tennis, badminton and futsal courts. There is also a driving range for golfers to improve their swing. Everything is under one roof. On top of that, Cyberjaya is also a one-stop centre for education, office and commercial facilities. White collar workers have sung praises about working in Cyberjaya for there is no traffic to contend with. Cyberjaya is even accessible by KLIA Express which provides an Express Rail Link (ERL) transit service to both the Cyberjaya and Putrajaya townships.
Map of Cyberjaya
Subscribe now to never miss a post!
Subscribe to our email updates or join us on our Facebook page, right now!
Travel related questions can be asked in our Telegram channel or in our Travel community.