LCCT (Low Cost Carrier Terminal)

LCCT (Low Cost Carrier Terminal) in Kuala Lumpur was opened for public in 2006 with AirAsia as its main occupant. The special low budget airliner terminal is located very close to KLIA (Kuala Lumpur International Airport), it is only a 15 minute drive by taxi. Before AirAsia started domestic flights were not popular due to the high ticket prices. Locals could not easily buy tickets and fly to relatives; they had to rely on boats or had to safe up for a long time to be able to go home. Then AirAsia started offering tickets for competitive prices and soon everybody was not only able to fly but actually did fly numerous times a year. AirAsia singlehandedly gave local people the option to fly within Malaysia and later within Southeast Asia.
On this page:
Two separate airports
KLIA and LCCT are two separate airports at a distance of 20 kilometers of each other. There is no transfer facility to or from the main KLIA terminal (or to the Satellite building). Passengers, who need to make transfers between KLIA and LCCT need to clear immigration, collect their luggage; clear customs make their way to the other terminal to go through the whole ordeal again. At the time LCCT was built nobody could imagine that this budget terminal would handle so many passengers in the near future. The maximum handling capacity of LCCT is 'only' 15 million passengers annually. In 2014 KLIA2 will be opened to public. This new terminal is able to handle 30 million passengers each year, though the main improvement is the direct connection to KLIA. No more separate transport, no more going check out completely to get your connecting (low budget) flight. The new KLIA2 will also be connected directly to the KLIA Express & Transit service; which means travelers can be at KL Sentral within 30 minutes without the need of shuttle busses.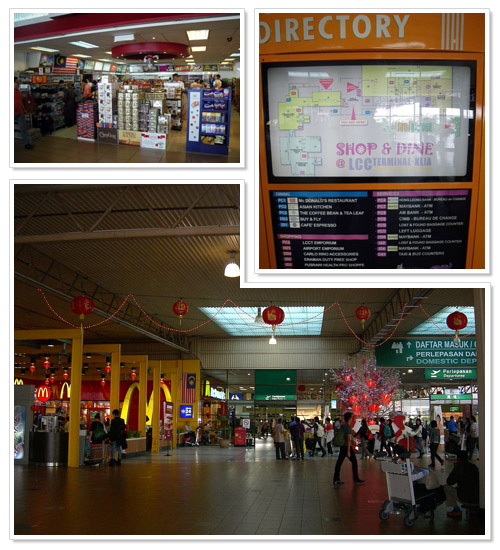 AirAsia's very own airport
KLIA was still a pretty new airport; but it still was not build for the tremendous amount of domestic flights and passengers. Because of this the government decided to build this new terminal mainly because of the great success of the low cost carrier AirAsia. After the opening of the LCCT; they had more room to handle all passengers. Over the years LCCT expanded even more, following AirAsia massive expansion. Though LCCT was first built only to cater for domestic flights, it now also serves as airport for all AirAsia's international flights. Because of this some refer to LCCT as AirAsia's Airport, though other budget airlines like Cebu Pacific and Tiger Airways also depart from LCCT.
Shops, restaurants and ATMs
Optimal passenger flow has top priority at LCCT; the goal was to help a passenger as fast as possible from their flight to the taxi vice versa. No extra delays, no hassle; just quick and easy. There are numerous small shops at LCCT; for example a Coffee Bean, McDonalds, lunchrooms and shops were you can buy magazines, toiletries and many other small products. There are a few ATMs and also some currency exchange offices. If you exit the airport from the domestic area you can walk directly to the massive Food Garden. Here you can find numerous small restaurants. This food court is opened 24 hours a day.
Services and facilities at LCCT
LCCT has a free Wifi service available throughout the terminal. There is also a Plaza Premium Lounge located at the International Departure Hall (24h – RM88) where you can relax in a quiet area before your flight takes off. If you have a stopover of at least 5 hours you could consider heading into Kuala Lumpur. In that case you can leave your baggage at the LCCT luggage storage counter located at the Domestic Arrival area (24h - from RM18 per day).
Accommodation around KLIA and LCCT
Stopover travelers can stay at the very popular Tune Hotel which is located within walking distance of LCCT (just past the Food Garden). Tune Hotels is mainly popular because of the affordable prices. If you make reservation beforehand, prices sometimes are less than RM20 per room per night. There is also a wonderful 5 stars hotel located nearby KLIA and LCCT (20 kilometers from LCCT); the Sama-Sama Hotel KLIA. This is a very luxurious award winning airport transit hotel (previously known as Pan Pacific KLIA Hotel).
From LCCT to Kuala Lumpur City Center
There are two taxi counters at LCCT; one at the domestic arrivals and one at the international arrivals. Here you can buy your taxi ticket to Kuala Lumpur city center for a fixed price (around RM75). You can also buy a premier taxi ticket; which is a little bit more expensive but certainly worth it because of the extra leg space and trunk space (sometimes your suitcase will stick out of the older taxis with limited trunk space).
Another option to get to Kuala Lumpur is to take the RM9 SkyBus service. Traveling time is 1 hour and 15 minutes. This bus will take you to KL Sentral; from there you can easily take the bus, monorail or taxi into the city center. The downside of the SkyBus service is that the driver sometimes waits until there are enough passengers on board (the bus should depart every 30 minutes). This could imply you have to wait a while before the bus departs. A taxi from KL Sentral to Kuala Lumpur city center costs around RM10/RM15 depending on the exact location of your hotel. There is a taxi counter at KL Sentral so you do not have to haggle with the driver up front.
You can also consider taking the KLIA Transit train service. From LCCT you first travel by shuttle bus to the Salak Tinggi KLIA Transit station. The shuttle bus departs from the Shuttle Service Bay opposite of the domestic arrival hall. From here it takes around 30 minutes to get to KL Sentral. The train service is the quickest way to get from LCCT or KLIA to Kuala Lumpur. Tickets costs RM12.50 one way (including shuttle bus service) and can be bought at KL Sentral (KLIA Transit counter) or at LCCT; Domestic Arrival Hall ticketing counters.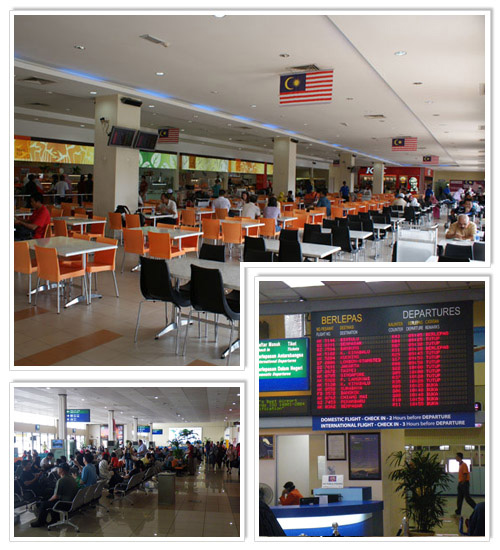 From LCCT to KLIA (and vice versa)
The quickest way to travel between LCCT and KLIA is by taxi. You can just buy a taxi ticket at the taxi counter (one at domestic arrival, and one at int. arrival) for around RM20. If you have enough time before your connecting flight then you could opt for the cheaper airport liner service; this bus takes 30 minutes and costs RM3.50. AirAsia check in counters close 45 minutes before departure time. Make sure you always arrive well in time at LCCT. If you have connecting flights always keep a two hour margin between the two flights just to be on the safe side.
Map of LCCT
Below you can see a map of LCCT. You can simply scroll through the map with your mouse. Use the markers on the left to zoom in or out of the city map.
Subscribe now to never miss a post!
Subscribe to our email updates or join us on our Facebook page, right now!
Travel related questions can be asked in our Telegram channel or in our Travel community.