1 Utama
1 Utama, also known as One Utama, One U or 'OU', has become one of the most popular shopping malls in Kuala Lumpur with around 650 shops. Unfortunately for tourists it is not really near the city centre. For a visit to this enormous mall you will need to travel quite a bit by taxi, RapidKL bus or LRT (Light Rail Transit). The mall is located in the district of Bandar Utama, a suburb of the city of Petaling Jaya. It is one of the largest shopping malls in Malaysia.
Our pages on Kuala Lumpur
On this page:
Old & New Wings
Many (especially foreign) people that work in Kuala Lumpur live in Petaling Jaya. 1 Utama daily receives between 60,000 and 90,000 visitors, and more than 120,000 on weekends. Anchor Tenants are department stores Jaya, Jusco and Giant. In addition, you will find hundreds of shops, restaurants and other eating places. Tourists or business travelers can stay overnight in the One World Hotel; a luxurious 5 star hotel.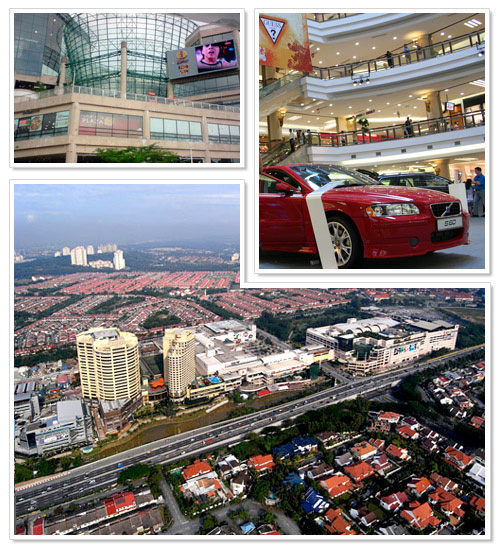 As usual, there are also cinemas; there are even two big cinemas within the mall; TGV Cinemas and Golden Screen Cinemas. Visitors can enjoy indoor rock climbing at Camp51, or go bowling at the huge U-Bowl bowling alley. Utama won the prestigious title 'Shopping Complex of the Year' in the Retail World Excellence Awards in 2006. Before this the mall had already won several other prizes. 1 Utama is a beautiful shopping mall. The New Wing is very well designed, large galleries and large stores with a luxurious appearance. The Old Wing is a bit lower and contains many smaller shops; this part of the mall has been renovated recently to attract more shoppers.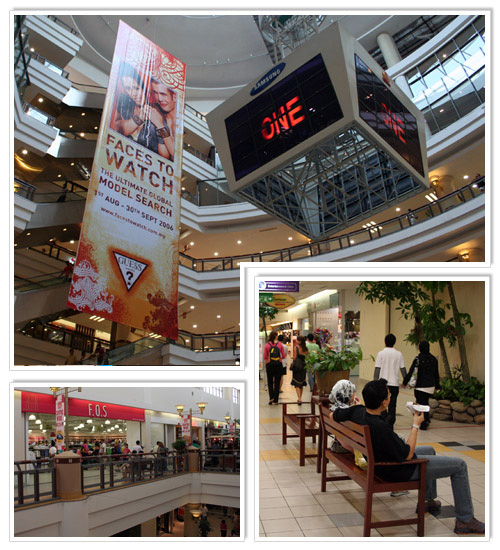 When we went there for the first time, this was together with an acquaintance of us who lives in KL for many years now. He lives near the mall itself, and knew the complex like the back of his hand. He led us around and we drank something in the so-called 'Rainforest', between the trees (but within the mall). The mall is divided into several themed sections, with names like; Highstreet, Oval, Rainforest, Promenade, Lakeside Promenade, Centre Court, Courtyard and the Entertainment Zone. Each section is decorated in its own way.
How to get to 1 Utama
From KL city center, there are several ways to the complex 1 Utama. From KL Sentral buses drive to the mall, please refer to the Rapid Bus No. KL T82. You can also take the subway to Kelana Jaya LRT station; from here you take a taxi for a couple ringgits (10 minute drive) to 1 Utama. OneCard holders can use the free shuttle bus that goes between 1 Utama and Kelana Jaya LRT station (only on weekdays).
Map 1 Utama in Kuala Lumpur, Malaysia
Subscribe now to never miss a post!
Subscribe to our email updates or join us on our Facebook page, right now!
Travel related questions can be asked in our Telegram channel or in our Travel community.