Midlands One Stop
Midlands One Stop shopping centre (also called 1-Stop Midlands or Midlands Park) is one of the older malls in Georgetown. It used to be a very popular mall, but when Plaza Gurney was opened to public most went there instead of to Midlands. It is located just outside the city centre of Georgetown and about 1 kilometer from Plaza Gurney. The building is clearly recognizable; from almost anywhere in Georgetown you see the two dark red towers of the Georgetown City Hotel that is located within the complex. What strikes is the big slide on the roof; on the upper floor there is a water theme park. There is also a Tune Hotel about 5 minutes from Midlands One Stop; which is a great place to stay for budget travelers.
Our pages on Penang
On this page:
Mainly small shops
Where Plaza Gurney is characterized by the many international stores (Gucci, Prada, Ralph Lauren, Tommy Hilfiger etc), you see mainly small, unknown brands at Midlands. The 6th floor contains many computer and IT related shops. At the higher floors the building you will find a gigantic arcadia and a bowling alley with over 50 lanes. Midlands One Stop used to be the pride of Penang, but over the years it couldn't keep up with the competition and now it caters to the lower end of the market. Nowadays Midlands is a local mall with mainly small shops selling local products, games and pirated Blu-ray movies.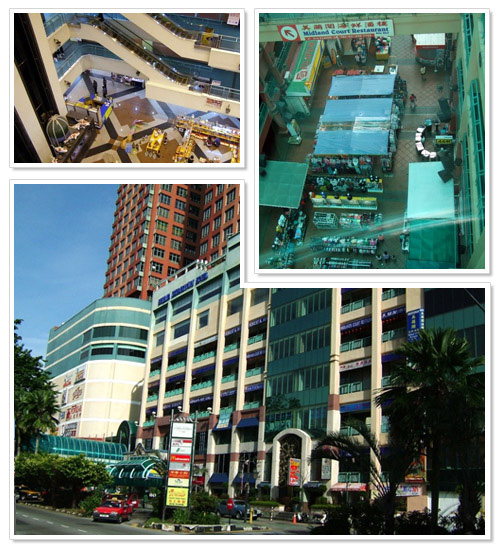 You get there by bus from Georgetown center to Batu Ferringhi or Tanjung Bungah and get out at Jalan Burmah (ask the driver). From Batu Ferringhi or Tanjung Bungah you take the bus to Georgetown, get off at three stops past Plaza Gurney. Of course every taxi knows where to find this place. Opening hours: Midlands is opened daily between 10am and 10pm.
Map with shopping malls at Penang Island in Malaysia
Subscribe now to never miss a post!
Subscribe to our email updates or join us on our Facebook page, right now!
Travel related questions can be asked in our Telegram channel or in our Travel community.