Suria KLCC
Suria KLCC is positioned as the tourist shopping Walhalla of Malaysia. You will almost daily see commercials about this mall on local television channels at your hotel. Suria KLCC is a luxurious mall with over 320 stores, and is located directly beneath the Petronas Twin Towers. It caters to middle and upper class Malaysians and to tourists. Nearly 40 million people visit the mall every year; which makes it one of the busiest malls in Malaysia. Suria KLCC is also very popular among those that do a short stopover in Kuala Lumpur. Besides shopping options you have a large cinema, an orchestra hall (Dewan Filharmonik Petronas), an aquarium, a convention center, an art gallery and a beautiful park. The park is usually full of people and fun to walk through. The outdoor swimming pool in the park is especially nice for families (with kids). Biggest attraction at Suria KLCC is of course a visit to the sky bridge or the observation deck of the Petronas Twin Towers. Visitors that buy their entrance ticket early on the day usually spend some time exploring Suria KLCC before their visit to the top of the towers.
Our pages on Kuala Lumpur
On this page:
6 floors with shops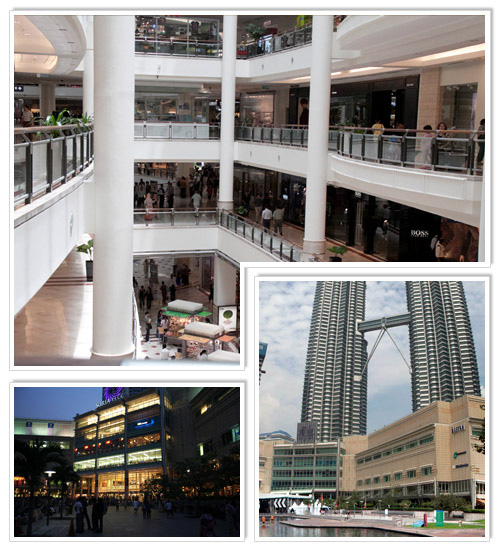 The mall itself contains a few hundred stores, spread over 6 floors. You can pay anywhere with credit card, or you can withdraw cash at one of many ATMs. Outside the mall you have a few popular bars and restaurants. You can order international dishes, but also local meals. Unfortunately we had dinner here once and where quite disappointed. It was not very good and very expensive, compared to many other dining places in and around the shopping mall (and the whole city of KL for that matter). Luckily; there are some very nice restaurants at the 4th floor; like Madam Kwan's, Yuzu (very nice Japanese food) and Bumbu Desa (Indonesian food).
Anchor tenants & food courts
Anchor tenants at Suria KLCC are Isetan and Parkson. There is a huge Cold Storage supermarket at the Concourse level. Tanjong Golden Village operates a huge 12 screen cinema at the 3rd floor of Suria KLCC. There are two food courts at Suria KLCC. On the 2nd floor you will find the Signature Food Court. Here you have over 20 local and western food outlets (ranging from Mr. Teppanyaki to McDonalds). Rasa Food Arena can be found at the 4th floor of the mall. The food outlets here mainly serve local dishes. Both food courts are very popular; especially during lunch and dinner time you might have a hard time finding an empty spot at the tables.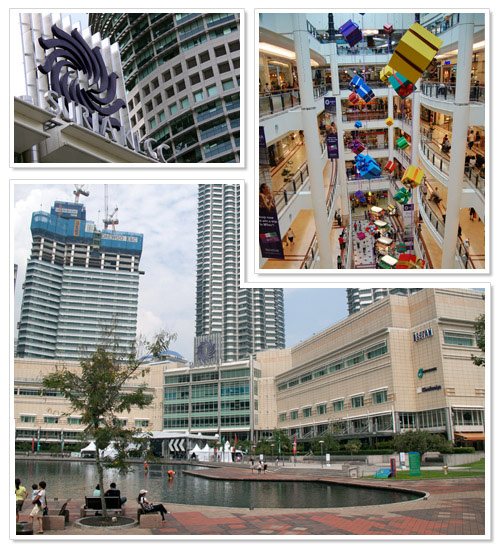 Festivals
During special occasions a number of huge screens are placed in front of the mall. We were there during the final of the WC 2002, when thousands of people gathered right in front of the mall to watch the soccer match. There was a wonderful atmosphere around Suria KLCC; everyone looked at football in the open air. Usually the same goes when Formula 1 and MotoGP races are driven at Sepang circuit. Suria KLCC is also the main location for the New Years Eve celebrations; as every year a huge fireworks display is held at KLCC Park.
Many great hotels nearby Suria KLCC
Suria KLCC is located within the Golden Triangle of Kuala Lumpur, nearby many popular 4 and 5 stars hotels. A few of the best hotels in the vicinity of Suria KLCC are: Traders (by Shangri-La), located opposite Suria KLCC Park; Nikko, 5 minute walk along Jalan Ampang and Renaissance, also along Jalan Ampang, a 10 minute walk.
New shops to be added
Suria KLCC underwent renovations in 2011 that added another 30 luxury shops to the shopping mall.
"Targeted for completion by June, it will feature more than 30 specialty outlets including international high-end specialty stores such as flagship Cartier and Chanel stores, a new Giorgio Armani store and South-East Asia's first Armani Café."
Walk from Bukit Bintang to Suria KLCC
It is easy to walk from Bukit Bintang to Suria KLCC. From the Bukit Bintang monorail station in front of Lot10 you just walk towards Pavilion KL. If you reach the main entrance (where the fountain is located) you keep to the left into 'The Connection' where you can find numerous restaurants and bars (which is part of Pavilion KL). At the end of this food lane you will see the sky bridge that crosses the busy Jalan Raja Chulan. Cross the road by the sky bridge and continue to walk straight until you see the main entrance of the Kuala Lumpur Convention Center to the left. Enter this building by taking the small elevator down to Aquarium KLCC. From here you can follow the signs all the way to Suria KLCC. You will enter the mall from the lower ground floor. You can also walk outside via KLCC Park. In that case you need to take the stairs when you reach the small food court of the Kuala Lumpur Convention Center. All in all it is a 5/10 minute walk between the two very popular malls.
How to get to Suria KLCC
Suria KLCC is easily accessible by bus, taxi, subway or for some even on foot, depending on the location of the hotel. When you travel by subway, you need to get off at Suria KLCC (if you use the Kelana Jaya line). You can also take the monorail to Bukit Nanas station and walk to Suria KLCC from there (10mins). Keep in mind that you sometimes might need to wait quite long for a taxi around closing time (10.00pm) because everyone takes a taxi at that time. Opening hours: Suria KLCC is opened daily from 10am to 10pm. The shops at the Esplanade (along the park) stay open until midnight.
Map Suria KLCC in Kuala Lumpur, Malaysia
Subscribe now to never miss a post!
Subscribe to our email updates or join us on our Facebook page, right now!
Travel related questions can be asked in our Telegram channel or in our Travel community.