Mid Valley City
Both Mid Valley Megamall and neighboring luxurious shopping mall the Gardens is part of Mid Valley City. Within Mid Valley City there are office blocks, a convention centre, residential blocks and a few hotels; including the 5 stars The Gardens Hotel and the 4 stars Boulevard Hotel. Because of the location outside Kuala Lumpur city center the rooms are often very affordable. Between the two malls there is a boulevard with many nice restaurants and bars. The two malls are also connected through a bridge and an underground corridor.
Our pages on Kuala Lumpur
On this page:
Mid Valley Megamall
Outside KL city center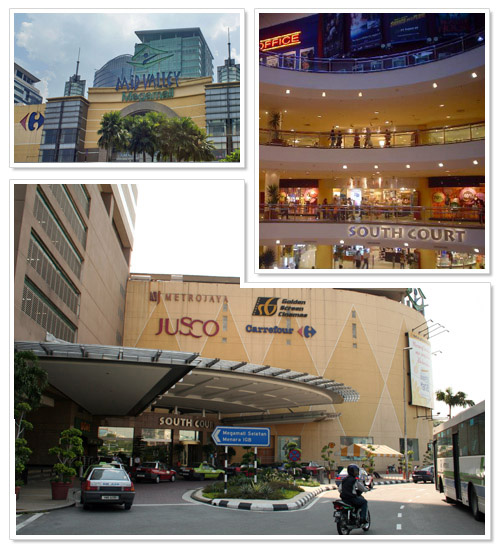 Mid Valley Megamall is a very popular shopping mall among locals, located just outside the centre of Kuala Lumpur. The mall was opened to public in 1999; over the years it became increasingly popular among tourists too. As Mid Valley is mainly visited by locals you will not see that many tourists in this mall compared to Pavilion KL or Suria KLCC. At weekends, especially around closing time, it can be a hectic place. Make sure you hang around for at least an hour after closing time before you take a taxi to your hotel. We have seen rows of more than 100 people waiting for a cab. Even better would be to leave the mall around dinner time; as that is often the least busy time of the day.
Best mall in Kuala Lumpur
Mid Valley has over 430 shops including a large F.O.S (Factory Outlet Store) with a good range of low-priced branded clothing. The mall contains two huge department stores; one in every corner: Jusco and Metrojaya. There is a massive Carrefour supermarket at the lower ground floor with next to it an equally huge Harvey Norman electronic store. We personally think Mid Valley Megamall is probably, together with 1 Utama, the best mall in Kuala Lumpur. The focus is not so much on tourists, but more on the locals. The atmosphere is usually very pleasant (though it can get really crowded in the weekends). The mall caters to every type of shopper; you have luxury stores, but also many ordinary shops. The mall itself is conveniently designed, but it can be a bit overwhelming for first time visitors because of the sheer size. Make sure you wear comfortable shoes, mostly because it costs quite some time to explore the mall completely.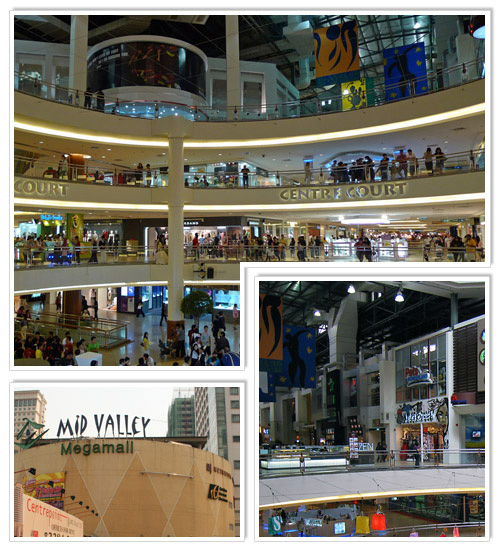 Activities
At the upper floor there is a big Golden Screen Cinemas with 18 screens, we went to a Gold Class screening there which is certainly fun to experience. However, it is just a regular cinema compared to the very luxurious GSC Signature cinema in neighboring mall The Gardens. At the same level there also is a 38 lanes bowling alley, an exhibition centre, Megakidz indoor playground and also many specialty stores including some toy stores, comic stores, the biggest dive shop in Malaysia, a huge Jackie Chan fitness and a food court.
The Gardens
Luxurious shopping mall
In 2007 another mall within Mid Valley City was opened for public; The Gardens. This new mall is linked to Mid Valley Megamall through a bridge and an underpass. The Gardens caters for the upper class citizens of Kuala Lumpur. Here you will find some very luxurious brands like Louis Vuitton, Versace Jeans, Burberry, A|X Armani Exchange, Banana Republic, Calvin Klein, DKNY, Gap, Lacoste and Hugo Boss. The atmosphere at The Gardens is wonderfully serene. Tourists that want to shop without being disturbed all the time by the store employees should visit The Gardens. The design of the mall is fantastic. Many tourists and locals think that The Gardens is the most beautiful mall in Malaysia. There are around 200 shops spread out over 6 levels at The Gardens.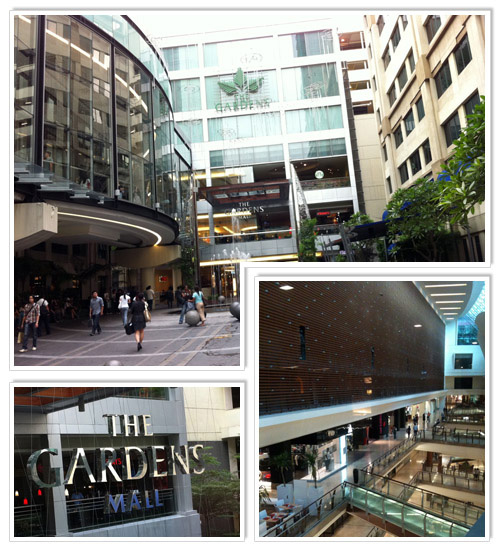 Signature cinema
The anchor tenants of The Gardens are Isetan and Robinsons. At the lower ground floor you can find a huge Cold Storage Supermarket. There is also a pretty big Borders book store; in the back you will find a Starbucks Coffee branch. The food court, Food Garden, is located next to Borders. Here you can enjoy a local lunch or dinner though it is usually deserted around dinner time; it is very popular during lunch time because of all the offices in the two Gardens towers. GSC Signature is probably the most luxurious cinema in Malaysia. Movie tickets aren't cheap; a standard premiere class ticket costs RM30. Gold Class is a wonderful experience. You will enjoy the movie in a huge high quality recliner. Tickets are RM60; which is very expensive for local standards (one explanation why it is always very quiet in Gold Class).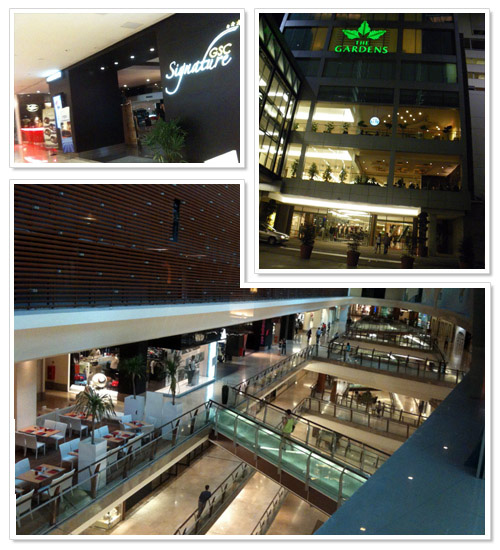 Great restaurants
There are quite a few good restaurants at The Gardens; the best ones include Sushi Zanmai (Japanese), Flying Chillies (Thai), Fong Lye (Taiwane), Yuzu (Japanese), Spice of India and Tony Romas. Except for the last one all are located at the third floor of The Gardens; Tony Romas is located at the lower ground floor at the underground corridor to Mid Valley. Opposite of the Cold Storage supermarket there is an organic shop called Justlife; one of the first in Malaysia.
How to get to Mid Valley Megamall & The Gardens
Both malls are located at Tun Razak Road (207 Jalan Tun Razak) and is accessible in several ways. The best option is to take the LRT (Light Rail Transit or metro) towards Kelana Jaya, and then stop at Bangsar LRT Station, this is one stop past KL Sentral. From here you can take the free shuttle bus to the Mid Valley Megamall, or you take a taxi for a few ringgit. There's also a KTM Komuter train that has a station adjacent to Mid Valley North Court. From there, you take a walk through the sky bridge, and you will be at Mid Valley in minutes! Just take any LRT/MRT to KL Sentral and take the Komuter to Mid Valley City from there.
If you take a taxi directly from KL city center, make sure you know the way to the mall from your hotel, otherwise the driver will make detours to charge more for the journey. Make sure the driver uses the meter by just taking a seat in the taxi. At busy hours (around closing time) most taxi drivers are reluctant to use the meter. There are taxi stands at all three entrances of Mid Valley City; Centre, North and South Courts (but centre court is not an official taxi stand).
Map Mid Valley Megamall & The Gardens in Kuala Lumpur, Malaysia
Subscribe now to never miss a post!
Subscribe to our email updates or join us on our Facebook page, right now!
Travel related questions can be asked in our Telegram channel or in our Travel community.