BB Plaza
BB Plaza or Bukit Bintang Plaza is located within the Bukit Bintang area; in Kuala Lumpur city center. BB Plaza mostly attracts youngsters, and – especially in weekends – it is crowded with many kids between the age of 14 and 25. BB Plaza is especially popular amongst locals; you don't usually see that many tourists. Adjoining Sungei Wang is also very popular; both malls are connected through many small lanes of shops and to many it is difficult to see where one mall starts and the other ends. Anchor tenant is Metrojaya. Both BB Plaza and Sungei Wang cater to a lower to middle class market; some consider it to be a bargain-hunters paradise.
Our pages on Kuala Lumpur
Festivities
Because of the many small shops, the atmosphere in the malls can be described as hectic; especially during weekends. At the side-entrance of BB Plaza there are often open-air concerts. Usually these concerts start around 23.00 and end well beyond midnight. In front of the main entrance of BB Plaza you will find numerous terraces where you can soak up the buzzing city. At the corner you will find a Maybank branch with numerous ATMs and next to it a money changer. Right in front of the main entrance, along Jalan Bukit Bintang there is an official taxi stand. Hats off if you are able to find a taxi there whose driver is willing to use the meter.
Every year there are many events and festivities that are celebrated within the Bukit Bintang area in Kuala Lumpur. The main crossing (right in front of BB Plaza) is then filled with thousands of people that came to the city center to enjoy music (for example around the F1 weekend, or during the WC 2010 soccer championship) or to watch the amazing fireworks show (at New Years Eve and also during Chinese New Year).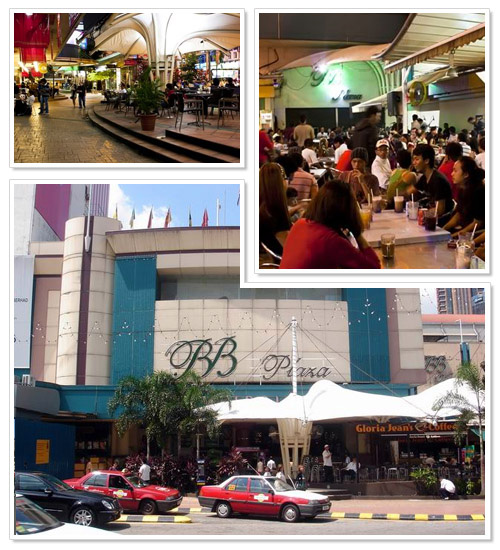 How to get to BB Plaza
If you are staying in the city center you can easily walk to BB Plaza as it is located ideally in the heart of Kuala Lumpur. It is located nearby popular malls Lot10, Fahrenheit88, Plaza Low Yat and Pavilion KL. It is also directly connected to the very popular Sungei Wang mall. LRT (Light Rail Transit) station Bukit Bintang is located right next to the mall entrance. If you are staying outside the city center we would suggest taking the monorail. Other public transport in Kuala Lumpur is not that reliable, though you could always try out a RapidKL bus. Another option is to get there by taxi; make sure the driver uses the meter and don't try and find a taxi around closing time or during heavy rains (as everybody needs a taxi at the same time). BB Plaza is opened daily between 10am and 10pm.
Map BB Plaza in Kuala Lumpur, Malaysia
Subscribe now to never miss a post!
Subscribe to our email updates or join us on our Facebook page, right now!
Travel related questions can be asked in our Telegram channel or in our Travel community.