We had heard of beauty parlors for dogs and cats, and pet psychiatrists, and horse whisperers and even soothing music for house plants, but how does one treat a koi carp in a spa? Then, in the hi-tech luxury of Kuala Lumpur International Airport, our informant patiently calmed our wild imaginings. 'No,' she said, 'it is not a spa for fish. It is a spa with fish: very special fish that give you an underwater pedicure.'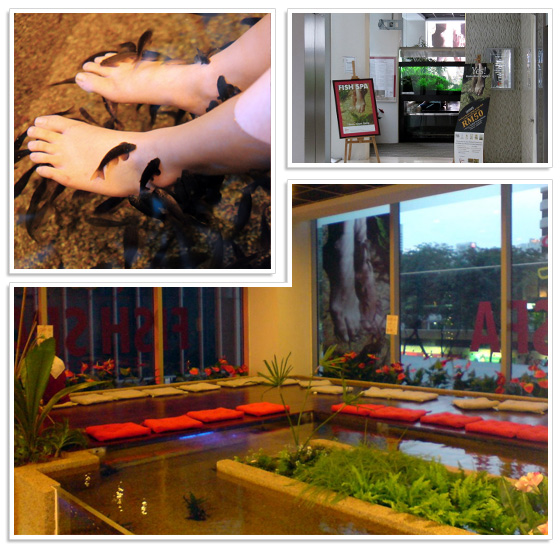 They're a variety of fish called Garra rufa and are native to Jordan, Syria and Turkey. According to the legend, the pedicuring habits of these fish were first discovered in the waters of a hot spring called Kangal in Turkey. The Kenko Reflexology & Fish Spa is at Level 5, Pavilion Kuala Lumpur, tucked away in a bright, light-filled, corner. Young women, with a well-scrubbed and slightly clinical look about them, led us to a room with a concrete tub fitted with a hose attached to a tap. 'Please wash your feet here for hygienic purposes.' We rolled up our trousers, knee-high, sat at the edge of the tub with our feet dangling in, washed them with the hose, scrubbed them with liquid soap and a brush, and dried them on a towel.
'Please follow me to the Dr. Fish Spa Therapy.' The Spa, we were told, was founded by its Principal, Dr. Jimi Tan. According to its brochure: 'Dr. Tan's services are highly sought after by both local and international celebrities in Singapore. The news of his magic hands travelled far and wide reaching the royalties from Kuwait and Japan.' These therapeutic creatures were swimming very actively in two narrow ponds, and one large sunlit pond, served by a wooden deck accessed up a flight of steps. We sat on the deck and, tentatively, immersed our hands in the cool water of the larger pond. A few palm-sized grey fish swam up very casually, nuzzled against our hands speculatively. And swam away, disinterested. They, clearly, had a Hands-Off approach to palms, fingers, wrists and hands in general.
In the blink of an eye, they were covered with swimming, wriggling, fish in a feeding frenzy on our dead skin. We couldn't see our feet for the mass of feasting fish. One of us is extremely ticklish on the soles of the feet. The delicately gorging fish felt as if a fairly stiff brush was being rubbed against those highly sensitive soles. An explosion of laughter erupted, startling the other guests. And then the excruciating experience overloaded the nerves, trigged a reflex, flipped the feet out of the water.
The other person in our team is not so neurologically hyped … if that is the right term. To less sensitive soles, the first impact of the nibbling fish was akin to walking barefoot on a soft wire door-mat. This, however, soon changed to that of stepping on coir fiber but, before long, it became as soothing as thousands of tiny fingers playing gently, persistently, over the feet. It was almost hypnotically relaxing. Meanwhile, the over-sensitive partner of our team had ventured across the deck and decided to experience one of the narrow pools with the inch-long fish. When the shoal of grey, finny, physicians homed into their target it felt as if goblins with malice aforethought had grabbed a handful of squirrel-hair brushes and were plying them with great vigor. An over-charged frisson surged through the body with stinging intensity. That was the end of that person's Fish Therapy.
But the less-sensitive partner had a different experience with the smaller fish. Having been lulled by the ministrations of the larger fish, the attentions of the tinier fish were like walking unshod on a mossy path: tingling, resilient and mildly stimulating. It was, altogether, a very unusual and enjoyable encounter. In spite of our widely divergent reactions to the fish, nevertheless, the feet of both of us felt clean, soft and nurtured. Cosseted feet are guaranteed: fishy levitation is a bonus.
Quick facts:
Cost: Feet fish Spa for 30 minutes
Adults – RM 38
Children below 12 years – RM 19
Children below 4 years – Free
Body Fish Spa Therapy – 30 mins – RM 108
Hours – 10 a.m. to 10 p.m., daily.
Address:
Kenko Reflexology & Fish Spa Sdn Bhd
Lot 5.01.09, Level 5
Pavilion Kuala Lumpur
168,Jalan Bukit Bintang
55100 Kuala Lumpur.
Tel: 603 2141 6651
Subscribe now to never miss a post!
Subscribe to our email updates or join us on our Facebook page, right now!
Travel related questions can be asked in our Telegram channel or in our Travel community.