The International Tourism Night Floral Parade (1MITNFP) is an annual signature event held in conjunction with the Putrajaya Floria Festival, Malaysia's premier outdoor garden and floral showcase displaying the best of Malaysia's and international landscape and horticulture industry, at Putrajaya Lake aimed to attract global tourists to the country by introducing and promoting the diversity and richness of the nature, culture and tradition of ASEAN and the Plus Three Countries. With the collaboration and cooperation among all the ASEAN Member State and the Plus Three Countries, promoting the region as a single unique tourism destination could maximize the region's potential.
Some of you might wonder what is this night floral parade all about. You're wrong if you think that it is an event where flowers are simply arranged around the park with a little signboard listing its generic and scientific name like those you see in the parks. There will be colorful lights. There will be fireworks. There will be boats. There will be dances. There will be songs. And of course, not forgetting the main characters, the beautiful and exotic flowers.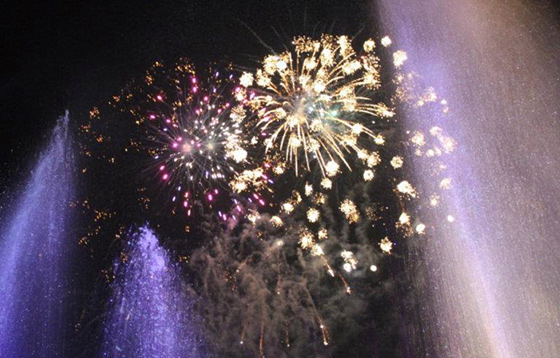 There will be a theme to go along with the event – Magic of the Night – which is portrayed by the colorful lights that represent the vibrant floral species and designs as well as the multicultural facade of the ASEAN region. The breathtaking parade will make you hold your breath with its boats bursting with bright and colorful lights alongside its spectacular decorations depicting the exotic flora and fauna and icons representing each participant. To maximize its effect, the parade will only begin after sunset.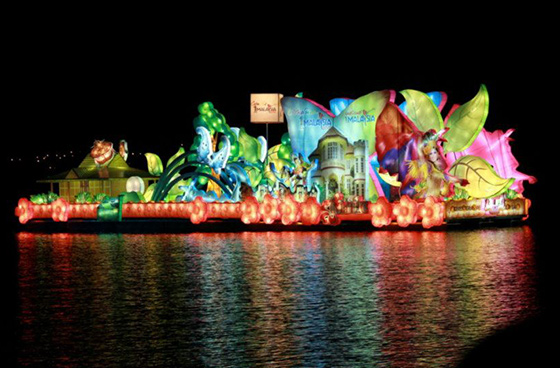 Other than The Parade of the Night Floral Boats, there will be another component in this event – Static Night Floral Boats Display. Like the name suggests, all the participating boats will be in a static display after the floating parade for visitors and tourists to come closer and ogle at the designs and details of each floral boat before casting their poll which will have some weightage in the contest. Several categories are present in this contest – Overall Best Boat, Most Creative Boat, Best Lighted Boat and Most Popular Boat. Another weight-age in determining the winners is based on evaluation by panel judges appointed by the Ministries.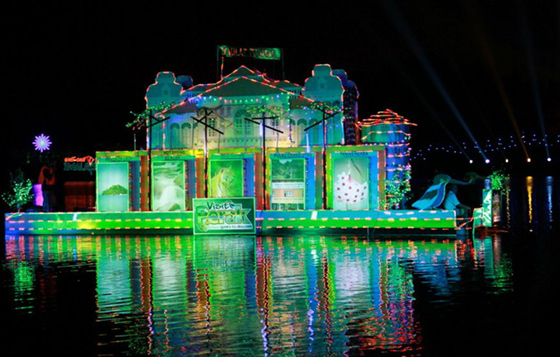 Visitors are also entertained by other attractions at the 1MITNFP as there will be tourism related booths offering various tourism product and packages for the public, a photography contest of Night Floral Boats, fireworks display, performance by musical and cultural group, fun facilities and competitions. In 2011, this parade has attracted participation from 13 countries and organizations – Brunei, Cambodia, Melaka, Perlis, Terengganu, Perak, Johor, Putrajaya, Pahang, AirAsia, Sunway Group, I-Berhad and Tourism Malaysia.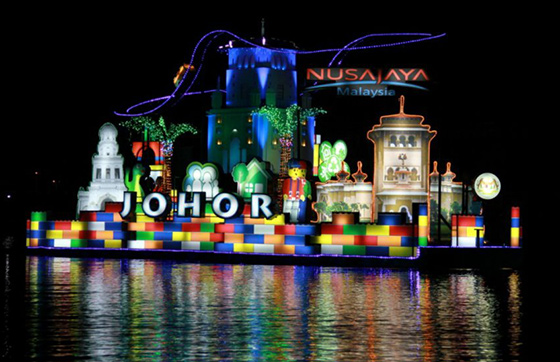 In 2012, an increase in the number of boats is seen. 15 boats converged on Putrajaya Lake which includes boats from the states of Johor, Melaka, Negeri Sembilan, Pahang, Perak, Perlis, Sabah, Sarawak and Terengganu, boats from government bodies – Putrajaya Corporation, Langkawi Development Authority (LADA) and tourism Malaysia, as well as first participation by international participants from Kenya and Suzhou, China.
The Night Floral Parade of 2013 – themed 'Magic of the Night 2013: Colours of Harmony' – takes place between 22 June and 30 June from 5pm – 11:30pm. For 9 consecutive nights visitors to Putrajaya will be captivated by the remarkable, stunning displays of lighted boats cruising for 3km along the Putrajaya lake. Location of the event is Putrajaya Lake, Presint 2, Putrajaya, Kuala Lumpur.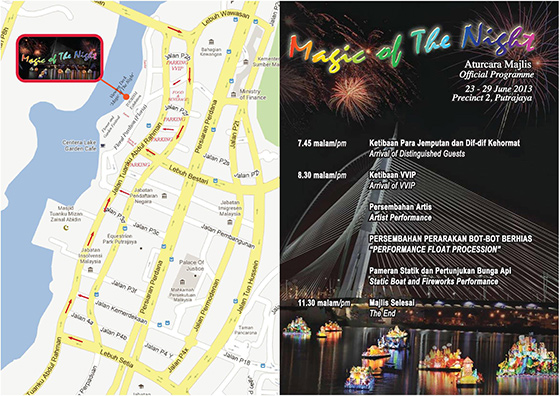 Subscribe now to never miss a post!
Subscribe to our email updates or join us on our Facebook page, right now!
Travel related questions can be asked in our Telegram channel or in our Travel community.