A local's guide to a weekend in KL's endless summer
Kuala Lumpur is often regarded as a popular destination hub for tourists from all over the world due to its unique cultural diversity. But I'm sure you are already aware of Kuala Lumpur's popular tourist hotspots such as the Petronas Twin Towers, Dataran Merdeka and Petaling Street. Instead, I'd like to share with you a guide to Kuala Lumpur's underrated and honest destinations from a local's perspective. If you're looking to avoid tourist traps and instead, truly understand what it is like to be Malaysian, read some of our recommendations below:
1) Masjid Negara on Jalan Perdana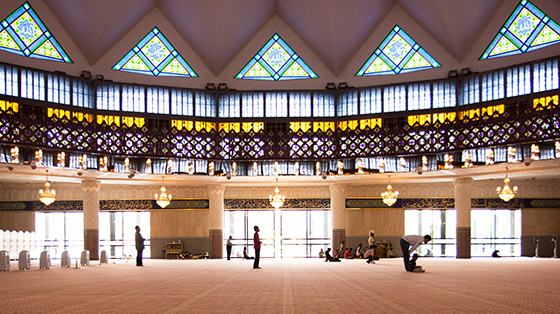 We often associate Mosques, Churches, Temples and other places of worships with a sense of conformity towards their historical and cultural origin. However, the Masjid Negara, or the National Mosque of Malaysia is uniquely modernistic. This architectural staple takes Islamic geometric latticework to the next level, reflecting pools and shimmering fountains that surround the main structure. Come appropriately dressed and be in awe of the intricate Koran verses juxtaposed with French decorative chandeliers adorning its Grand Hall.
2) Street Art along the Klang River Banks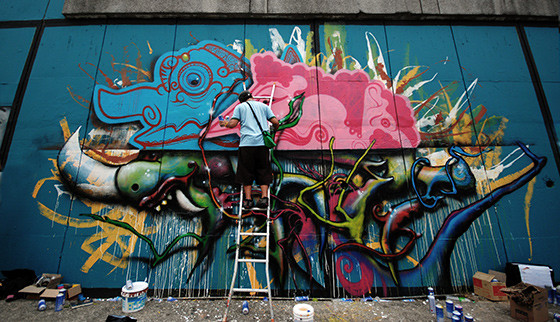 On your way to Central Market, by the 'Pasar Seni' LRT train station; stop to appreciate the graffiti that stretches along the Klang river banks. Graffiti in KL is a renegade art form. Bridge arches and neglected walls are tattooed images that resonate current societal and political issues, telling the tale of KLs subculture from the perspective of freethinking locals. Call it a form of self expression or a movement to reclaim public space – this visual mischief unfortunately has never sat well with authorities. But walk around the Klang river by Pasar Seni and Masjid Jamek and you'll find honest street art that gives KL character and voice.
3) KL's Brickfields (Little India)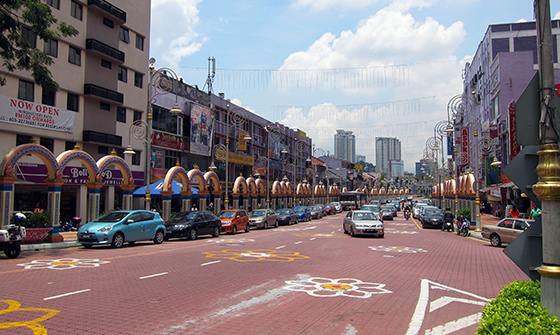 Kuala Lumpur is a melting pot of numerous cultures, races and religion, making it honestly one of the most unique and diversified destinations in the world. The cultural exoticism that lies here is materialized in KL's Little India, or more commonly referred to by locals as Brickfields. Here you will be transported into Malaysia's celebrated Indian traditions where you can dip your hand into endless amounts of rice, dhal and curry, in addition to a plethora of fusional Malaysian-Indian dishes. The paved streets of Brickfield are sparkled with colour, and scented with jasmine while spices waft over tabla rhythms and the range of stacked embroidered textiles outdoes any tropical sunset.
4) Thean Hou Temple by Robson Heights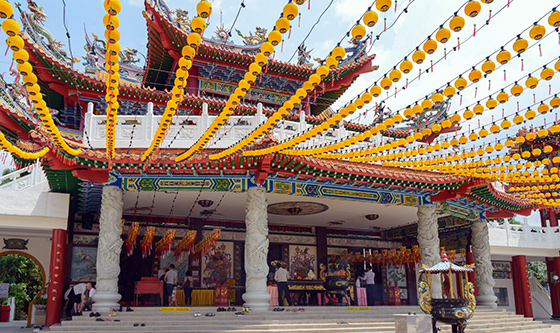 While Brickfields may give you an insight to Malaysia's Indian roots, Thean Hou Temple by the secluded Robson Heights represents unprecedented Chinese-Malaysian architecture at its finest. The temple was built by the Hianese community in Kuala Lumpur and is dedicated to the Goddess Tian Hou. Possessing elements of Buddhism, Taoism and Confucianism, Thean Hou's grandiose structure is a successful combination of modern architectural techniques and authentic traditional design, featuring imposing pillars, spectacular roofs, ornate carvings and intricate embellishments. And if standing in sheer reverence at this architectural masterpiece isn't enough, the towering and imposing 6-storey temple provides wonderful views of Kuala Lumpur.
5) Bukit Saga Jungle Hike
Most would think of Kuala Lumpur as a city of endless glass and concrete reaching into the sky. However, nestled between the skyscrapers, condominiums and shopping malls, there are some hidden pockets of jungle with amazing hiking trails – you just have to know where to look. One particular green oasis, Bukit Saga, is a jungle-clad hill located in the Cheras District of the town. Not only is there a 410-metre hike to the peak, but there's also a further sweat-inducing scramble on dense jungle trails leading to a hidden waterfall. Despite being just a short Grab ride from downtown, you will feel as if you are lost in the wilderness.
6) Rumah Penghulu at Badan Warisan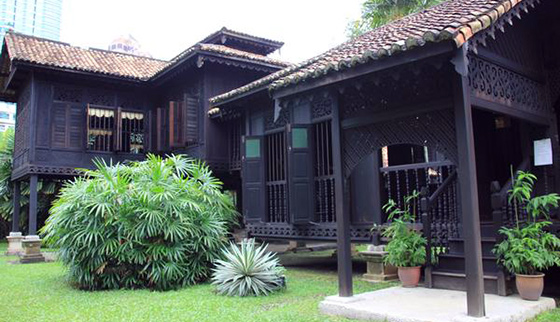 In a city that strives for economic and technological progress, we can often lose sight of our historical past and cultural heritage. Located in the heart of Kuala Lumpur, the Rumah Penghulu at Badan Warisan that is dwarfed by towering skyscrapers would be a refreshing insight to the lives of native Malaysians. This cultural artefact is one of the oldest surviving traditional wooden Malay houses. It was built in stages between 1910 and the early 1930s in a small village north of Peninsula Malaysia and was later relocated and restored in 1996. Today, it stands as one of the finest remaining examples of Malay vernacular architecture. Here you can enjoy a guided tour of the compound or even roam around its tropical gardens.
7) Dine at the Straits Food Company in Bangsar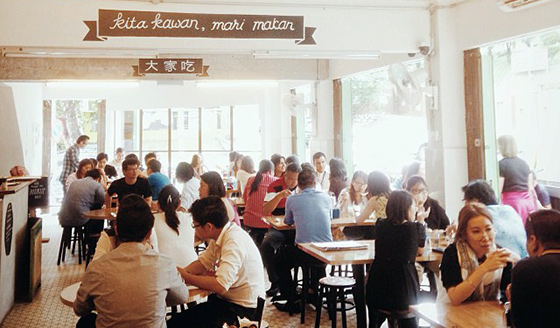 We've spoken about various sites that represent the diverse yet individual sub-cultures present in Malaysia. Albeit, I am yet to mention a place that discusses a unified and harmonious Malaysia where all of our ethnic cultures, religions and races make Malaysia what it is. Something tangible that brings us Malaysians together is food. And while it is now a rare sight to see retirees and civil servants sitting in a coffee shop, sipping on a bottomless cup of Kopi with a pack of cigarettes in their linen shirts, and the daily newspaper spread out across the table, The Straits Food Company is an attempt at recapturing the coffee shop nostalgia of Malaysia. It's peranakan interior coupled with an outstanding local menu should revive our fading past. With cheap and affordable prices, mosaic tiles and ratty stools, it's all refreshingly Malaysian. Do pay this modern-classic a visit because it really is, as described, "Food For All".
8) Enjoy Jazz, Funk and Groove at No Black Tie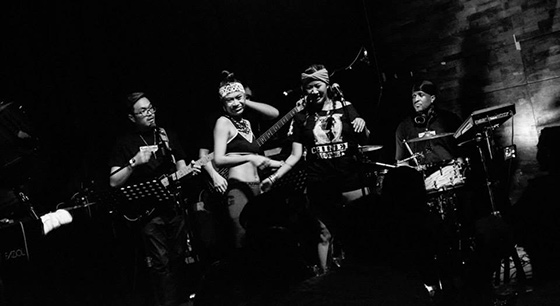 The extended strip of bars and nightclubs at Changkat, Bukit Bintang features an ever-changing selection of venues offering everything from Irish ale to Cuban mojitos. The packed and bustling street scene is compact enough that you can barhop until the sun begins to shine and the constant chatter begins to fade. While bars are struggling to keep up with trends and the neighboring competition, there's one place that delivers consistently and that is No Black Tie. This is Malaysia's Blue Note, the city's singular jazz joint that screams refined cocktails under murmurs of Miles Davis. The wooden interior in contrast to the countless number of vintage jazz posters compliments the venues name and live acts from all over the world keep owner, hostess and pianist Evelyn Hii's No Black Tie continuously pulsating.
9) MAP at Publika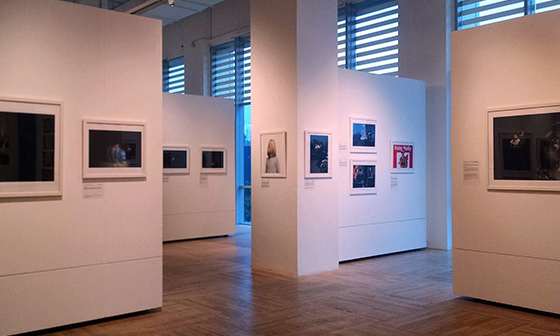 MAP is malleable art space where enlightened developers decided to creatively jazz up the Solaris Dutamas housing complex. Here, spectators are able to explore contemporary ideas and get a taste of KL's emerging art scene. This arts organization consists of two spaces – the 6,000 square feet White Box gallery and the 250-seat Black Box new media space. Calling itself the newest arts platform for Kuala Lumpur, it provides a space for artists from the region from multi-disciplinary backgrounds to share their cutting edge works with a wider audience.
10) Omakase + Appreciate near Masjid Jamek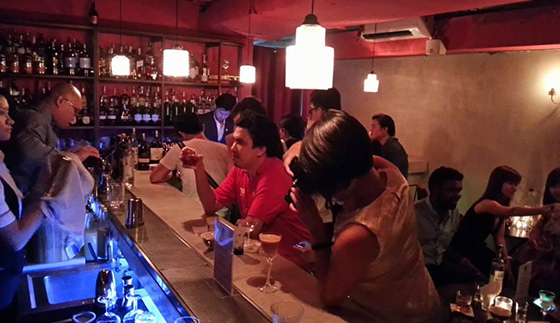 Headed by two renowned Malaysian mixologists, Karl Too and Chong Yi Shawn, Omakase + Appreciate is no easy feat to find. Located behind an intimidating ventilated door down a flight of dimly lit steps by the Bangunan Ming Annexe, you'll find yourself transported to a spot that resembles a quintessential Peranakan hotel room. The space hosts host no more than five tables and the powering, antique shelf that holds copious amounts of alcohol and dominates the entire room hints at Omakase + Appreciate's sole purpose, that is to serve the finest concoctions to a crowd who wants nothing less.
Subscribe now to never miss a post!
Subscribe to our email updates or join us on our Facebook page, right now!
Travel related questions can be asked in our Telegram channel or in our Travel community.