You can reach this great attraction within an hour drive from the city center of Kuala Lumpur. If you are staying in the city, the Kuala Selangor Firefly Park is a very nice place to visit during your stay. The firefly park gives refuge to one of the biggest firefly colonies in the world. Kuala Selangor is a small fishing village northwest of Kuala Lumpur. Finding the attraction is not that difficult; just follow Jalan Kuala Selangor from the city center until you reach Kuala Selangor. From there you just follow the signs that lead you to the firefly park.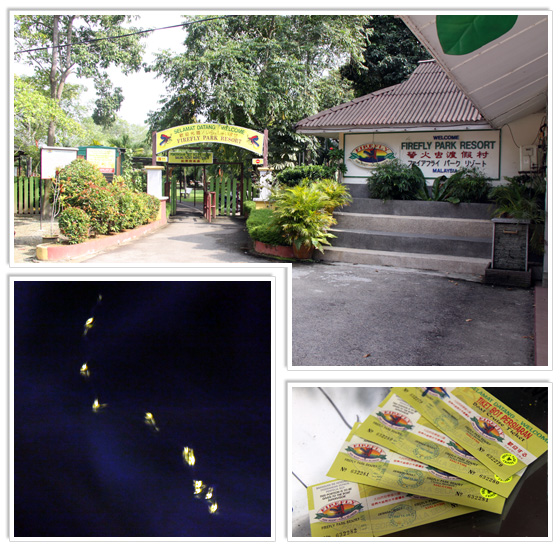 The day we went to the park, we left KL at 3.30pm; we arrived at the park entrance at 4.30pm. As it was way too early to see the fireflies – tours start from 7.30pm onwards. We did however find out the exact location of the park, which was easier to find during daytime then during nighttime. We figured we might as well head back to Kuala Selangor first to grab a bite to eat and head back there just before the park was opened for public.
We drove to Pasir Penambang; a small village next to Kuala Selangor. We had read about 'Restoran Kuala Selangor' up front; so we decided to have dinner at that restaurant (which was quite ok and affordable). Guests that visit this restaurant are mostly 'tourists' from Kuala Lumpur, we didn't see any foreign tourists over there. Restoran Kuala Selangor is located alongside Jalan Bagan Sungei Yu 1A.
After dinner, we left for the firefly park (again). We arrived at 19.00 but we still were the only ones there. Later a couple of other tourists arrived; the only other foreign people we saw at the park that night. Right after we bought our tickets a bus with – mostly Asian – tourists arrived. The firefly park used to be more popular amongst foreign tourists, but lately the park has been getting some negative press and therefore tourist numbers have dropped. This might actually be a good thing for the firefly population; as less tourists mean the colony have a better chance of survival (in recent years the colony has decreased tremendously in size due to tree logging and development in the nearby area).
We had a fantastic time at the firefly park. The tour lasted about 45 minutes, but was fun to do. The fireflies were everywhere. We saw them in almost every tree, sometimes thousands in one single tree. We even saw some trees where the fireflies blinked in perfect synchrony. Those trees looked like Christmas trees.
Before the tour started, we were handed a life jacket and we were acquainted with the only rule that applied during the tour: Never take any pictures or use your mobile phone or video camera, as this bothers the firefly colony too much. Apparently, we were the only ones that took notice; as behind us many people were shooting picture after picture. They could not be bothered with the rules that applied to them. I tried using my video camera at one point (pocket sized vado hd), but it was no use at it was too dark anyways.
Kuala Selangor Firefly Park is opened to public daily between 7.00pm and 10.30pm. Entrance fee for adults is RM15, children below 12 years old pay RM8. Our trip lasted 45 minutes in total. The firefly park is located nearby Taman Kelip / Kelip Bukit Belimbing alongside Jalan Haji Omar. Click here to check out a full screen Google Map with the location of the Firefly Park in Kuala Selangor.
Subscribe now to never miss a post!
Subscribe to our email updates or join us on our Facebook page, right now!
Travel related questions can be asked in our Telegram channel or in our Travel community.