After hearing from buddies that there was a pretty good place for lunch at Bangsar Village I we looked it up on the internet. Of course we couldn't find an official website, but did stumble across numerous reviews and also an official facebook page. Reviews were quite positive overall. Some wrote about the downside of having to wait in line for a while at busy days (the place usually is packed during weekends), others experienced a rather disappointing (slow and not so competent) service. We have had lunch at Plan b for three times now, and we liked what we got (served) at all three occasions. Let's immediately start off with the negative aspects followed by our reasons for deciding we will definitely come there again!
The negatives
Two out of three visits were during a weekday, which means no lines and no waiting before getting a nice table. Last visit was on a Sunday, and that meant we had to wait about 10 minutes to get seated. Unfortunately there is no option to make reservations beforehand. We didn't really mind waiting for 10 minutes, but I can understand others might feel different about this.
Another possible downside is the tap water they serve. I'm not a fan of tap water in Malaysia. Though I'm not afraid I might get sick of the water, it's more that I just don't like the chlorine taste of it.
Cappuccino is really good, once you get rid of the nasty layer of chocolate powder (that quickly became sauce) on the foam. The coffee machine is top-notch, so no complains about the quality and taste of the coffee!
The positives
All three of our visits we ordered different items from the pretty extensive menu. There is a very nice selection of salads, sandwiches and heavier meals. The pastas are also very nice. Quality of the food has always been great so far. Quantity is amazing, big portions. Salads are big, sandwiches are big. Overall very happy with the size of each meal. Prices are ok though not really cheap. We paid RM23 for a "Rare Roast Beef Sandwich" (which was awesome btw) and RM19 for a huge "Shopped Chicken Salad".
I really loved the beef sandwich (btw, they are halal). Great ciabatta, nice slices of beef, fantastic dressing and the fresh chips were also very nice.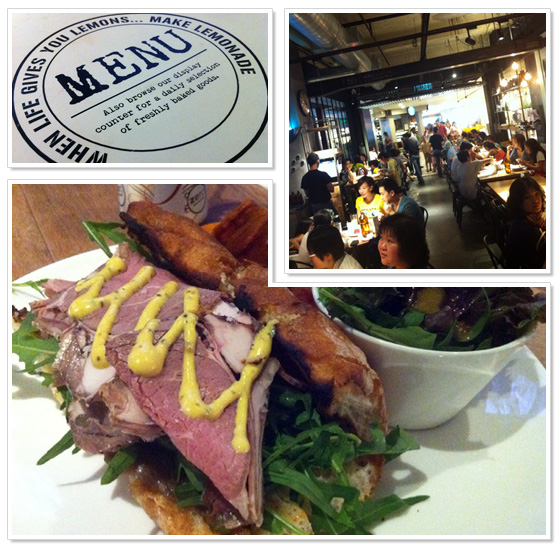 A long black coffee was RM6, coke RM4. We noticed a nice selection of pies, but decided to leave it at lunch this time (but I already said there will be a next time :)).
Though less relevant; the decor is very nice and the location (within Bangsar Village I Shopping Mall) is perfect too.
Verdict
Very nice place to have a western lunch. There are also local dishes, but up until now we haven't tried them. The sandwiches and salads are so nice, that I'm not sure I will ever try the local dishes but who knows :). When we visit a lunch place it is also important that they have good coffee. We liked their coffee, but Cappuccino lovers should ask for 'no chocolate powder' unless they like having a saucy layer of sweet chocolate on top of their coffee.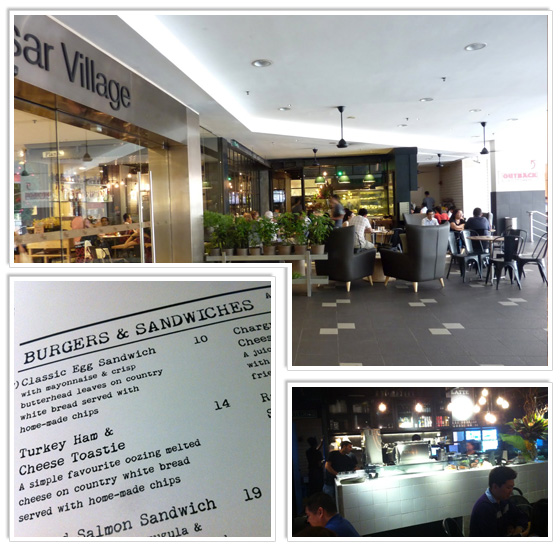 Contact details
Plan B
Bangsar Village I Shopping Mall (opposite Starbucks Coffee)
Tel : +603 2287 2630
Website: http://www.facebook.com/planb.big
Opening Hours: Daily from 8am to 12midnight
Map
Note: Reviews are subjective in nature. What we find fantastic others may find atrocious. Some don't mind waiting for a few minutes, others would have left by then. Some don't care about a minor mishap in service; others don't visit the place ever again. Try to read through the subjective parts and decide for yourself whether you do or do not want to visit the place!
Subscribe now to never miss a post!
Subscribe to our email updates or join us on our Facebook page, right now!
Travel related questions can be asked in our Telegram channel or in our Travel community.