We've been to Talipon a few times now. Every time we had a great time over there. Talipon is an all you can eat BBQ Steamboat buffet restaurant along Off Jalan Kuchai Lama. All you can eat means you pay a fixed price per person to eat as much as you want from the self service buffet (RM23.80 for adults, RM13.00 for children – 07/2011). There is a huge selection; fish balls, marinated beef, marinated chicken, vegetables, French fries, small sausages, fresh seafood (bits of fish, shrimp, crab sticks, clams and more), mushrooms, curry chicken and much, much more. You pay for your drinks, and they also serve beer.
There is also a pretty nice selection of deserts, including 'make your own cendol' where you can operate the ice shaving machine yourself and prepare the ultimate cendol (with gula melaka).
To avoid waste of food they charge an extra RM5 for every 100grams of food that is left on the tables. I think it is a clever way to make people more conscious about how much to grab from the buffet. In reality it is almost never enforced. As usual we start out with the negatives….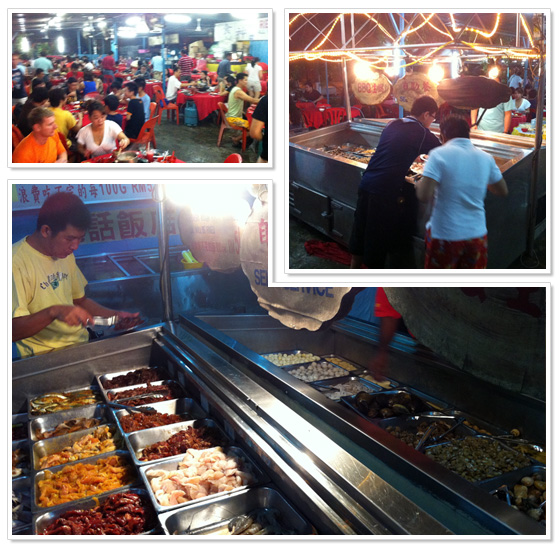 The negatives
Though there are no real negative things we encountered during our visits, there are a few things some might find less great about Talipon. For one most visitors probably have to wash their clothes due to the heavy butter smell that fills the air. Some may find it disappointing that during rainfall you cannot sit at the part that isn't covered anymore. This means that it could happen that you have to look for shelter during your meal (but hey, that's a risk in every tropical country :)).
You should also keep in mind that Talipon is very popular, especially during weekends. This means that it may happen that the place is fully packed at 7pm, and unlike other restaurants people tend to stay as long as possible (as it is all you can eat of course :)).
The positives
One positive thing is the huge selection of food that you can BBQ or put in your Steamboat soup. The prices are very decent (though I think they should not keep raising it anymore as it used to be much cheaper). The atmosphere is pretty nice. Self service is fun, and the service (when ordering drinks) is fine. The food quality is good, mainly because the place is always packed which means a quick turnaround.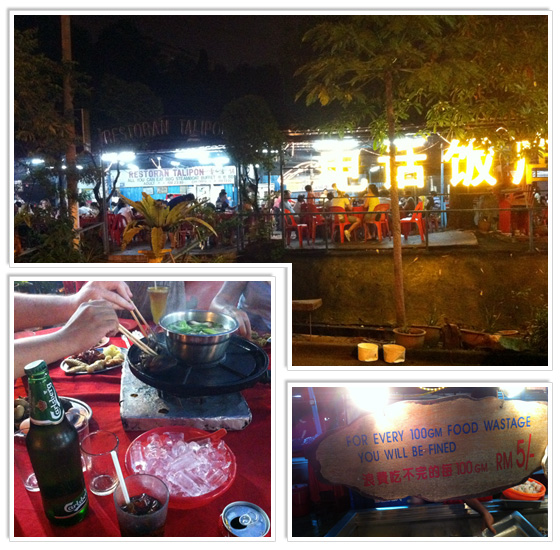 Verdict
Great place to visit, the all you can eat theme almost gives you the idea you are at a party. Easy to get to if you have your own car. Less easy by taxi, though every taxi driver should be able to find the place with the location details below. It is also quite easy to find a taxi in front of Talipon, as Off Jalan Kuchai Lama is quite a busy road (do watch out when crossing the street though). We would advise to visit the place with a small group; though this is not necessary due to the fact that you can eat all you want. We would rate it a nice 7/10.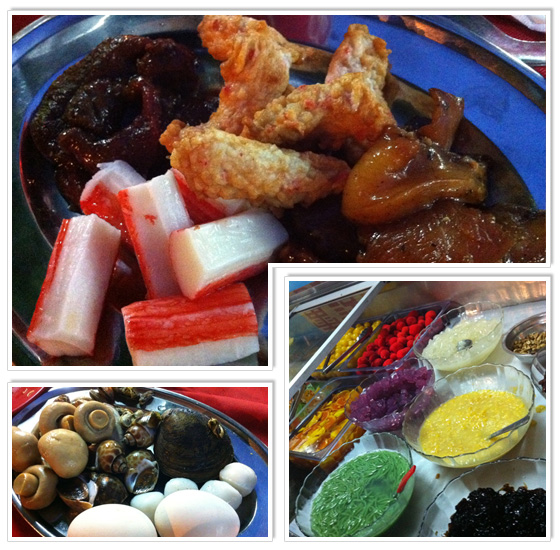 Contact details
Talipon
All you can eat BBQ Steamboat (non-halal)
1, Jalan 1/114A
Taman Indrahana
Off Jalan Kuchai Lama (near Old Klang Road/Jalan Klang Lama)
Kuala Lumpur 58200
03-7980 2323
Opening Hours: Daily from 6pm to 12 midnight
Map
Note: Reviews are subjective in nature. What we find fantastic others may find atrocious. Some don't mind waiting for a few minutes, others would have left by then. Some don't care about a minor mishap in service; others don't visit the place ever again. Try to read through the subjective parts and decide for yourself whether you do or do not want to visit the place!
Subscribe now to never miss a post!
Subscribe to our email updates or join us on our Facebook page, right now!
Travel related questions can be asked in our Telegram channel or in our Travel community.