Restaurants and dining in Kuala Lumpur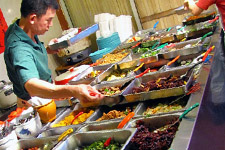 There are numerous options to have your breakfast, lunch or dinner. If you're staying in a decent hotel, you are probably best off having your breakfast there. If you really like warm meals, I would recommend heading out to eat at the mamak stalls or at one of the many hawkers; just like the rest of the KLites. Same goes for your lunch; you can either head to a western place for your sandwich or visit a Japanese sushi restaurant (like Sakae Sushi, Sushi King or the more exclusive Sushi Zanmai) or again head over to the mamak stalls or hawkers. When it comes to your evening dinners you have too many options to choose from. Even after living in this city for a longer period of time we are still often amazed by the amount of great places that we have actually never visited before. We eat out every night, and though we often go to the same places, we almost never eat 'the same dishes'.
On this page:
Dinner options in Kuala Lumpur
Some people like eating out at fancy places when there are on their holiday. We usually 'celebrate' our last days in Malaysia by trying out a fancy dining place. Often the better establishments can be found within the better (5-star) hotels like The Westin, Shangri La, Traders and Hilton KL. Besides western cuisine you can also find quite a number of really good Japanese restaurants. Of course there are also numerous good Malay, Chinese and Indian restaurants, though I would personally recommend also eating these types of meals 'on the streets' or at food courts if you are on your holiday.
Mamak stalls are very popular in Kuala Lumpur, especially among Malaysian youths as hang out spots. The term mamak refers to Tamil Muslims, who generally own and operate the small stalls or restaurants. All mamak stalls provide a casual ambiance and affordable food to locals who need a place to unwind or socialize. Most mamak stalls serve several varieties of roti (i.e. Roti Canai) and rice, such as nasi lemak and nasi goreng, as well as noodle dishes such as mee goreng (fried noodles). You can recognize a mamak restaurant because it is usually well lit and furnished with stainless steel tables, often outfitted with large flat screen televisions so that visitors can catch the latest programs or live soccer matches as they dine.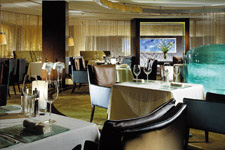 Eating out in Kuala Lumpur can be very cheap. It is possible to have a full plate for under RM10. You can however make this as expensive as you would like. Should you for example visit one of the best (and absurdly expensive) restaurants in Kuala Lumpur - Lafite in Shangri-La Hotel - prepare to pay serious money for your perfect meal (starting prices around RM250, RM85 for one glass of red wine). Dishes at food courts - for example the popular Food Republic in Pavilion KL - are usually priced around RM12 to RM22 per meal. Dinner in a Japanese restaurant like Ichiban Boshi will cost you around RM90 in total for a two person meal (which is of course way cheaper then prices in similar Japanese restaurants in Europe).
Popular restaurants in Kuala Lumpur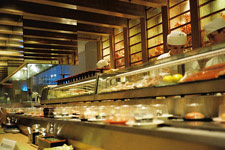 Skybar made it to the top of the list as this place just has the perfect ambiance for a nice dinner. Great views and great food. Bijan is for years one of the best places to enjoy a local Malay meal; but set in a very nice restaurant with splendid atmosphere. There are many great places to enjoy Japanese food in Kuala Lumpur. Kampachi always scores great in the yearly food reviews. Probably the best sushi in town can be found at Zipangu at Shangri-La Hotel Kuala Lumpur; though the chain Sushi Zanmai also has fabulous sushi (check the long lines that usually form in front of the restaurant around dinner time!). Passage Thru India has great Indian food, but is perhaps not that conveniently located. Of course there are numerous great local places for Indian food in Brickfields Little India, but Passage Thru India is perfect if you want to dine out. One of the best places for Korean BBQ that we know of is at Korea Seoul in Taman Danau Desa (outside of the city center, take a taxi). Be prepared to taste wonderful Korean dishes at this great place.
Popular food courts and food streets in Kuala Lumpur
Food Republic Pavilion KL
Hutong Lot10
Jalan Alor Bukit Bintang
Ming Tien Taman Megah
Kampung Baru
SS2 Hawker Center
Asia Café Subang Jaya
Petaling Street Chinatown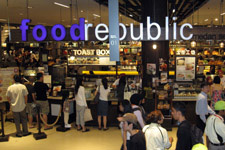 The places above are great to try out local dishes. Food Republic is located in the basement of the popular shopping mall Pavilion KL. Here you will find numerous different food shops; you simply order, pay, wait for your meal and eat at one of the tables. Food is of high quality; perfect for tourists after a long day of shopping in KL. Hutong in the basement of Lot10 is similar to the Food Republic though here you will find Chinese shops only. Hutong is non-halal so expect many delicious pork dishes. Hutong is a very authentic place, as the owners of Lot10 went through great lengths to get all these popular hawkers from throughout Kuala Lumpur to open a restaurant within Hutong. Instead of having to travel to all these difference places in Kuala Lumpur; you can find the best of them under one roof in the center of Kuala Lumpur.
Food streets like Jalan Alor, Petaling Street and Kampung Baru have numerous small restaurants in one big row. You can order wherever you like and sit in front of the restaurants at one of their plastic chairs and tables. Food often is great and very local. Jalan Alor is the best place to visit if your staying in the Bukit Bintang area (city center). Petaling Street is the best place if you are staying around Chinatown. Kampung Baru can be easily reached by LTR (station Kampung Baru); here you can enjoy a nice local meal with fantastic views on the Petronas Twin Towers at the background.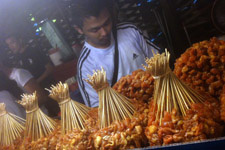 Ming Tien, SS2 Hawker Center and Asia Café in Subang Jaya are all located in the outskirts of the city of Kuala Lumpur. It is however worth the trip (usually by taxi) as the food here is really great. You can find many different dishes; mostly Malay, Chinese and often also some western dishes (with a 'local touch'). Visiting a food court or hawker center like these is a very unique and local experience. You will probably be the only tourists there (apart from the occasional expats).
Map of Kuala Lumpur
Below you can see a map of Kuala Lumpur. You can simply scroll through the map with your mouse. Use the markers on the left to zoom in or out of the city map.
Subscribe now to never miss a post!
Subscribe to our email updates or join us on our Facebook page, right now!
Travel related questions can be asked in our Telegram channel or in our Travel community.