Lot10
Lot10 is one of the most popular malls within the Bukit Bintang area. It opened to public 1990; at that time it was a mall catering to the upper class citizens of Kuala Lumpur. Lot10 is a shopping mall that really stands out by both the striking green color of the building and the modern interior architecture. The mall is located along Bintang Walk, roughly between Fahrenheit88 and BB Plaza & Sungei Wang Plaza. Within Lot10 you can find around 100 stores for the upper and middle class. Noteworthy stores at Lot10 are Debenhams, the huge National Geographic store and the Guess flagship store. You will also find the well known Isetan Department Store (the Japanese version of Harrods) within this mall.
Our pages on Kuala Lumpur
On this page:
YTL's Yes 4G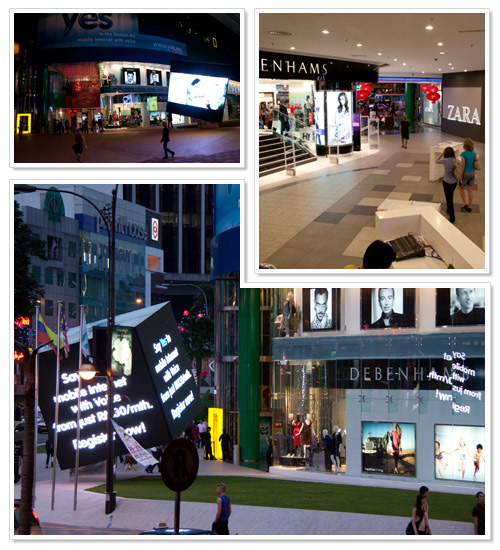 In 2010 Lot10's owner YTL Communications started the massive launch of their new product Yes 4G. The Yes 4G flagship store is located on the ground floor and 1st floor of Lot 10. Here you can test their service on gadgets that are on display like the iPad2, numerous smart phones, Mac, PCs and more. There is a big touch wall that you can touch and interact with to check the weather and the latest news. The huge LED cube outside the mall introduces Yes 4G but also attracts many locals and tourists to take a peek inside Lot10.
Hutong food court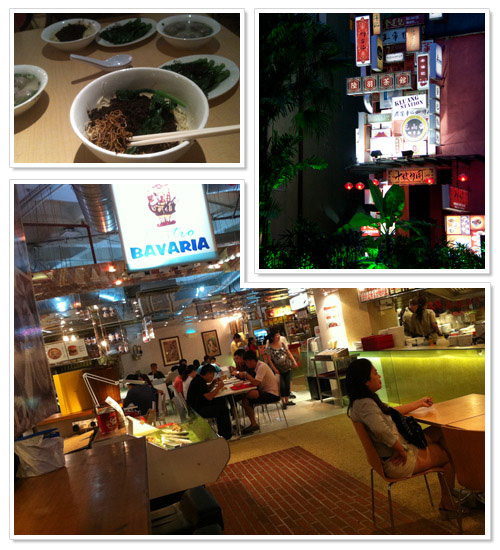 Lot10 has one of the best food courts in Kuala Lumpur. Hutong is the name of this food court; it has primarily Chinese food shops and it serves pork dishes (Hutong is mostly non-halal). It is said that that some of the stalls were hand-picked by YTL's MD Tan Sri Francis Yeoh. Those stalls were already famous in Malaysia as they were already in business for many years. Some of those hawkers are found in Chinatown, Petaling Jaya and even Ipoh and Penang. Famous names are Soong Kee beef ball noodles, Kim Lian Kee, Hon Kee Porridge, Campbell Street mini popiah, Ho Weng Kee wantan mee, Jalan Gasing Ipoh Bean Sprouts Chicken and Mo Sang Kor Bak Kut Teh. To give tourists some extra choice there also is Bavaria; a nice German Bratwurst restaurant. The Pork Terriyaki Burger at Kissaten next to the German place is also very nice (RM8 only). You can by local Chinese drinks at the drink counter, but you can also get a drink of your own choice at the Isetan Supermarket opposite of Hutong.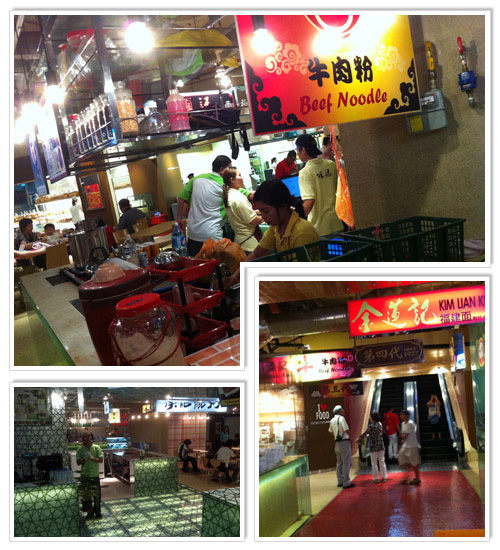 Lot10's rooftop
On the rooftop of Lot10 you can find the restaurant Teeq and the dance club Rootz. There is a special elevator next to the main entrance of the mall. From the rooftop you can enjoy fantastic views of KLCC.
Some tips
The little bakery next to Isetan Supermarket sells great 'pains' (French loafs) for only RM4 per loaf.
There is a special baggage storage service. Head over to the concierge to drop off your baggage (interesting for people that are on a stopover in KL).
Concert tickets are usually sold at record shop Tower Records.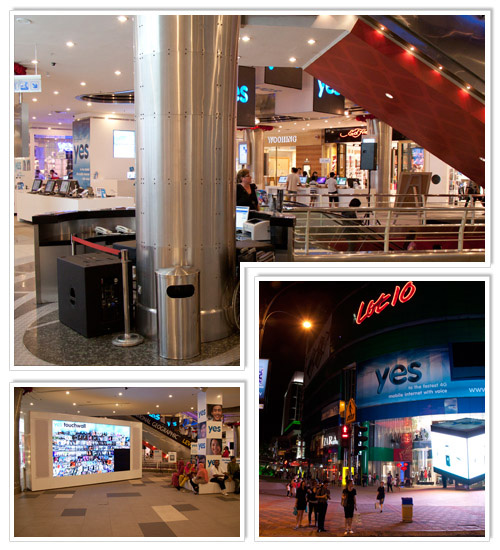 How to get to Lot10
The nearest monorail station is Bukit Bintang LRT Station. It is right across the street, and accessible from Lot10 through the upper levels of the mall by sky bridge. The same bridge connects Lot10 to neighboring Sungei Wang Shopping Mall.
Map Lot10 in Kuala Lumpur, Malaysia
Subscribe now to never miss a post!
Subscribe to our email updates or join us on our Facebook page, right now!
Travel related questions can be asked in our Telegram channel or in our Travel community.