A trip to Borneo isn't complete without a visit to the Batang Ai National Park, regardless of whether you're a nature lover or not. Although the park lacks a little in terms of facilities, locals and foreign tourists flock here to experience the extensive tropical rainforest that is home to many rare and protected animals. You may spot orang utans, gibbons and hornbills easily at the park, rare species you wouldn't see on any other day elsewhere on the island of Borneo. A park is not complete without a scenic lake. The Batang Ai National Park has one, though artificially made by mankind, exudes a sense of peace to the animals and tranquility to the humans who are visiting the park.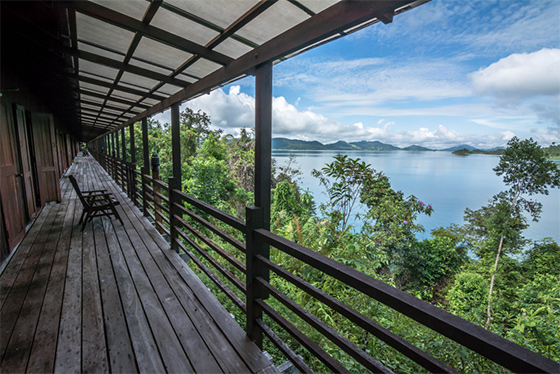 Getting to Batang Ai National Park is no walk in the park. Since it is located almost in the middle of nowhere some 250 km away from the big city of Kuching in Sarawak, the park is only accessible by boat – definitely a unique and exhilarating experience. Getting out is as difficult as getting in, so just spend a night or two at the Batang Ai Longhouse Resort managed by Hilton. The resort is Hilton's only property that is managed in a jungle instead of the big city – another experience that you can boast of to your friends. Choose from either a traditional longhouse-style room with lovely garden view or opt for a pampering stay in a two-level suite for luxury and comfort.
If you're staying at the Hilton's Batang Ai Longhouse Resort, you don't have to worry much about making a trip to the Batang Ai National Park as you could request the hotel to make an arrangement on your behalf. Note that a fee might be applicable. After the trip to the park, spend some time with the local inhabitants of Batang Ai who are predominantly Iban. You could visit their homes, the Iban longhouses, which are situated within the area. This local community is also the ones responsible for helping to conserve the park, especially when it comes to the park's management. Established back in 1991 and governed by Sarawak Forestry, a trip to Batang Ai National Park has become increasingly popular in the past two decades.
Map
Suggestions?
Got any good tips to share with us? Do you know of any great things to do in Malaysia, or tips on the best places to eat? Let us know by leaving a reply below!
Subscribe now to never miss a post!
Subscribe to our email updates or join us on our Facebook page, right now!
Travel related questions can be asked in our Telegram channel or in our Travel community.