Outdoor lovers will delight in the rugged landscape of Kelantan's interiors which offers many exciting adventures. Kelantan will definitely not disappoint you when it comes to an unforgettable experience, from limestone hills to rushing rapids, from thick tropical jungles to cool cavernous caves. To get a first-hand look at the typical village life while entering the interiors of Kelantan, KTM train is the best option. Formerly romantically knows as Jungle Train in the spirit of adventure and exploration, taking KTM train through the state will stop by the village of Dabong, approximately 155 km from the state capital of Kelantan, Kota Bharu. Dabong lies in the area dedicated as Jelawang Jungle, now better known as Gunung Stong State Park (GSSP), situated on the fringes of Malaysia's massive Titiwangsa range.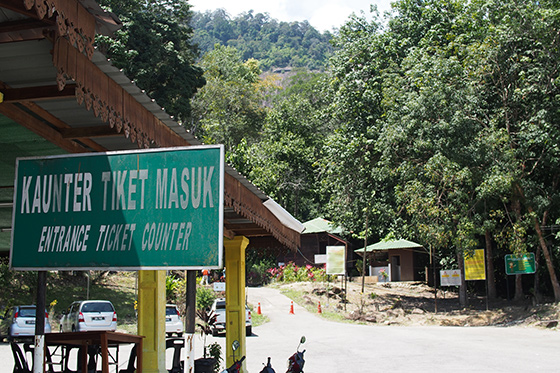 You will notice a chain of majestic peaks surrounding the place, just waiting to be challenged by enthusiasts – Gunung Ayam, Gunung Stong, Gunung Tera, Gunung Saji, Gunung Koh, Gunung Baha, Gunung Beirut and Gunung Che Tahir with Gunung Stong standing high at 1,442 metres being one of the main attractions at the state park. Gunung Stong is a dome-shaped granite complex which has been there for more than 500 million years which also houses the seven-tiered Stong Waterfalls dropping from a height of about 990 metres, reputed to be the highest in Southeast Asia. Those looking for a challenge can consider trekking 2 hours to reach the peak of the falls for about 1 km on inclines as steep as 60 to 90 degrees.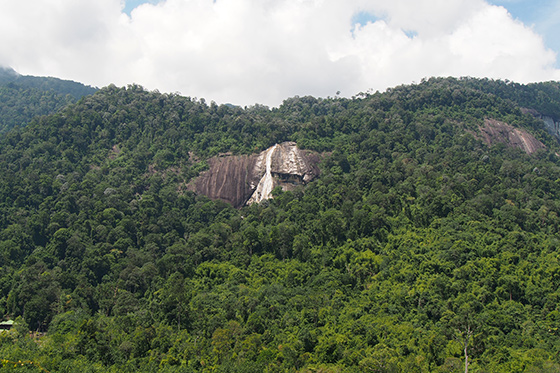 The GSSP, recognized as state park on October 2005 is listed among the top 5 unique ecotourism destinations in Malaysia which covers an area of 21,950 hectares of land consisting of high peaks, dense forest, caves, rivers and waterfalls with its thick jungle playing home to elephants, tigers, bears, gibbons, hornbills and a number of other exotic wildlife as well as a variety of flora and fauna including the world's largest flower, the Rafflesia, of the kerii meyer species and the endemic long-sectioned bamboo, a type of purple herb called Didymocarpus and Licuala stongesis, a unique palm species. In the case of good weather, there will be an experienced guide taking travellers along the scenic route of the waterfalls from the foot of Gunung Stong at least halfway before continuing inland for the rest of the hike up. Following this route, travellers will be able to witness a breath-taking sight of waterfall cascading down from the enormous height along the solid granite rock structure.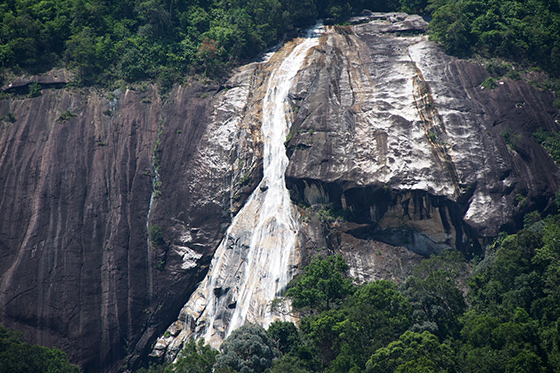 Baha's Camp at the peak of Stong Waterfalls will be god sent for tired legs. Tired travellers usually stop for a bit at Baha's Camp before continuing their journey up Gunung Stong the next day. With its 6 wooden huts and two camping grounds, it can easily accommodate 150 to 200 people at one time. You will never regret your stay here as one can relax on the large rocks and take in the sights of crystal-clear waters of Stong river rushing down over the steep edge of the mountain. Upon waking up early in the morning, be prepared to be greeted with the thick fog that creates a dreamy effect of walking on clouds. When the fog clears, another magnificent view of the lush green valley will be a feast your eyes.
A number of other destinations is also available and easily accessible from Baha's Camp such as Kolam Tuan Puteri, Telaga Tujuh, Y Waterfalls also known as the Last Waterfalls which houses the legend that anyone who drink from it will retain a youthful appearance, Sungai Rantai 60 to 90 minutes away from Y Waterfalls, Benta Balak situated another 60 to 90 minutes away from Sungai Rantai, Bogo Caves 30 to 45 minutes away from Benta Balak and Sungai Baha 60 to 90 minutes from Benta Balak. Following these check points, you will be able to reach the summit of Gunung Stong, about 2 hours of trekking from Bogo Caves, or Gunung Ayam, the highest peak in the area. Standing at 1,504 m, be prepared for 6 hours of trekking to reach its peak which provides an ideal spot for sunset and sunrise viewing. A campsite is available for overnight stays. Although not many travellers venture here, it will definitely leave those who has to desire for more.
Map
Suggestions?
Got any good tips to share with us? Do you know of any great things to do in Malaysia, or tips on the best places to eat? Let us know by leaving a reply below!
Subscribe now to never miss a post!
Subscribe to our email updates or join us on our Facebook page, right now!
Travel related questions can be asked in our Telegram channel or in our Travel community.