Sunway Pyramid
Sunway Pyramid is a mall shaped like a pyramid. The mall's theme is based on an Egyptian-inspired design and was opened to public in 1997. Right in front of the mall there's a huge lion replica so you cannot miss it if you are visiting this mall. There are around 800 shops within the mall, besides the shops there's also a huge theme park, a swimming pool, a bowling alley and an archery shooting range.
Our pages on Kuala Lumpur
On this page:
Many shops
Sunway Pyramid has three anchor tenants; Parkson, Jusco and Giant (supermarket). The first ever F.O.S (Factory Outlet Store) was opened in Sunway Pyramid. There are over 10 banks housed within Sunway Pyramid; with over 30 ATMs spread throughout the mall. Sunway Pyramid also offers free WIFI throughout the whole mall. Check out the video impression below.
Ice Skating Rink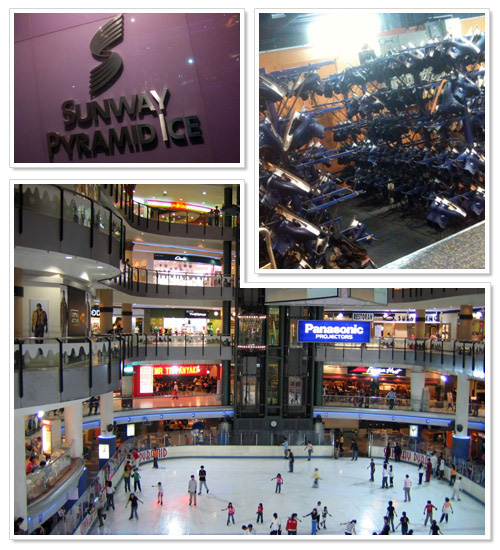 Sunway Pyramid is famous for its ice skating rink; Malaysia's largest and only ice skating rink. It is tremendous fun to watch Malaysian people enjoy ice skating. We visited the mall once around Christmas; there were so many people on the ice skating rink that it was not possible to actually skate anymore. Don't forget to bring along your own socks and gloves as it is pretty cold on the ice (these are mandatory to wear, but can also be bought). During weekdays the rink is opened from 9am to 8pm, on Saturdays from 9am to 10pm, Sundays from 9am to 8.30pm.
Sunway Lagoon
Sunway Lagoon is a genuine children's paradise. It consists of a huge water theme park, the so called 'Scream Park' (one huge terror house), the Amusement park both with numerous exhilarating attractions, there's the 'Extreme Park' with some nice adrenaline rushed attractions like ATV off-road riding, bungee jumping and Go-Kart riding. And there is the Wildlife Park; where you can see over 150 animal species up close. Probably the most popular attraction of all is Surf Beach at the water park. Here you can actually surf at some pretty nice fabricated waves.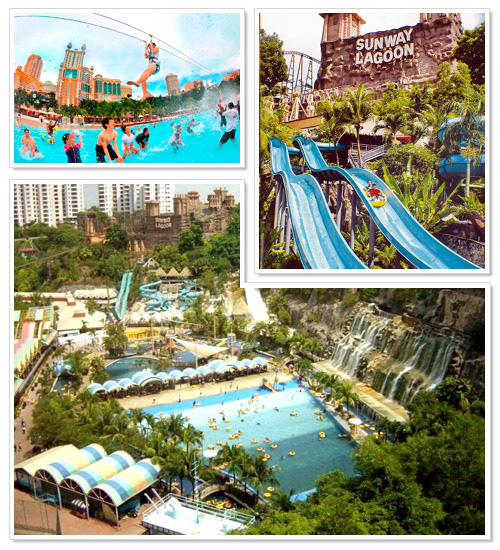 Digital Centre
Within Sunway Pyramid you can find the Digital Centre with over 50 shops selling IT related products like computers, camera's, phones and many accessories. The Digital Centre is located on the first floor of Sunway Pyramid.
Free shuttle bus
There is a free Sunway shuttle bus that stops along every attraction at Sunway Integrated Resort. You can hop on at the main stop in front of the main entrance (directly under the lion's head) and hop off at all main stops. The shuttle bus leaves every 25 minutes between 7am and 9.30pm.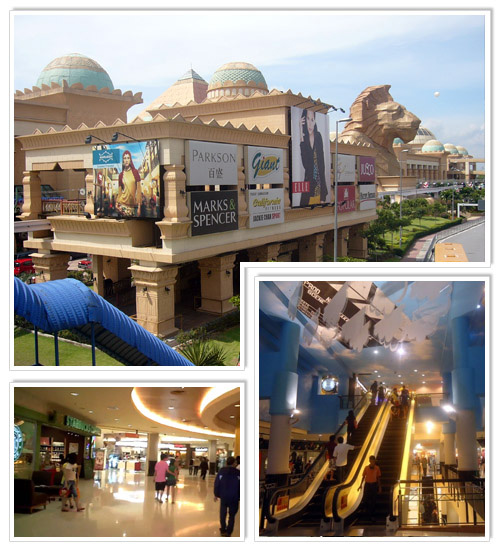 Recycling Buy-Back Centre
There is a recycling buy-back centre at Sunway Pyramid. Here you can donate recyclables like paper, plastic bottles, batteries, cans and glass bottles. You will actually get paid for most of the recyclables you drop off over here. The centre is located at the car park level B1 (red zone). Opening hours are daily between 10am and 5pm (closed on Thursday, Wednesday only until 1pm).
How to get to Sunway Pyramid
The shopping mall can be found at No 3 Jalan PJS 11/15, Bandar Sunway in Petaling Jaya. Just mention Sunway Pyramid to any taxi driver, and they know where to take you. Sunway is also accessible by public transport, take the KTM to Setia Jaya KTM Komuter Station, from there it's a short taxi ride to the mall (you can also take a bus from there). Another option is to get there by bus from KL Sentral. RapidKL bus U76 takes you to Sunway Pyramid. Opening hours: The mall is opened daily from 10am to 10pm.
Map Sunway Pyramid in Kuala Lumpur, Malaysia
Subscribe now to never miss a post!
Subscribe to our email updates or join us on our Facebook page, right now!
Travel related questions can be asked in our Telegram channel or in our Travel community.