Penang is one of the states in the northern parts of West Malaysia and consists of a small island and a small part of Peninsular Malaysia. It is famous among both local and international tourists from all over the world for its variety of food, culture and history. In 2008, Georgetown, the state's capital city, as well as Malacca, had been gazetted as a UNESCO World Heritage Site. Listed as one of the islands in the world to be visited in 2016 by Lonelyplanet.com, Penang will sure can offer you a variety of adventures and excitement for your vacation.
Georgetown
Georgetown is a modern metropolitan city admired for its intricacies and perfect mixture of British colonial and Asian architectures, a total heaven if you are an architecture enthusiast. To get the most out of the trip, it is highly recommended to travel on foot as the roads and lanes are pretty narrow and it can get really packed during peak hours.
You can walk from one tourist attraction to another as most of the places are within walking distance from each other, however, there are buses serving the whole of Penang island. The system is very efficient and the fare is low. In addition to that, RapidPenang is collaborating with Penang Municipal Council to provide a free bus shuttle, known as Central Area Transit (CAT) that will get you around the Georgetown World Heritage site for free.
Georgetown itself has many places of interest for tourists that it might take you about few weeks just to wander around the city and there will still be places that you didn't visit! For an architecture aficionado, wandering around the town, immersing yourself on the architecture of the buildings – from modern structures such as Penang's tallest skyscraper, KOMTAR that was built back in 1985 to the collections of pre-war edifices – will definitely brought a delectation to yourself.
Meanwhile, culture devotees that wish to visit Penang can walk round to see the temples, museums and clan houses that are scattered around the town. A personal favourite that is considered as a must for you to visit is Leong San Tong Khoo Kongsi, or better known as Khoo Kongsi, a clan house of the influential Khoo clan. It is situated at Cannon Square which is also an actual film location for the infamous 1999's Anna and the King, starring Chow Yun Fatt and Jodie Foster. Other than Khoo Kongsi, you might also want to extend your visit to another famous clan house in Georgetown which is Seh Tek Tong Cheah Kongsi, situated in Lebuh Armenian. Cheah Kongsi is built by the Cheah Yam, an immigrant from Sek Tong village of South China back in 1873 and it is the only clan house in Penang that mixes Malay, traditional Straits Chinese and European style in its architectures and design.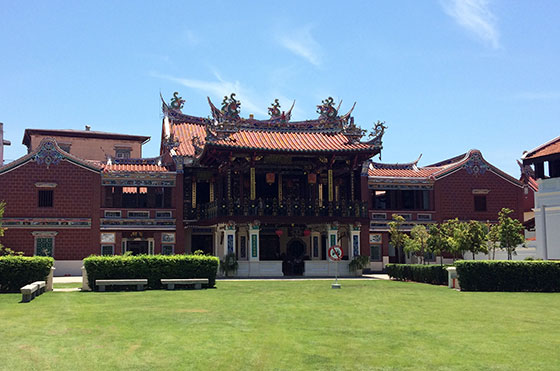 Cheah Kongsi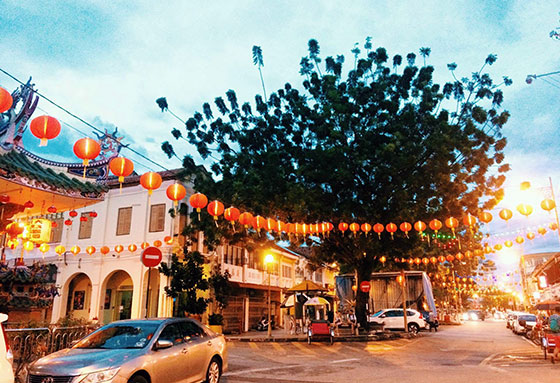 Festive vibes with lanterns decorating the streets in Georgetown during Chinese New Year festivals.
Bukit Bendera/Penang Hill
Penang Hill or locally known as Bukit Bendera is the highest hill in Penang. It is considered as a must-go attraction if you are in Penang. There are three ways to reach the top of Bukit Bendera. The easiest way is by hopping on a funicular train from the Penang Hill Lower Station at the bottom of the hill in Air Itam. For adrenaline junkies, you can hike all the way up to the top starting from 'Moon Gate' at the Botanical Gardens. The climb can be quite a Herculean task for a beginner as the trail consists of hundreds of stairs but the sight you'll be served with while hiking is worth all the wheezes and sweats – guaranteed! For an easier option yet still a spine-tingling adventure, from Botanical Gardens, you can rent a truck and a driver will drive you to the top on its meandering road but it can set you back up to RM80.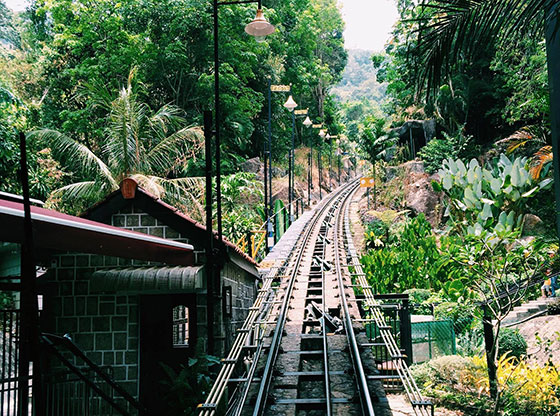 Hopping on the funicular train to the top of Bukit Bendera
Beaches
What is an island without beautiful beaches? In Penang, Batu Feringghi is favoured for its beaches among beach-lovers. There are lots of hotels alongside the beach where you can book and stay with fares as low as RM100, depending on the season. However, if you are under a restricted budget, it is recommended for you to stay at Georgetown as there are more b&b's and hostels with lower prices. You can just take a bus from Georgetown to go to Batu Feringghi that will take you about two hours along its zigzagging road. Among the activities that you can do in Batu Feringghi are jet-skiing, horse-riding, fish spa and reflexology treatments at the spa and reflexology shops scattered along Jalan Batu Feringghi. At night, Batu Feringghi night market is opened along the road for tourists to shop for cheap souvenirs including t-shirts, small accessories and decorations.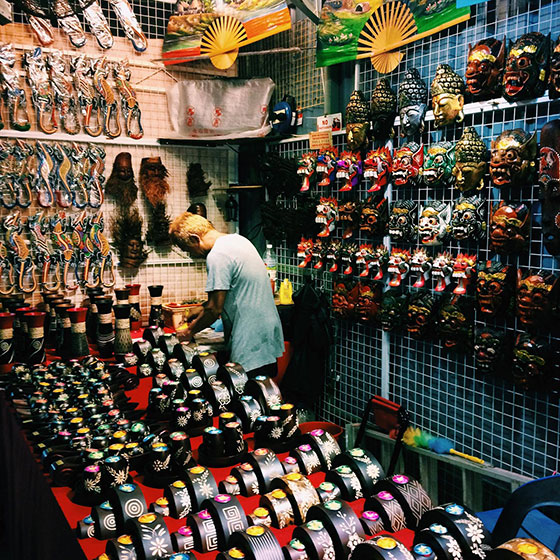 A stall selling souveniers at Batu Feringghi Night Market
Other than Batu Feringghi, you can also spend your time at Monkey Beach in Teluk Bahang. As there is no direct road access to the beach, the only way is by chartering a boat at the entrance of the National Park where they can charge you about RM40 to RM50 per boat, or for flora-and-fauna admirers out there, you can enjoy the picturesqueness of the nature while jungle-trekking in Penang National Park – all you've got to do is to go to the entrance of the National Park, register yourself for safety purposes at the counter and walk all the way into the jungle to the Monkey Beach. It will take about 2 hours to the Monkey Beach, depending on your fitness and competency.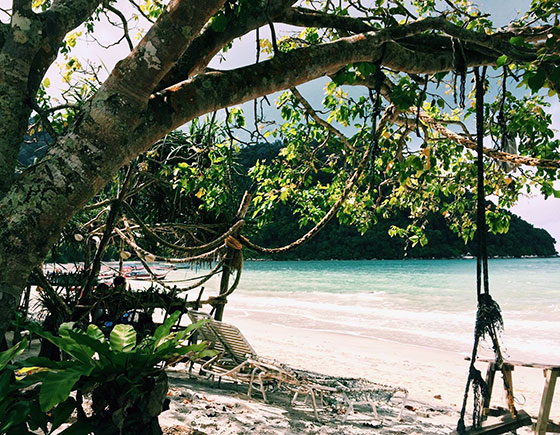 Monkey Beach
Food
Penang is also famous for its variety of local street food. Among the food that is suggested for you to try are Nasi Kandar – a famous Indian-Muslim food among the locals, the infamous Laksa Penang – a spicy noodle soup of Peranakan cuisine and Chendol which is a bowl of shaved ice with chewy green rice flour jelly, red beans, fresh coconut milk and Gula Melaka, a brown sugar syrup. There are also plenty of hipster cafes and restaurants you can visit around Georgetown if you crave for some international cuisine such as the Japanese and western cuisine.
There are so many other places to visit and do in Penang and just one article is definitely not enough to explain the charm of Penang Island, the Pearl of the Orient. Book your flight ticket to Penang Island now and taste all the fun travelling around the island while indulging yourself in its beautiful nature, vast culture and long history!
Subscribe now to never miss a post!
Subscribe to our email updates or join us on our Facebook page, right now!
Travel related questions can be asked in our Telegram channel or in our Travel community.