Rompin State Park or Taman Negeri Rompin is among the oldest tropical rainforests in the world. It is part of Endau-Rompin forest reserve sharing with its neighbour, Johor state. It is located in the district of Rompin, Pahang which is a gateway to the famous Tioman Island. Previously known as Taman Negeri Endau Rompin, the state park has changed its name and the facilities now have been upgraded with activity and programs focusing on nature education and conservation which is a great destination for outdoors lovers.
The uniqueness of Taman Negeri Rompin lies from its geology, myth, flora and fauna. The State Park's rainforest is perhaps best characterised by its biologically rich lowland mixed dipterocarp formations, which generally predominate below 300m and heath forest. It also consists of edaphic hill forest formations, in particular the spectacular fan palm forest. The fan palms are Livistona endauensis, a species endemic to this forest reserve. The geological history of the park dates back at least 248 million years to the Permian-Carboniferous age which the rock types include low grade metamorphic, volcanic, granite and sedimentary sequence.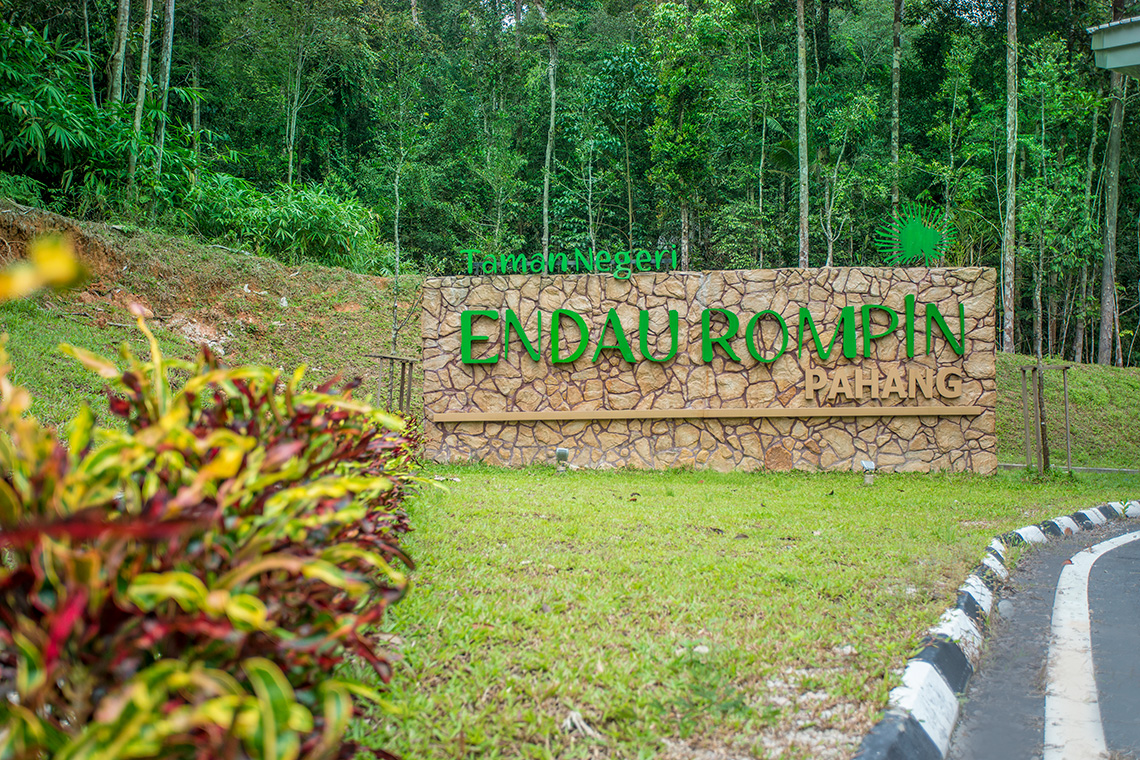 The main entrance to Rompin State Park.
Flora and Fauna
Endau-Rompin is one of the largest forest complexes which is part of the Central Forest Spine (CFS) in Peninsular Malaysia which are crucial and very important in terms of biodiversity and ecosystem. Previous records and studies have discovered that Endau-Rompin forest complex is home to various wildlife species including mammals, birds, insects and also diverse fauna species. This area has recorded few large mammal species which includes Asian Elephants, Malayan Tiger, Malayan Tapir, White-handed Gibbon and Bearded Pig which is endemic to the southern part of Peninsular Malaysia. Guided activities are available for visitors who would like to fully experience the rainforest of Taman Negeri Rompin, home to the wildlife.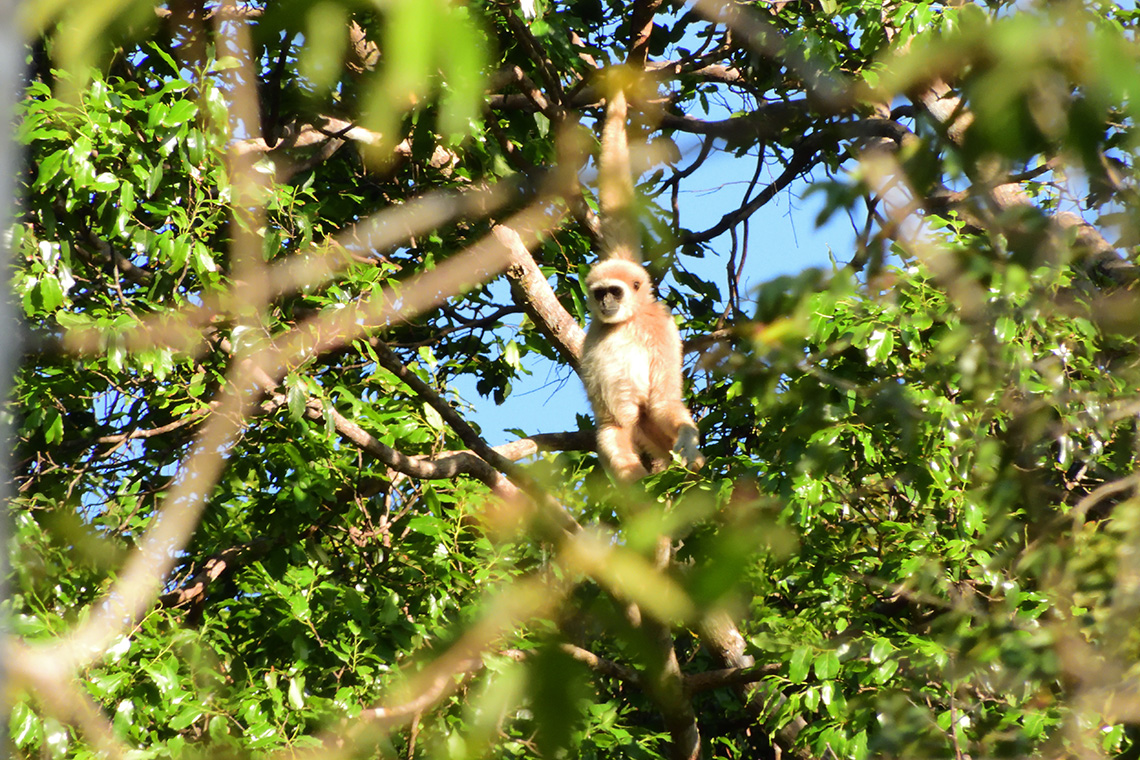 White-handed Gibbon; a species of primates that was classified as Endangered according to IUCN. Threats are mostly due to habitat loss and deforestation.
Malaysia IBA programme was coordinated by the Malaysian Nature Society (Birdlife International Partner in Malaysia) in 2007 which aims to promote conservation of birds and biodiversity in Malaysia. Endau-Rompin is one of the 55 selected IBA sites in Malaysia. The study has recorded 253 species of birds at Endau-Rompin.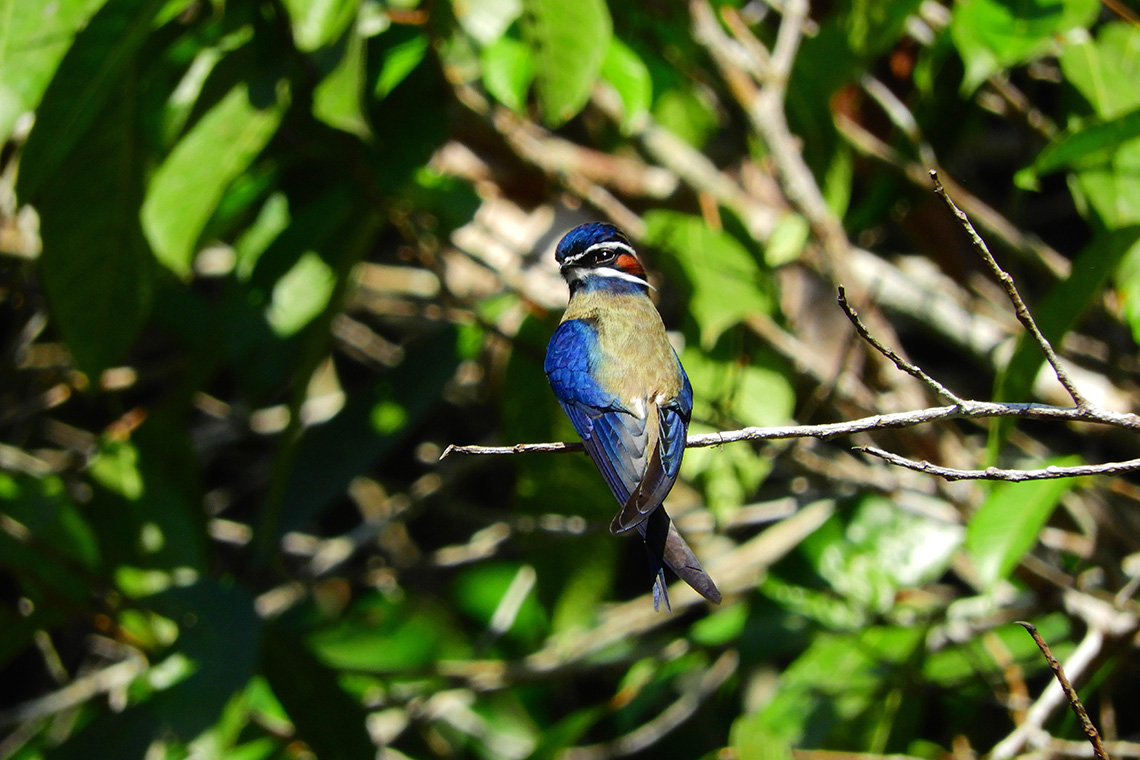 Whiskered Treeswift is among the bird species recorded at Rompin State Park out of 253 species.
Livistona endauensis is a species of palm that is endemic to peninsular Malaysia. At Padang Tujuh, hundreds of palms mostly dominated by Livistona endauensis have formed a spectacular palm forest which is unique and rare.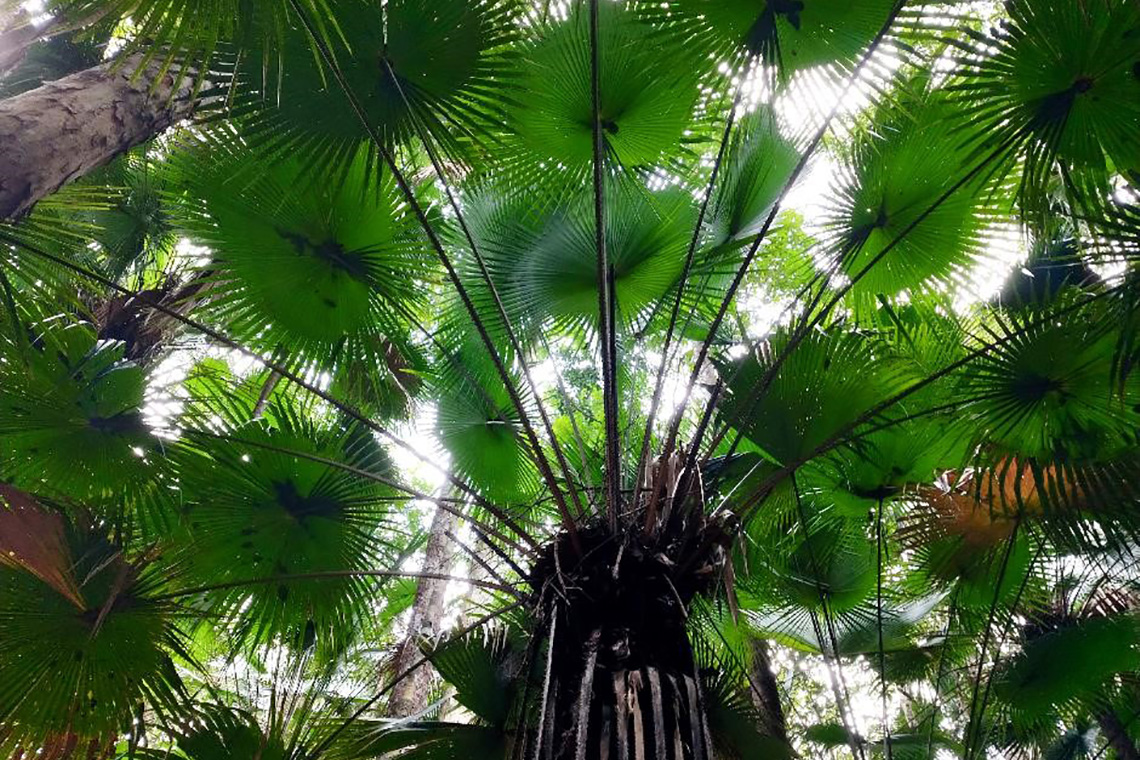 Population of endemic palm species at Padang Tujuh (Livistona endauensis)
Attractions and Activities
There are few selections of activities that are available to visitors from guided to non-guided. Among the most popular guided activities are kayaking at Kinchin River while being surrounded by lush and green rainforest accompanied by the sound of cicadas, jungle trekking with our local guide to discover the secret of tropical rainforest with you and birdwatching in search for our tropical birds! For non-guided activities, visitors may visit Suspension Bridge across Kinchin river, Watch Tower for wildlife observations, Rainforest Discovery Centre and Seri Mahkota Waterfall.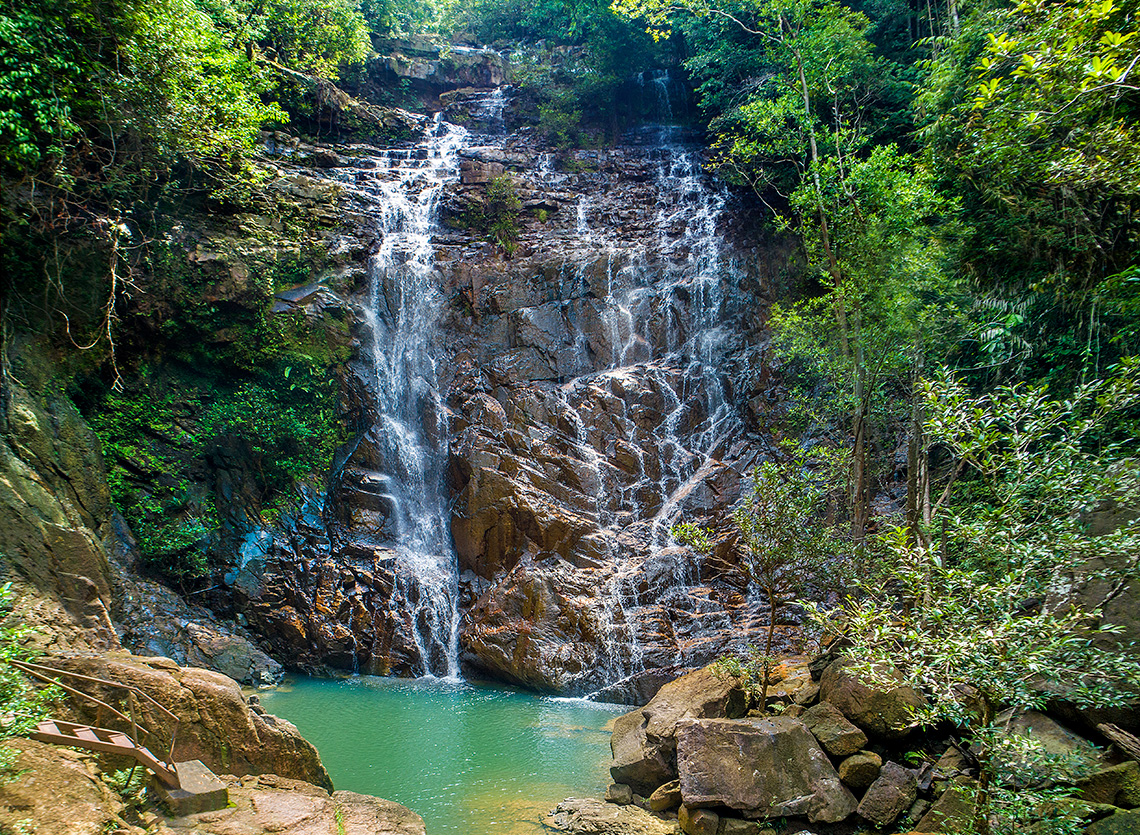 Seri Mahkota Waterfall, a perfect spot for a refreshing dip at the pool during hot sunny day after walking down the stairs.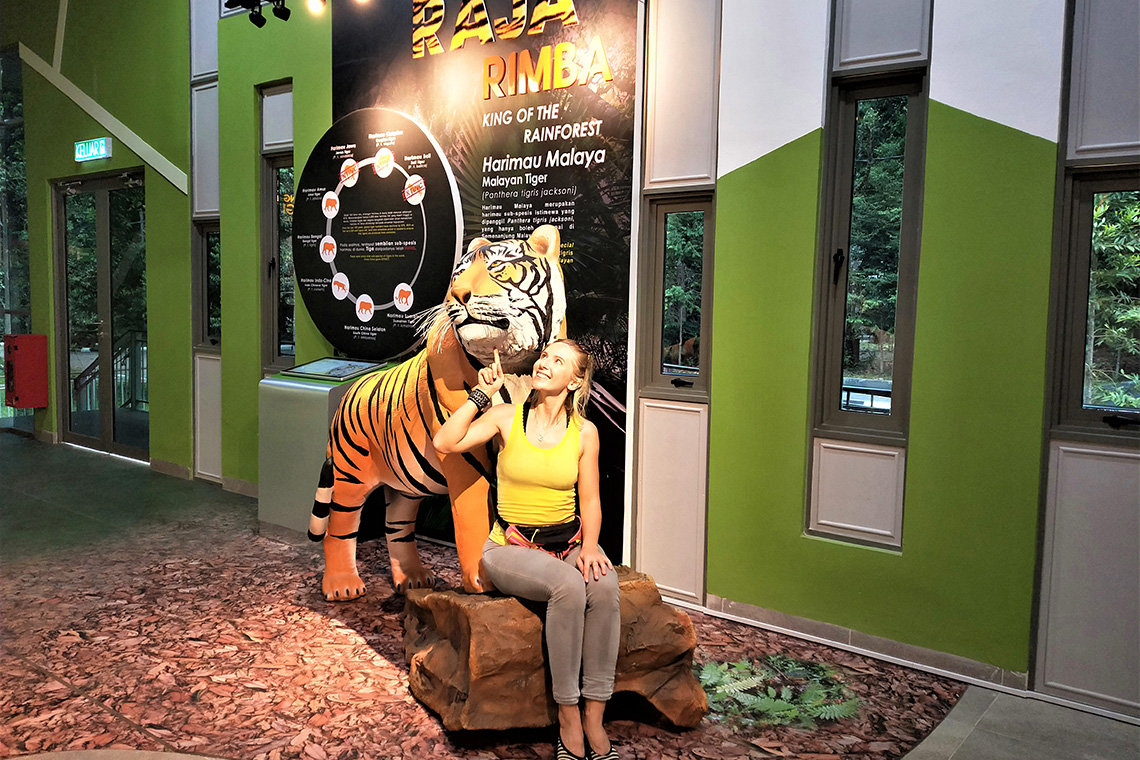 Rainforest Discovery Centre, an informative and interactive nature learning centre suitable for visitors from all range of age.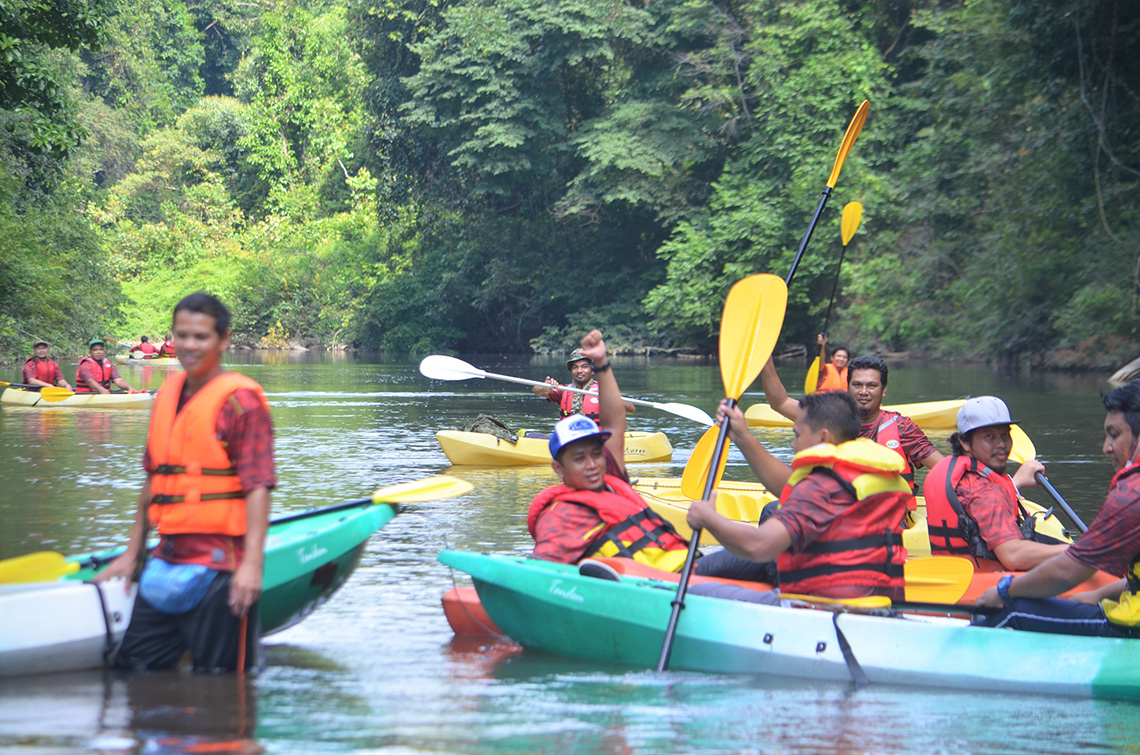 Kayaking and swimming activities is one of the guided activities that is not to be missed by outdoor activities lovers. While kayaking along the beautiful river, a nature guide will share the importance and connection of the river to flora, fauna of this place.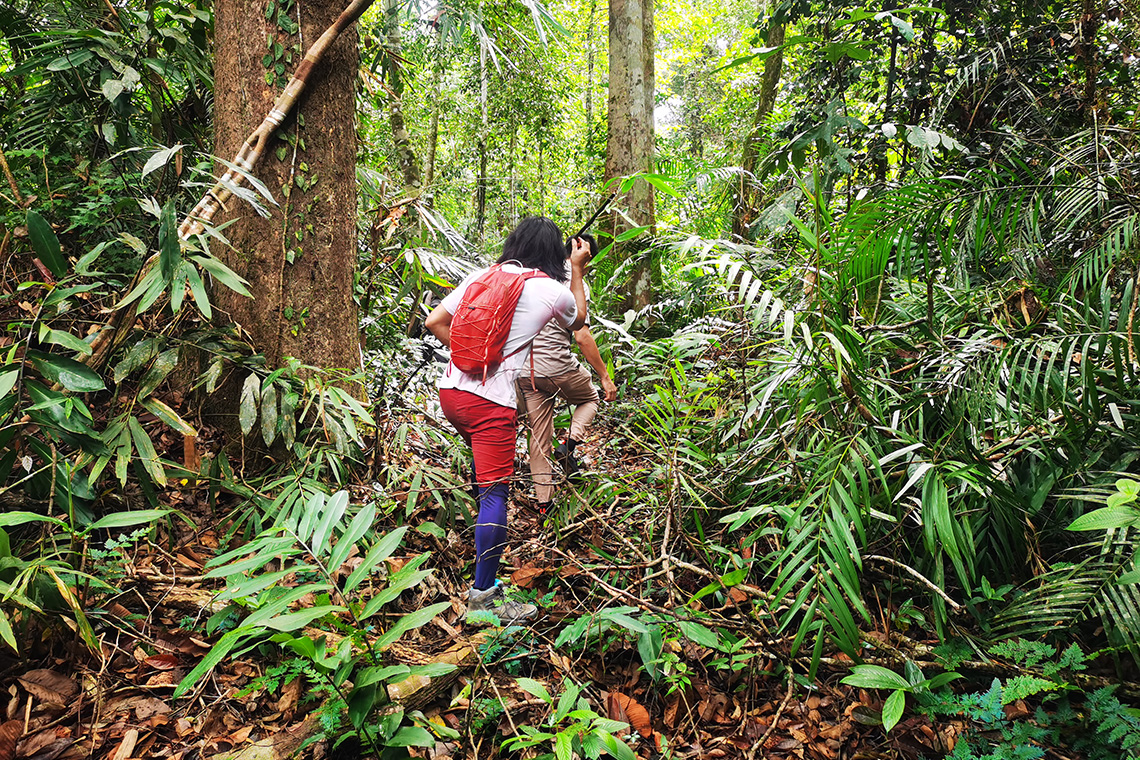 Jungle trekking led by a guide will get the visitors to experience the knowledge of herbs and medicinal plants while exploring and spotting the wildlife at the wonder of tropical rainforest in Taman Negeri Rompin.
How to get here
Taman Negeri Rompin (TNR) is accessible by car and located approximately 30 minutes from Kuala Rompin and 1 hour from Mersing. The junction turn off to TNR is located at Kampung Selendang. Vehicular access is available all the way by tarmac road into Kinchin Base Camp. However long and heavy vehicles should exercise caution when travelling into TNR due to narrow roads and steep gradients.
Coordinates: 2.624042, 103.331108
Taman Negeri Rompin Directions
Entrance fees
Visitors entering Taman Negeri Rompin are required to pay the following entrance fees prescribed by the Pahang State Forestry Department in accordance with the schedule below:

How to book the activities
Visitors may visit their website, email or call at the given detail below for reservation and booking. They are open all year round including public holiday unless stated otherwise.
Website: http://www.rompinpark.my
Email Address: [email protected]
Call: 07-7991205 or 09-5239900
Facebook: facebook.com/TamanNegeriRompinPahang
Instagram: instagram.com/tamannegerirompinpahang/
Subscribe now to never miss a post!
Subscribe to our email updates or join us on our Facebook page, right now!
Travel related questions can be asked in our Telegram channel or in our Travel community.