I was recently invited by Pauline from Simply Enak to attend a food tour in a lesser known area of Kuala Lumpur. The tour we did is called 'Off the beaten track' and it took us to the Sea Park region in Petaling Jaya, located west of KL. We already did a few food tours before in a few major cities, so we knew what to expect. What I especially love about these types of activities is that is it an amazing way for travelers to get a good idea of the local dishes you should try when visiting Malaysia. A food tour is much more than a culinary trip; it is a great way to experience the local culture and to sample the most famous and well known dishes a country usually has to offer.
We went to the starting point by LRT (Light Rail Transit), the metro in Kuala Lumpur. We got out at Taman Paramount Station along the RapidKL line (just follow the signs to Kelana Jaya station). Here the tour started at 18.30 sharp.
"Owner Pauline is a proud Malaysian who appreciates the culinary diversity the country has to offer."
This was found at their website, and I absolutely agree with it. Pauline is very knowledgeable when it comes to local Malaysian food. She explains things in a relaxed and pleasant way, and there is always room to ask questions.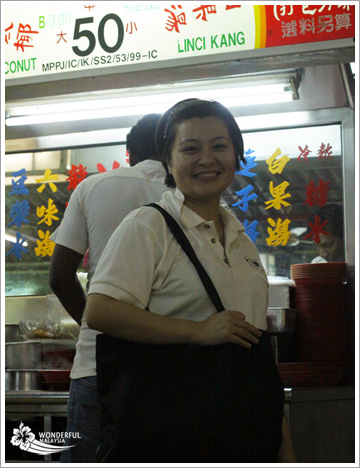 Our food experience
From the LRT station we took a short car ride into Sea Park (it was raining at the time, so I was glad we didn't get soaking wet). We got out at a typical suburban area, right between numerous small local shops and restaurants. First stop was a visit to the local grocery and fruit store. We got to taste a few fruits that we had never seen or tasted before. Did you ever hear of Star fruit (also known as carambola)? It was delicious and so were all the other types of fruit we tried.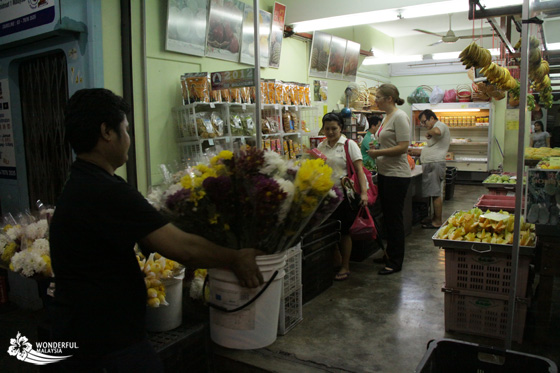 Right opposite of the fruit shop we visited a local bakery. Once inside we were welcomed with the pungent smell of the Durian. Apparently the bakery made a lot of snacks with Durian. We had Durian many times before, but never really became a fan of it. Pauline had us taste a Durian Custard Puff, which I liked…but only for the first bite. After that it was already too much to my taste. Never tasted Durian before? Here is your chance to do so (do not pass up a chance to try it!).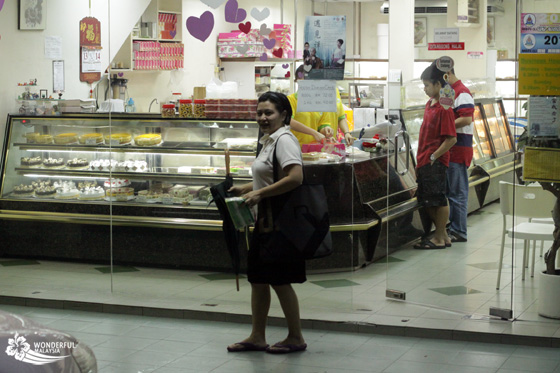 After this nice introduction to Malaysian fruits and snacks we went to a place that serves a great Nasi Lemak. As every Nasi Lemak restaurant serves the dish with it's own distinguished taste, this one was indeed different than the version we were used to. The sambal sauce was very nice and that made it the best Nasi Lemak I had in a long time.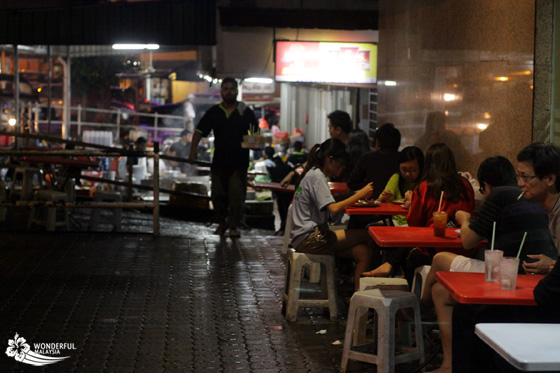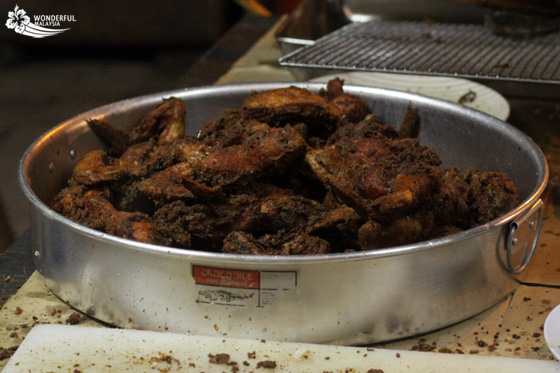 Next stop was a place that served great noodles; Flying Wantan Mee (the flying part is something that you just have to experience to know what I'm talking about). The mee was very tasteful, and the setting was very local which was especially nice.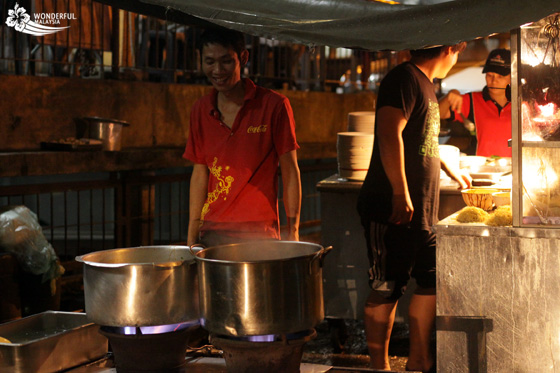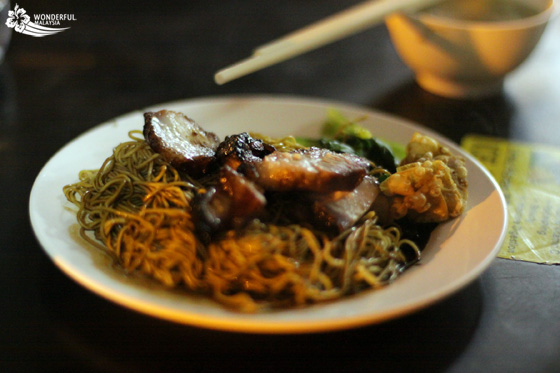 After that we visited an authentic food court call SS2 Selera Malam Hawker Centre. There we tried Fried Tong Fun and Lup Cheung (pork sausage & salted fish noodles); we were unfamiliar with both dishes and loved it.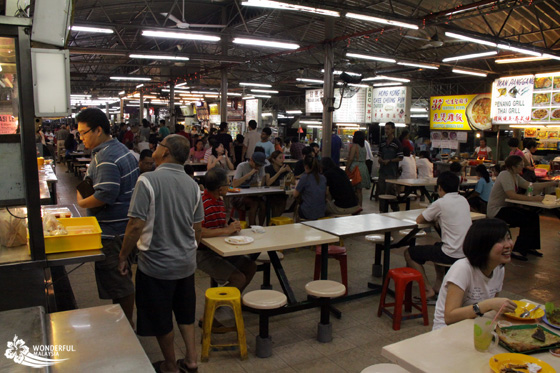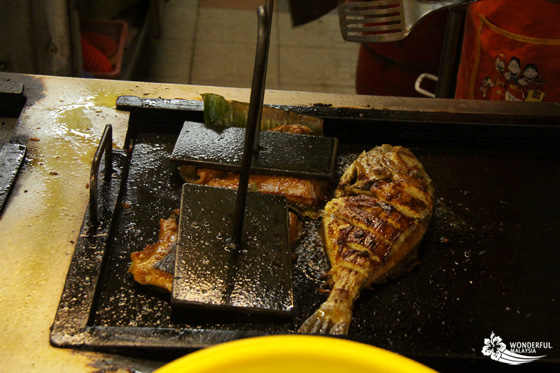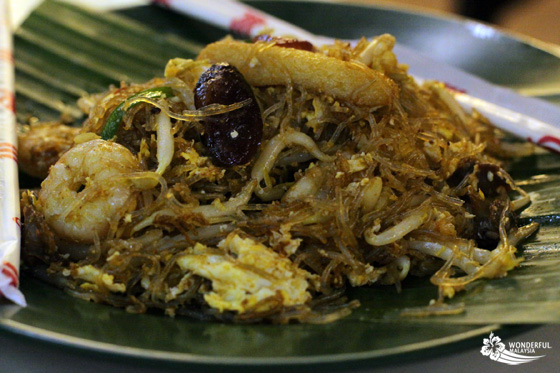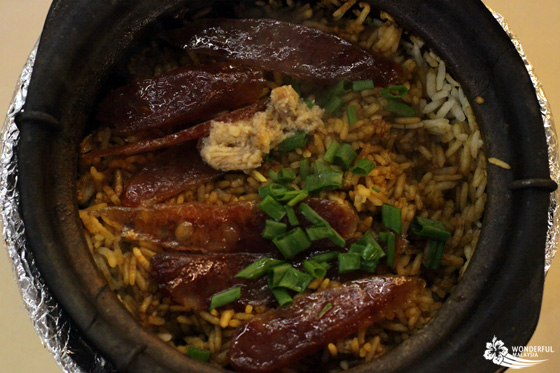 Later we were treated to a delicious dessert at KTZ Food. I had a Honey Dew Sago Loh and had a few bites of the Mango Loh and the Kiwi Loh. All equally nice and definitely a place I will probably visit more often.
When we finished our dessert it was already way past 11pm, so time to say goodbye and to head back home. Travelers that participate in a food experience will still have ample time to catch the LRT back to KLCC.
In conclusion
A tour like this is an amazing way to get to know the real KL. You will be taken to very local areas of the city, great for first-timers that do not know their way around. It is also a great way to get to know the most popular of Malaysian dishes. As we already live here for a few years, we were familiar with most of them. But, many restaurants in KL serve their own signature dishes (basically their own version of the dish) and the dishes Pauline introduced us to where really yummy. We were surprised by the subtle differences between the same types of dishes.
Besides travelers I would also recommend this food experience to newly arrived expatriates. Usually those that have just set foot on KL soil do not know the local dishes and this is a great way to get a first taste of what is to come.
How to make a reservation
Currently they offer a few nice tours for you to choose. Their Petaling Street Heritage Food Walk takes place every Monday to Friday from 10.30 to 13.30. This tour shows you all the highlights of the Chinatown area in Kuala Lumpur.
Their Flavours of Malaysia – Off the Beaten Track tour brings you to neighborhoods where few tourists have ventured before. This is the perfect way to experience these local areas of Kuala Lumpur. This tour has a duration of 3 hours and takes place every Monday to Saturday.
Making a reservation is easy, just contact Simply Enak and let them know when you will be staying in Kuala Lumpur and when you are planning to attend the tour.
Payment is done in cash right before the start of the tour. Make sure you bring exact change.
Tips
Simply Enak will provide you with an itinerary that includes detailed information, which makes it very easy to find the starting location. You can always use Google Maps to print a map.
All starting locations are near a metro station, but you can always take a taxi straight from the hotel. Their Petaling Street tour starts in Chinatown, which is very easy to reach.
Always write down Simply Enak's number, so you can call them in case you run late. Usually it is easy to catch up if the tour has already started.
There are quite a few great books for sale that contain recipes of the most famous local Malaysian dishes. You can always contact Simply Enak for some nice tips.
Love taking pictures? Bring along a lens that does well in low light conditions. The best way to remember it all afterwards, is by looking back at all the pictures.
If you are traveling alone, make sure to contact Simply Enak beforehand, so they can try and add you to an existing group (as all their food tours require a minimum of two participants).
Contact details of Simply Enak
Website: http://www.simplyenak.com
Email: [email protected]
Phone: +60172878929
Facebook: http://www.facebook.com/simplyenak
Twitter: http://www.twitter.com/simplyenak
Tripadvisor Reviews
Suggestions?
Got any good tips to share with us? Do you know of any great things to do in KL, or tips on the best places to eat? Let us know by leaving a reply below!
Subscribe now to never miss a post!
Subscribe to our email updates or join us on our Facebook page, right now!
Travel related questions can be asked in our Telegram channel or in our Travel community.