Travel between Kuala Lumpur and the airport(s)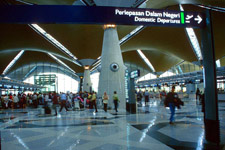 There are three airports in and around Kuala Lumpur. Kuala Lumpur International Airport (KLIA) is the main airport where all international flights arrive at. Malaysia Airlines also operates numerous domestic routes from this airport. The budget airlines depart from the Low Cost Carrier Terminal (LCCT); all domestic and international flights operated by AirAsia depart from this terminal. LCCT is actually not a separate airport; but as KLIA and LCCT are not yet 'officially' connected you can only travel between the two airports by taxi or bus. The third airport is the smaller but very modern airport Subang Airport. From here budget airline Firefly departs to many domestic, and also a few international destinations.
On this page:
From Kuala Lumpur to KLIA (International Airport)
By KLIA Express to KLIA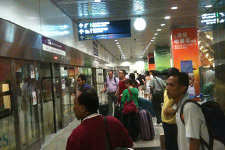 There are multiple ways to get from Kuala Lumpur to the airport (and vice versa). The quickest way probably is the KLIA Express; this train brings you in 28 minutes from Kuala Lumpur central train station (KL Sentral) to the airport. You pay RM55 for a one way ticket (which can be bought online in advance), first train departs at 5am, the last train at 12.30am. KLIA Transit is also an option; but this train has a few stops at certain stations before heading to KLIA. Trains depart every 15 minutes during the day.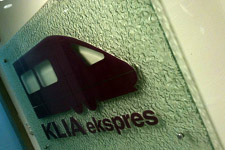 Transport with KLIA Express is most pleasant, considering you are quickly in the centre of Kuala Lumpur without concerns. Besides that you have a nice view of the approaching city of Kuala Lumpur. Especially when you arrive in Malaysia for the first time, it is pretty 'exciting' when you see the great metropolis appear. From KL Sentral you can go, among other things, by metro, bus or taxi to your hotel or destination. In this case the taxi is preferred, because at KL Sentral a fixed price system is in place. At the taxi counter you indicate to which hotel you want to go, you pay the sum and you get a taxi ticket. You show this ticket to the taxi driver and you'll be taken to your destination.
By taxi to KLIA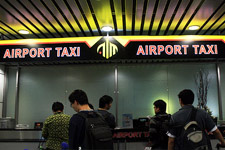 Another option is the taxi. Often the most comfortable method to get from the city center to the airport as you can get a taxi right in front of the hotel where you are staying (with KLIA Express you first need to travel to KL Sentral). Taxis usually charge around RM70 (regular taxi) to RM100+ (VIP, premier, airport limousine service or executive taxi) for a ride from the city center to the airport. From the airport to KL you just buy yourself a taxi ticket at the taxi counter; tickets have a fixed price (RM74.30 for a regular taxi). The regular taxi from the airport to Kuala Lumpur is always very modern compared to a regular taxi from KL to the airport (different operators); as the former is operated by a private taxi company called Airport Limo (you can make reservations up front: 1300-888989).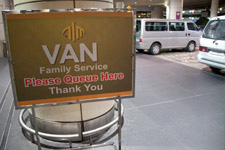 During our latest trip we used the premium taxis quite a few times. Regular taxis often have small trunks; which could lead to problems when you are traveling with suitcases. The premium taxi is the most expensive form of transport between KLIA and Kuala Lumpur city center; but at the same time it is also the most comfortable solution. At KLIA you can arrange the premium taxi at the regular taxi counter. Here you can also arrange a family van; which is great if you travel with more than two persons including luggage. You can also take the premium taxi from your hotel to go to KLIA or LCCT. If you do want to go by a premium taxi, but there are none in front of the hotel; have the concierge call one. It is best to ask the driver's business card. This way you can always call him yourself for a pick up.
By bus to KLIA
Cheapest way to travel between Kuala Lumpur city center is to board one of coaches that depart from KL Sentral. Airport Coach is one of them; they charge around RM18 to bring you to KLIA.
Video KLIA Taxi Stand
Travel times between Kuala Lumpur and KLIA
KLIA Express to KL Sentral: +/- 0h28m single trip
KLIA Transit to KL Sentral: +/- 0h38m single trip
KL Sentral to KL city centre: +/- 0h10m single trip by taxi
Taxi KLIA to KL city centre outside rush hours: +/- 0h55m single trip
Taxi KLIA to KL city centre during rush hours: +/- 1h15m or longer single trip
Bus KLIA to KL Sentral: +/- 1h15m or longer single trip
From Kuala Lumpur to LCCT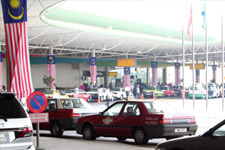 The Low Cost Carrier Terminal (LCCT) is the terminal nearby KLIA where all the budget airlines depart (mainly AirAsia). This terminal can be reached by taxi for roughly the same amount as you would pay for a trip to KLIA. Another way is by KLIA Transit. There is a stop at Salak Tinggi station where special busses depart to LCCT. SkyBus operates a bus line from KL Sentral, for only RM9 the bus takes you to LCCT. A taxi ride from KLIA to LCCT will cost around RM10/RM15 and the trip will take roughly 15 minutes. There are also busses that transport passengers between the two airports; though they are very cheap it also takes quite some time.
From Kuala Lumpur to Subang Airport
The best way to get to Subang Airport is by taxi. From the city center it normally takes around 25 minutes to reach Subang Airport. Taxi fares are around RM15/RM20 on the meter. More on Subang Airport
Map of Kuala Lumpur
Below you can see a map of Kuala Lumpur. You can simply scroll through the map with your mouse. Use the markers on the left to zoom in or out of the city map.
Subscribe now to never miss a post!
Subscribe to our email updates or join us on our Facebook page, right now!
Travel related questions can be asked in our Telegram channel or in our Travel community.