Getting around Langkawi Island
There are numerous ways to get around the island. The road network is fine. It is usually quiet on the road, and people drive relatively slow. Busiest parts of the island are around Kuah and Pantai Cenang. Traffic on Langkawi Island cannot be compared to traffic in Kuala Lumpur or Georgetown on the neighboring island Penang. The most dangerous traffic situations we have encountered at the island usually are crossing animals like cows and monkeys.
Our pages on Langkawi
On this page:
Taxis on Langkawi Island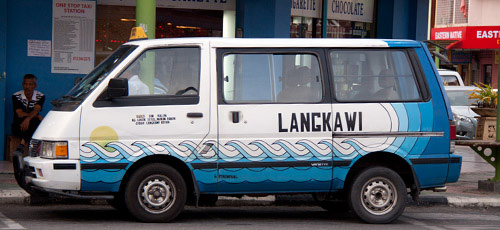 Tourists use taxi busses to get around the island most of the times; taxis are an excellent form of transportation. Unlike other places in Malaysia the taxi system is arranged very decent, there are fixed rates for the entire island. No problems with the taximeter, no bargaining for a good price, just buy a ticket at the counter and hop in! Make use of this, it might cost a bit more (although it is still very affordable if look at the distances). Do not use unlicensed cabs on the island, unless you do not mind running the risk to be arrested together with the illegal taxi driver. Taxi stands are everywhere on the island. Usually every resort has a taxi stand; you will also find these stands in almost all major attractions on the island, in the shopping malls and at the harbor (Jetty Point) and airport. Transport takes place mainly in small vans, especially useful when you have your big travel bag or suitcase with you.
Renting a car on Langkawi Island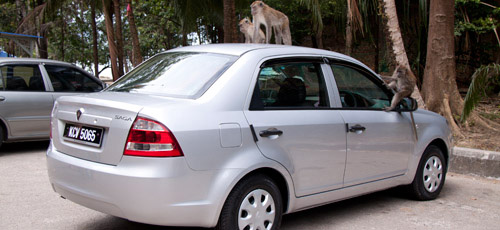 There are numerous car rental companies on Langkawi Island. You have the option to pick the car up in Kuah; or to have it delivered at your hotel or resort (in case you make online reservations up front). Renting a car is quite expensive compared to renting a motorcycle; rental prices usually start at RM120 per day for a small car. As Langkawi is a small island; a small car is already sufficient to explore the island with. There's no need to rent an expensive 4 wheel drive car; as you won't be doing any off-road driving on the island as there are no such facilities. Driving in Langkawi means driving on decent two lane roads.
Renting a motorcycle on Langkawi Island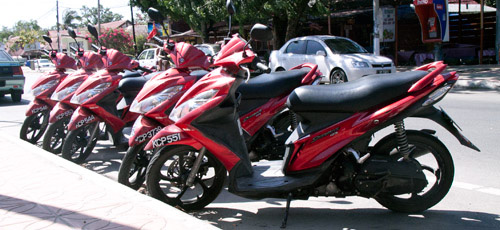 Though it is easy to rent a car on the island; for some it is somewhat small to explore by car. The motorcycle is much more fun and also better affordable. Like in many other places in Malaysia, you can explore Langkawi perfectly on a motorcycle. It is the best way to quickly and easily explore the island. The island has a quiet road network. Especially in the northern parts of the island you'll hardly see any cars.
A motorcycle costs about RM40/45 per day. Gasoline costs a few ringgit for a full tank. Usually we rent a motorcycle for the entire stay; we get on the motorcycle upon arrival, and return the motorcycle upon departure. In this way, you are always mobile, and not dependent on (usually) expensive taxis. With the motorcycle you can easily explore the small villages in the inlands of Langkawi. You stop every now and then for a fast drink or to take some photos. We rented our motorcycle at the main entrance of the Mutiara Burau Bay resort. You will usually not receive a helmet by default. For your own safety you will have to ask for this specifically. Accidents can always happen and wearing a helmet is an obligation when you want to get reimbursed by your insurer after a (small) accident. Besides, the island is not the best place to get proper medical aid when it comes to head injuries.
Riding a bike on Langkawi Island
Riding a bike is not that common on Langkawi Island. Every time we rented a bike we noticed we were the only ones enjoying a nice ride through the countryside on bikes. Most tourists either go on an organized trip; or they just rent a car or a motorbike (which is of course also a very nice way to explore the island). We rode from the Burau Bay area to the northern part of the island around Datai Bay. This was at some points a pretty exhausting trip. We did have fun (do not forget to bring enough water and cash to replenish or to buy refreshments or even lunch or dinner).
Map of Langkawi Island in Malaysia
Subscribe now to never miss a post!
Subscribe to our email updates or join us on our Facebook page, right now!
Travel related questions can be asked in our Telegram channel or in our Travel community.