Getting to Langkawi
There are many ways to travel to Langkawi. The most common way is to travel by air as there are daily flights between Kuala Lumpur and Langkawi Island. Fares often are pretty cheap. Other modes of transport are not as practical as a direct flight; but the more adventurous travelers will probably like that more.
Our pages on Langkawi
On this page:
Rental car
Getting to Langkawi by rental car is perhaps not the best way to travel to the island. Though it is possible to take your rental car up to the island by a special daily ferry service, you can only pick it up the next day so it's only worth if you stay on the island long enough. Another downside is the huge price you pay to transport the rental car to the island. The ferry is based in Alor Setar. Here is also a big (secured) parking lot; where you can drop your car for a couple of days for RM10/RM15 a day. Because you pay around RM120 per day to rent a car in Malaysia; it would be a waste of money to leave your rental car at a parking lot. If you are renting a car you should try and find out where you can drop it off. In some cases you can drop it off at Alor Setar. Another place to drop the car off is at the neighboring island of Penang.
Train & Boat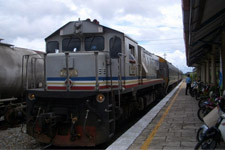 An adventurous way to travel from Kuala Lumpur (or Johor Bahru/Singapore) to Langkawi is by train (and boat). Train services are provided by Keretapi Tanah Melayu Berhad (KTMB). The North south line starts in Singapore and goes all the way to Bangkok in Thailand. Trains in Malaysia look quite old on the outside; but usually they are surprisingly modern on the inside. The train from KL departs in the evening and arrives early the following morning. In the north of Malaysia you can get off at Butterworth (for travelers to Penang) or Alor Setar for travelers to Langkawi. From there you can take the boat to the island. There are daily boats between Alor Setar (ferry terminal at the nearby village Kuala Kedah) and Langkawi Island; a boat ride costs around RM25 and takes 1,5 hours.
Air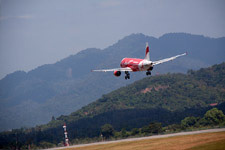 By far the easiest way to travel to Langkawi is by air. Air fare usually is very affordable. I you make your reservations in time you are able to save huge amounts on your tickets. For example; if you buy your tickets during a sale, then you might be able to fly to Langkawi for under RM100 per person. With AirAsia you sometimes can fly even cheaper. Don't expect to buy cheap tickets on the spot; airlines will ask the highest rates. From Kuala Lumpur there are numerous daily flights to Langkawi International Airport. You can fly with Malaysia Airlines from KLIA, with AirAsia from LCCT and with Firefly from Subang Airport. There are also direct flights from Singapore to Langkawi Island. You can also reach Langkawi from many other destinations within Malaysia; which makes it an easy to reach destination.
Langkawi International Airport is a small but modern airport. It lies in the west of the island, right next to the sea (airplanes fly low over the water to land). The airport has all necessary facilities; numerous car rental companies, tour agencies, restaurants (there's even a Starbucks), ATMs and some souvenir shops. AirAsia and Malaysia Airlines also have their offices at the airport.
From Penang by boat or air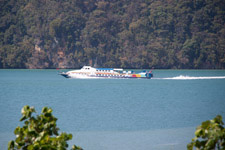 Between Langkawi and Penang you can travel, besides by plane, also by boat. I believe a flight between both islands is not nearly as much fun as the boat ride. Add long waiting and a higher price and the choice of transportation is easy. Should you really want to go by air, check out the local airliner Firefly (subsidiary of Malaysia Airlines). The boat ride costs 45RM for VIP tickets, on Penang Island you'll depart from Penang Harbor (Pengakalan Swettenham). Langkawi has its own Jetty Point, where you will arrive from Penang. Twice a day a boat departs from Langkawi to Penang (14.30 and 17.30). Also two boats a day leave from Penang to Langkawi (8.30 and 8.45). The trip between both islands will take approximately 2,5 hours.
Map of Langkawi Island in Malaysia
Subscribe now to never miss a post!
Subscribe to our email updates or join us on our Facebook page, right now!
Travel related questions can be asked in our Telegram channel or in our Travel community.