Eid al-Adha, also known as Hari Raya Aidiladha or the Feast of the Sacrifice, is the day when worldwide Muslims celebrate the occasion when Allah appeared to Ibrahim to sacrifice his son as a sign of devotion. His son, Ishmael was not sacrificed at the end, instead he was stopped by Allah and a lamb was given as the sacrifice. This day celebrates the willingness of Ibrahim to put forward everything, even his son's life on his devotion to Allah.
Eid al-Adha is a three-day celebration that starts on the 10th day of Zul-Hijja. However, Muslims will wait for the official announcement by the religious bodies in Mecca. On the first morning, Muslims all around the world attend morning prayers at their local mosques. After that, the slaughtering of sacrifices will follow.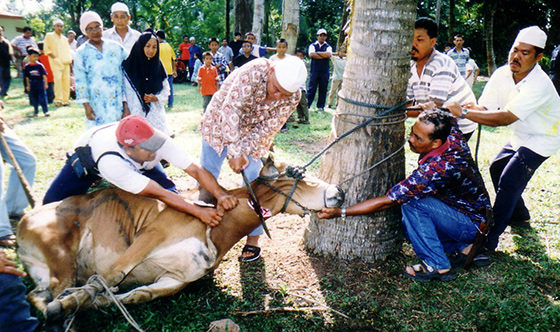 Today, Muslims commemorate the holiday by sacrificing a sheep, cow or goat. The meat from the sacrifice is then distributed to the poor and needy. Islam teaches its followers that Allah has given man the power over animals, therefore allowing Muslims to eat meat. However, His name has to be pronounced as to remind human that life is sacred.
At dawn, in order to commemorate Eid al-Adha, all men and women in good health will congregate at the mosques to offer Eid prayers. Menstruating women do not join the prayer but they will be present to witness the gathering. Mass prayers are conducted across the globe by all those celebrating. In Mecca, a record spectacular count of 2 million Muslims had been witnessed gathering at the Grand Mosque for the annual Haj pilgrimage in 2013. Moscow is another city where a great congregation of Muslims has gathered to pray together.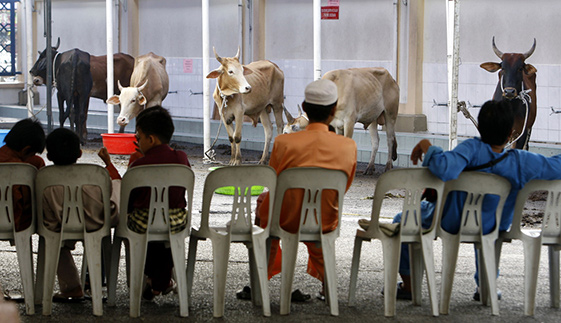 Muslims are to acquire new clothing and wear them on this day, and they will visit their family and friends. Muslims may offer gifts to each other and give to the needy. They wish each other "Eid Mubarak" which means "have a blessed Eid" to each other.
Some traditional Eid food includes kebab, haleem and kurma. However, Eid cuisine varies with country. In South Asian countries, rice dishes such as briyani and pulao are prepared for celebration. The traditional food in Morocco is such as msemen, harcha, beghrir and krachel. Some Muslims enjoy feasting on organ meats and turkey.
Eid al-Adha is also celebrated with sweet dishes and cookies. Muslims can prepare them at home or buy them from sweet shops. Dates cooked in milk are one of the common sweets served in the morning before the prayer. In Egypt, Muslims feast on konafa which is made of pasta, syrup and cream. Pakistanis have zarda, which is yellow coloured rice with sugar, raisins, almonds and cardamom seeds. Other sweet dishes include baklava, gulab jamun, and ma'amoul.
In Malaysia, a public holiday is observed for Eid al-Adha but in some parts of the world, Eid al-Adha is celebrated on a grander scale for three days in remembrance of Ibrahim's total submission to Allah, and also to mark the end of the Hajj.
Subscribe now to never miss a post!
Subscribe to our email updates or join us on our Facebook page, right now!
Travel related questions can be asked in our Telegram channel or in our Travel community.