If I had to choose between Pulau Penang and Pulau Langkawi, which Island should I visit?
Both islands have their own unique distinctions. Both islands are really worth a visit. If you do not have to choose between the two, visit them both. For us a visit to both islands is almost mandatory, we've been there numerous times now, and every time we return with new experiences.
In short the main differences between the two islands are:
Langkawi: Nature trips, beautiful seas and beaches, great resorts and a relaxed overall atmosphere.
Penang: Great (hectic) Asian atmosphere, especially at nighttime, huge shopping centers and many cultural attractions.
Why Langkawi?
Langkawi is a splendid island where you can explore nature; there are beautiful forests, beaches, waterfalls and other great attractions. The island has a considerable amount of resorts, some of them on the best spot on the island. For example; Both Tanjung Rhu Resort and the Four Seasons are renowned worldwide. When you're staying in one of these (fairly expensive) resorts, don't look surprised if you run into a famous celebrity like Madonna (small chance though :)).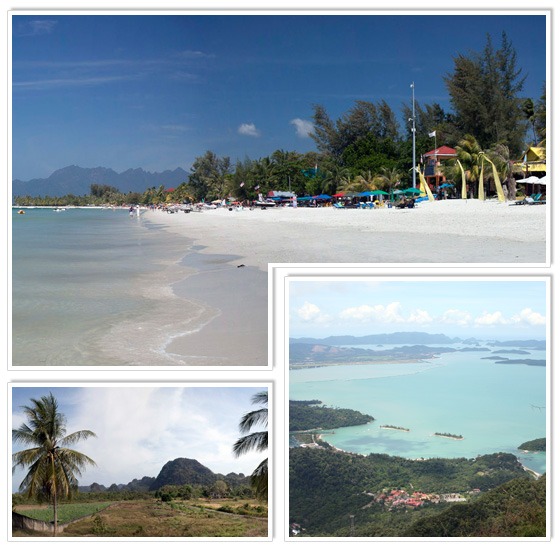 Dining is mostly done on resort grounds. There are places where you can eat-out, but this depends on the location of the resort you are staying at. For example, in close vicinity of one of the places to stay at the island – the Burau Bay area – you can take a cab to Telaga Harbour. Here you can dine at numerous (mainly European-oriented) restaurants. Should you want to dine at a hawker, you should take a cab to the somewhat more crowded area Pantai Cenang. Here you can find numerous small restaurants, where you can eat for real affordable prices. Saturday night market at Kuah is fantastic; almost everybody (locals and tourists) head over to the market at night.
Pantai Cenang is also the place to be when you want a fun night out. Along the strip you'll find numerous pubs and many restaurants serve as a pub too after dining-hours. Although the area around Pantai Cenang is pretty much dedicated to tourists, it's not comparable with for example the Spanish Costa's or any other well-known European holiday retreat. The rest of Langkawi is mostly peaceful and tranquil. The best way to discover the island yourself is by renting a motorcycle (or a bicycle for active people; beware of steep hills and monkeys on your trips). Don't want to do the work yourself? Just arrange a cab and let de driver take you around the island.
Why Penang?
Penang is less beautiful then its neighboring island Langkawi. In contrast to what many travel agencies let you believe, beaches surrounding the island a not that great. I always warn tourists not to go to Penang for beaches and the sea only. Although the island is often referred to as the Pearl of the Orient this has nothing to do with crisp beaches or tropical sea's. The name does however refer to many other great highlights. For one, the island is very attractive for people who want to discover all parts by motorbike, which you can rent for as much as RM60 a day (around 15 euro's or 20 dollars).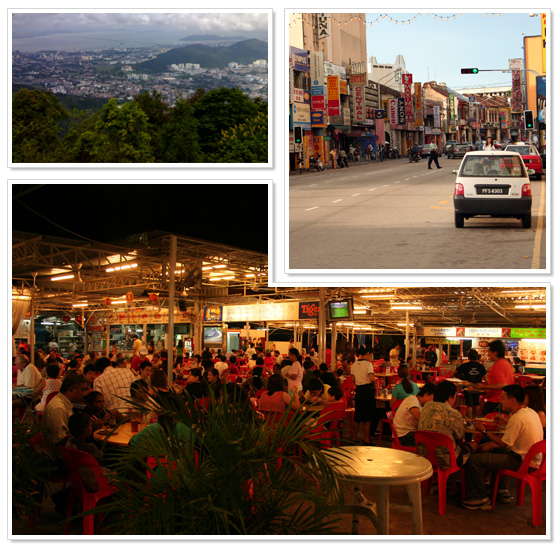 The island also is a great example of the multicultural roots of Malaysia. This is partly because of diversity of races (and the high percentage of Chinese people on the island). This also gives the island the very distinctive Asian atmosphere (especially the capital city Georgetown can be very hectic at times).
Penang however is especially renowned for its great food. On every street corner you can find food courts or hawker stalls where you can eat as much as you can for bargain prices (with a couple of dollars you can eat until midnight). Should you visit Penang, it's best to stay at the small but great costal beach town Batu Feringghi. Here you can find numerous hotels, resorts, pubs and restaurants along the boulevard. Center of attention lies at the nightly pasar malams (night market), were you can stroll along the strip to find nice bargains. They sell everything here, from DVD's to cheap clothing, from travel bags to fake watches.
Another great aspect of Penang are the shopping facilities. Especially around Georgetown you can shop till you drop in numerous huge shopping malls. Here you can buy the real deal, compared to the night markets. The best malls are Plaza Gurney, Island Plaza and Pranging Mall. Langkawi differs on this point, that island only has two fairly small shopping malls.
As mentioned before, Penang has a lot of tourist attractions. The list goes on and on, but the following attractions are especially worth a visit: Penang Hill, Tropical Fruit Farm, Butterfly Farm, Canopy Walk, Botanic Gardens, Snake Temple, Kek Lok Si temple and the small snorkeling and scuba diving island Pulau Payar.
Subscribe now to never miss a post!
Subscribe to our email updates or join us on our Facebook page, right now!
Travel related questions can be asked in our Telegram channel or in our Travel community.