One of the best ways of experiencing a country is through its food and this sentiment cannot ring truer than here in Malaysia; a nation whose inhabitants have many a time declared eating as its unofficial national pastime.
While our street food comes second to none and is gloriously accessible to travellers and locals itching for a taste of Malaysian flavour, there are plenty of cooking styles that you won't necessarily find at the pasar malam across the street. From age-old Nyonya recipes to disarmingly simple kampung-style cooking, the cuisine of our nation is as colourful and diverse as the personalities of its inhabitants.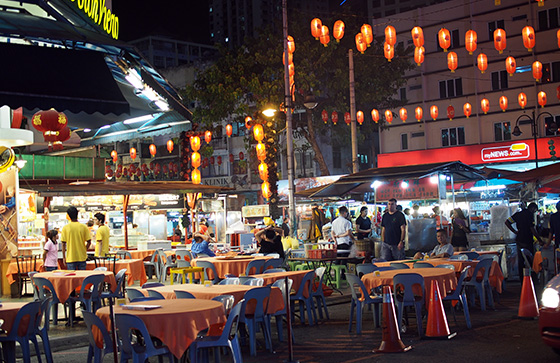 So we urge you, the curious traveller, to bid adieu to the sterile backpacker hostel breakfasts of limp toast and synthetic strawberry jam, and to come with us and partake in a sensory experience of traditional Malaysian dishes that stray off the beaten foodie path.
Read on below to discover five examples of authentic and not-so-typical Malaysian dishes: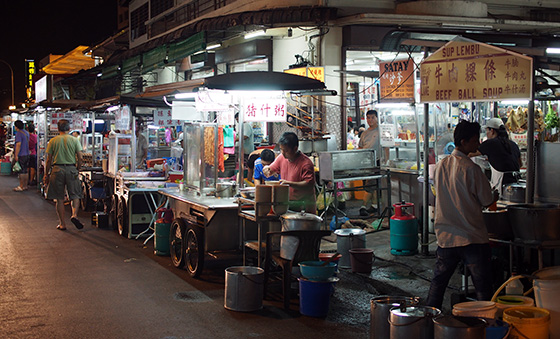 Ikan Patin Masak Tempoyak
Who would have guessed that something made primarily from the fermented flesh of the already pungent durian and fish could be so darn good but there you have it. While tempoyak is a popular ingredient in traditional Malay-style cooking, this dish still stands as proof that even the most unexpected combinations can come together and produce magic.
Typically made with ginger, fiery bird's eye chillies, turmeric and daun kesum (Vietnamese corriander), the tempoyak simmers down into a rich broth in which the fish is cooked in. Served over fluffy white rice, this curry is flavourful and unabashedly Malaysian.
Laksa Sarawak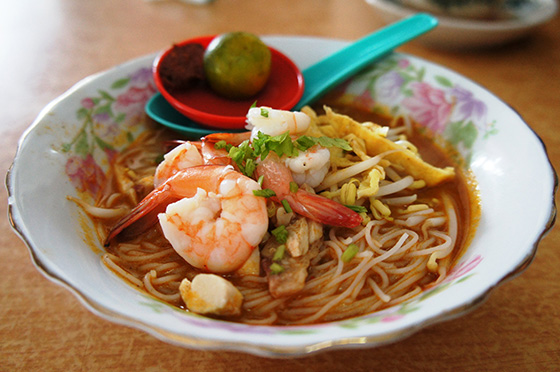 There's something inherently satisfying about slurping down a steaming bowl of soupy noodles after a long day and in instances like these, laksa Sarawak is food for the soul. The epitome of Malaysian-style comfort food, it comprises of thin vermicelli noodles cooked and served in a prawn-based stock and generously garnished with shredded chicken, fresh bean sprouts and thin strips of omelette all served with a side of chilly paste. What really ties everything together is a squeeze of lime juice that does a heck of a job at enhancing the strong flavour profiles.
Once a hidden treasure that could rarely be found outside the eastern state, the laksa has been gaining momentum outside of Sarawak and can be found in quite a number of hawker stalls and restaurants specializing in Sarawakian cuisine.
Daging Salai Masak Lemak
Smoking does wonders to meat and adds a whole new dimension of flavour that renders even the pickiest of food critics weak at the knees. Daging salai masak lemak is essentially cuts of smoked, fork-tender beef cooked in a punchy, creamy gravy made from coconut milk, lemongrass and chillies. Think of it as a green curry that's been kicked up a couple of notches. To sample this specialty in its most authentic form, make your way to Kuala Pillah; a town in Negeri Sembilan dotted with Minangkabau style architecture and sleepy villages.
Kiam Hu Kut Gulai
Nyonya curries are the stuff of legend here in Malaysia and this dish is a firm favourite amongst foodies with a soft spot for traditional home-cooked fare. Kiam Hu Kut Gulai roughly translates to salted fish bone curry and is a staple in family meals made from recipes that have been passed down through generations. The tart sweetness of pineapples mingle with the savoury elements of fried salted fish bones, chillies and fragrant lemongrass to yield a chunky, aromatic stew laden with eggplants, long beans and prawns. A textural treat for the senses.
Sago Gula Melaka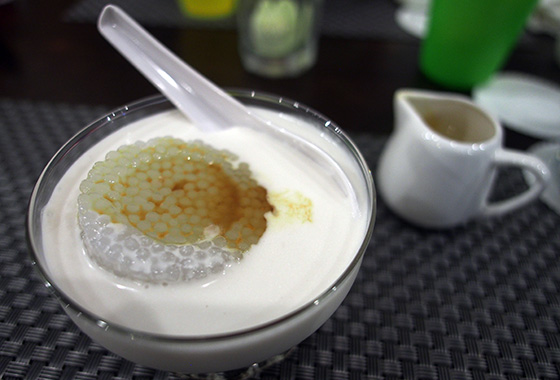 To end things on a sweet note, we're rounding off this list with a popular dessert amongst Malaysians. Sago gula Melaka is a Peranakan dessert that traces its origin back to Melaka, a state that sits on the southwest coast of Malaysia with a food heritage as rich as its history. Typically served chilled, this treat is the perfect warm weather pick-me-up and is made up of chewy tapioca pearls drenched in salty-sweet coconut cream sweetened with a thick, smoky palm sugar syrup and scented with pandan leaf. Enjoyed by children and adults alike, the flavours here are simple,well-balanced and wonderfully refreshing.
Now armed with a list of must-try delicacies, go forth into food paradise and experience a food tour of Malaysia like never before.
Subscribe now to never miss a post!
Subscribe to our email updates or join us on our Facebook page, right now!
Travel related questions can be asked in our Telegram channel or in our Travel community.