A helipad refers to an area or platform for helicopters to land or takeoff, but the helipad that located at Menara KH in Jalan Sultan Ismail, Kuala Lumpur is more than just a landing spot for aircraft. Believe it or not, it is also a rooftop bar that bears the name as Heli Lounge Bar.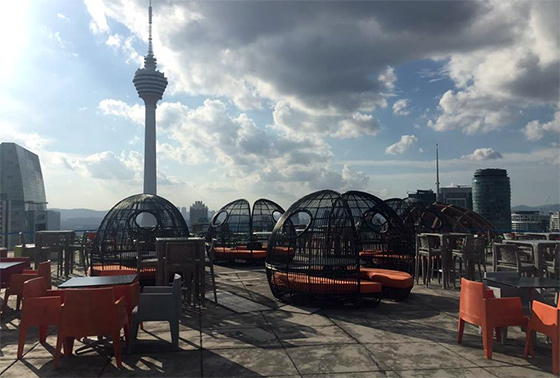 On the 34th floor below the rooftop helipad, the bar features an aeronautical theme that comes with plenty of unique features upon entering the premise. It has a DJ console that is specially built from the components of an actual Boeing 747 turbine, and a refurbished Boeing 737 cabin seat that brilliantly turned into a sofa. If that's not enough, you can even see plane propellers attached against the wall, as well as a Beaver model airplane hanging atop the ceiling. Even waiters serving the customers are dressed in pilot uniforms. The floor is mainly consists of black-and-white tiling, along with black wall and red curtains. The overall furniture, such as chairs and tables, also favours more onto black-and-white motif.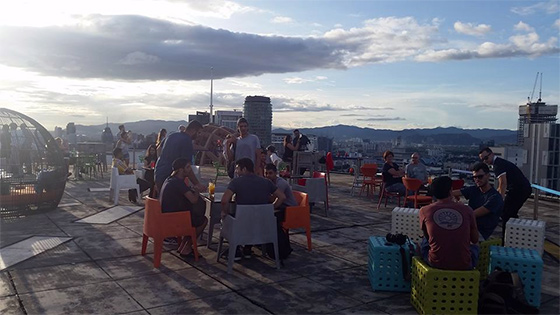 In terms of food and drink, Heli Lounge Bar offers basic finger foods such as buffalo wings (known as "Heli Wings"), chips and hot dogs and also main course like mushroom chicken and grilled salmon. Drinks are mostly comprised of beers, wine and cocktails such as mojito and lychee martinis. Jazz music can be heard in the background during happy hours, whereas regular hours are more onto house and R&B selections. On certain nights, working professionals including banking employees, flight crew as well as oil & gas crew are entitled for special discounts. On Thursdays during Ladies' Night, female customers can enjoy discounts over any cocktail offerings available from the menu.
However, the true highlight for the Heli Lounge Bar is the barrier-free helipad itself. Located two floors up at the 36th floor, customers are required to climb two flights of stairs to reach to the top. From there, customers can enjoy the spectacular 360-degree view of the Kuala Lumpur cityscape such as the Petronas Twin Towers and KL Tower while sipping their favourite drinks and savouring foods. There are few portable chairs and tables provided on the helipad as well.
Location and contact details
Level 37, Menara KH, Jalan Sultan Ismail
Kuala Lumpur, Malaysia
Age Limit – 18 Years and above
Dress Code – Smart Casual (Applies after 9pm Daily)
No Short, No Slippers, No Sleeveless Tops
Phone: +60 3-2110 5034
Email: [email protected]
You can also contact them through their Facebook page.
How to get to the Heli Lounge Bar
Take the monorail to Raja Chulan Monorail Station, or take a cab to the entrance of Menara HK.
Map Heli Lounge Bar
Subscribe now to never miss a post!
Subscribe to our email updates or join us on our Facebook page, right now!
Travel related questions can be asked in our Telegram channel or in our Travel community.