The best breakfast suggestion place is at Fook Yuen is available at three places that is Damai, Kolombong and also at Jalan Sagunting(Gaya street). Nothing best compared to a cup of coffee and a piece of toasted bread in the early morning or evening tea. Head over to Fong Ip café for breakfast on a Sunday morning.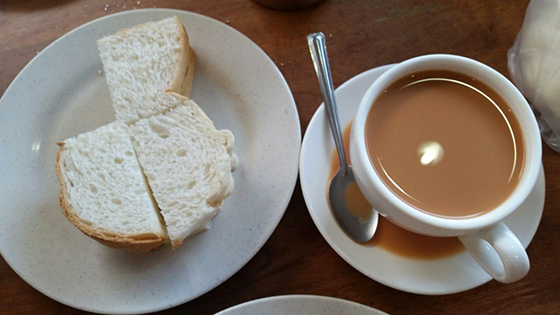 Bread and a cup of Teh-C at Fong Ip Cafe
In case you want to try hand-made noodles, then go for duck noodle or Tuaran noodle. The texture of Tuaran noodle is special handmade yellow egg noodles that uses only egg yolks, which is different than normal yellow noodle.it is normally fried with beaten eggs, slices of barbequed or non-barbecued pork, slices of sweet barbecued pork or char siew, chun kien (known as egg rolls). FYI, chun kien is made of minced pork and wrapped with thin slice of egg. Meanwhile in Kedai Kopi New Mui Vui, is this famous Guo tie (dumpling) dip in vinegar or ginger sauce. The main ingredients of the Guo tie are cabbage and grounded meat.
For dinner, visit Da Jia Lai Restaurant in Bundusan area. And another branch is situated in Asia City. Those who fancy of seafood should order Dong Feng Luo (东风螺) fresh from the tank you can choose which seafood that you desire.
Another place of suggestions for seafood is:
Supertanker
Salut Seafood Restaurant
Located in Jalan Laiman Diki, Kanpung Air, Restoran Sri Melaka is one of my favourite place to eat during childhood. It is famous for baba nyonya cuisine. One of favourite dish is the sayur pucuk manis dried shrimp.
Hmm.. now, thinking what to buy for souvenirs? I suggest buying some key chains from Gaya Street. I personally love to come here to have a walk in the early morning of Sunday because it's morning market is only available on Sunday.
In case you want to have some fruits, let's go for Tarap fruit is a type of local fruit in sabah named Marang in Philippines. Want to buy some food stuffs, go to the Filipino market. Buy Kuih Cincin. Small packets may cost around RM5. Meanwhile, try another famous crackers which is the keropok amplang. It is made of fish paste.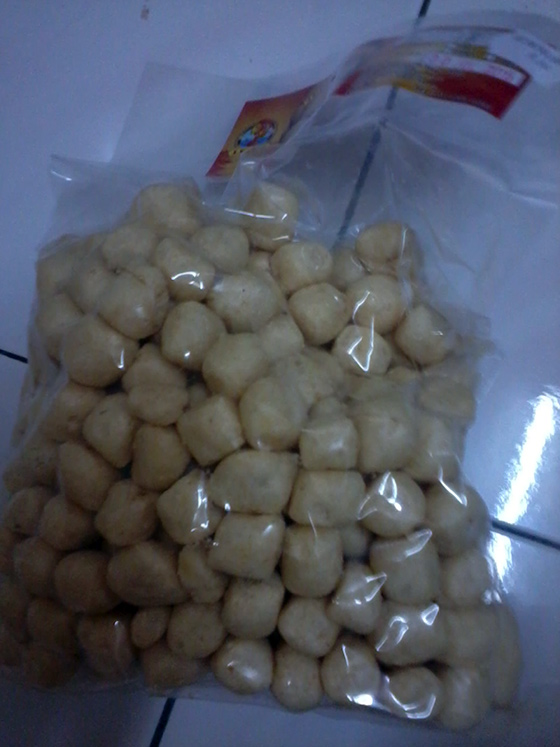 Keropok Amplang
Wanted to have steak for lunch or dinner? Then choose Upperstar. Why? Because it offers an affordable price with wide ranges.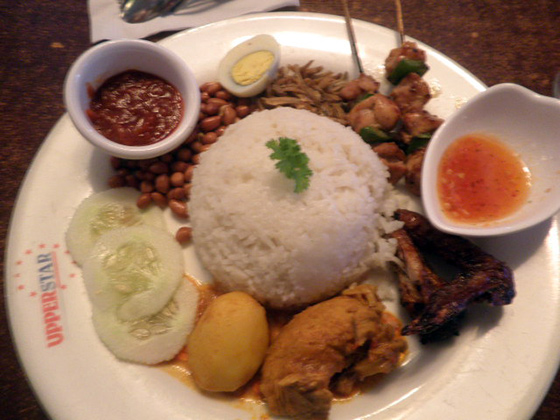 Nasi Lemak
Besides, Kota Kinabalu Food Festival is held every year. The purpose of the festival is to discover and promote different varieties of dining experiences. Want to do some Shopping or eating, then go 1 borneo, Suria sabah or Imago, the newly opened shopping mall.
P.s: Do visit Rumah Terbalik (the Upside Down house) as well…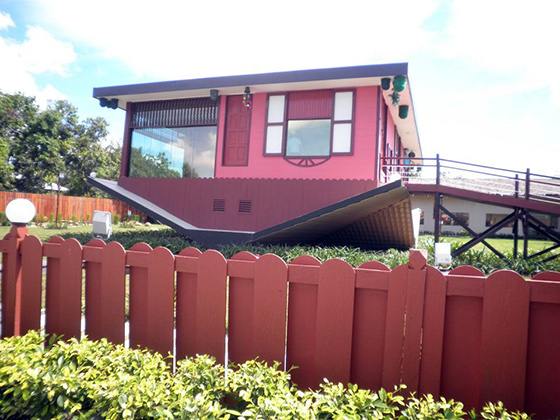 About the author
Karen Khong is blog owner at karenkhongs.blogspot.com. She loves eating, travelling and exploring new things during her free time. She holds a BA majoring in Software Engineering at UNIMAS.
Subscribe now to never miss a post!
Subscribe to our email updates or join us on our Facebook page, right now!
Travel related questions can be asked in our Telegram channel or in our Travel community.