We were introduced to Chat Masala by our friends some time ago and visited the place numerous times since. Nowadays it ranks among our top favorite local places to enjoy a great lunch. Chat Masala is the restaurant that showed me how amazing Indian vegetarian food can be (opposed to some other vegetarian places in KL I have visited). The restaurant is located in Brickfields, also known as Little India (a 2nd Little India as there is also one in the Merdeka Square & Chinatown area). The restaurant is in walking distance of KL Sentral, right next to Chat Masala is a KFC. We always find the service very good, staff is always friendly and there is no difference in treatment if you are local or tourist. I think the place is mentioned in a travel guide (Lonely Planet perhaps?) as nowadays we see much more tourists in the restaurant.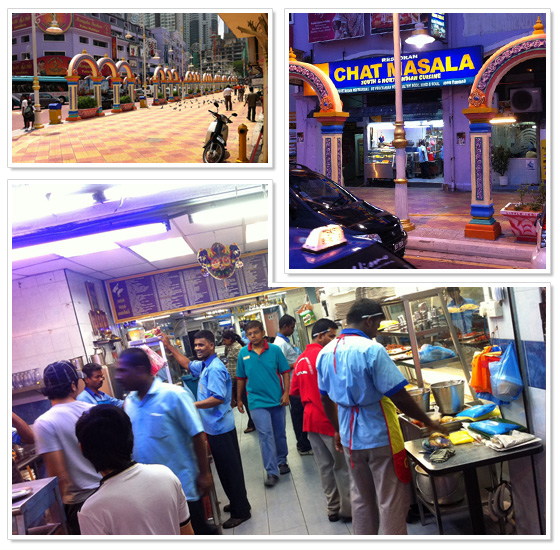 Chat Masala serves numerous chicken, fish and mutton dishes; all are very delicious and sometimes you don't even notice that you are eating a vegetarian version of these typical Indian dishes. Our personal favorite dishes are; Paneer Butter Masala, Collieflower Gopi 65, Gopi Machurian, Chicken Manchurian, Chilli Chicken, Mutton Varuval and Chicken Masala. Next to that they also have nice roti canai and thosai. You can also choose to eat their standard banana leaf briyani rice set.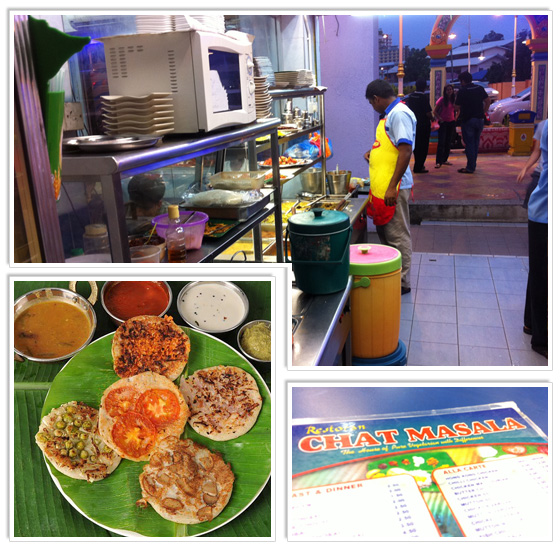 The negatives
The only things we can think of are the lousy traffic conditions around Brickfields. Many times a day there is a traffic congestion right in front of the restaurant, which makes it not so easy to reach by car or taxi. If you are traveling by public transport, this is not a problem though you have to walk about 10 minutes from KL Sentral (or monorail stop KL Sentral) to the restaurant.
Another thing that might be interesting to know is that many of the spices used in the typical Indian dishes come directly from India. Especially tourists might not have the stomach to deal with these spices. Still we think the food is worth it :).
The positives
So far every dish we tried was very nice. We never ordered something that we liked less. When we first came there our local friends introduced us to some of the more popular dishes. Later on the staff also advised some nice dishes. The atmosphere is nice, and the quality of the food is great. Chat Masala itself is a pretty simple and basic restaurant; you'll have a nice local experience. Prices are very decent; most dishes are RM6, while its bigger version costs RM12.
Verdict
We love Chat Masala and never miss a chance to bring people we know to the restaurant. Coming with more people has the benefit that you can share more dishes, though you can easily have a nice lunch with only two persons. The friendliness of the staff is also a great plus, but most of all we really like the fantastic Indian vegetarian food. We rate it a very nice 8/10.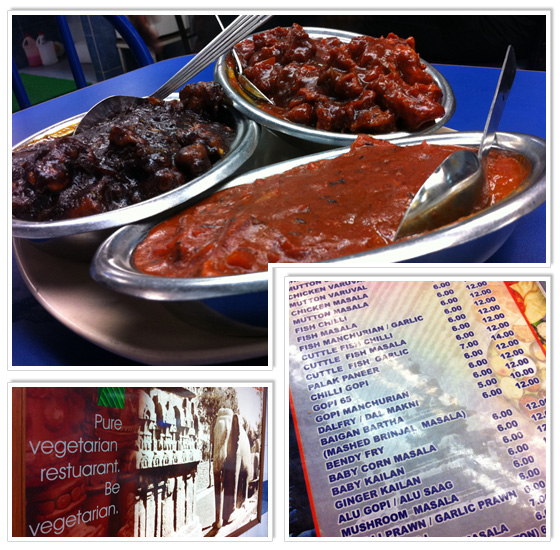 Contact details
Restaurant Chat Masala (halal)
259G Jalan Tun Sambanthan
Brickfields
Kuala Lumpur
Tel: 03-22603244
Opening Hours: Daily from 7.30am to 11.30pm (Wednesdays 3.30pm – 11.30pm)
Website: http://www.mychatmasala.com (Facebook)
Map
Note: Reviews are subjective in nature. What we find fantastic others may find atrocious. Some don't mind waiting for a few minutes, others would have left by then. Some don't care about a minor mishap in service; others don't visit the place ever again. Try to read through the subjective parts and decide for yourself whether you do or do not want to visit the place!
Subscribe now to never miss a post!
Subscribe to our email updates or join us on our Facebook page, right now!
Travel related questions can be asked in our Telegram channel or in our Travel community.