Today we visited a nice local Chinese restaurant in OUG, along Old Klang Road or Jalan Klang Lama. The restaurant is quite easy to find as at that particular block there are only about three restaurants in business during the evenings. We actually went to this location before, to have Dim Sum at their neighbor three doors down.
We came without any expectations. Normally we are already told what to expect, but this time the only thing our buddy said was "be there at 7.45pm, take the u-turn at Pearl Point (which is not allowed but we did anyway) and park somewhere at the next block of shops". We parked right in front of the Public Bank and though the place was packed outside (inside it was empty, probably because it is quite warm there with all the cooking going on in the kitchen in the back) we found a table.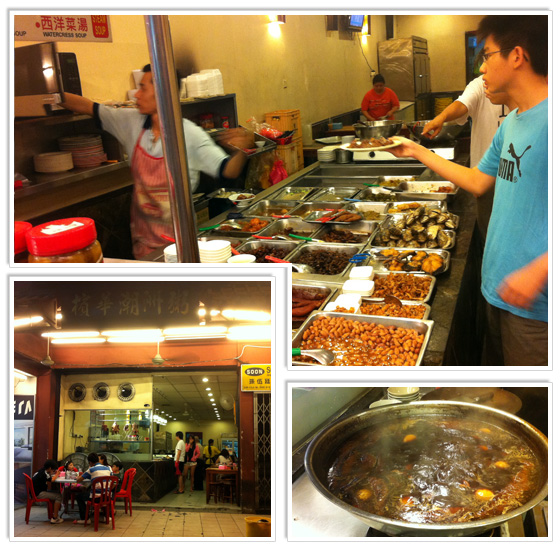 The Negatives
The place is very local and quite basic. The dishes vary, one time you get the best dish ever, another time you're thinking by yourself "did I have this last time?". Sometimes you have to wait a bit before new dishes arrive. In our case all meat dishes were available, but none of the vegetable dishes were. No real issue, as it took them 5 minutes to prepare the veggies.
The Positives
A few of the dishes were very nice. We really enjoyed the deep fried minced pork. Funny about that was that we ordered a second round and that plate contained minced pork that was much more moist; we liked the dry version we had at first better. We loved the omelet, though it was quite salty. The fried tenggiri (mackerel) was really nice, can't have enough of those while my friends don't really get my love for dry mackerel :). Other dishes we had were French beans with garlic, teow chew, lap cheong (Chinese sausage), braised peanuts and boiled eggs.
Verdict
Restaurant Peng Hwa is a nice place to enjoy a local Chinese meal. It was quite crowded so they had to refill many of the dishes. Staff was friendly and the price was really nice. We paid less than RM20 per person for a full table with 8 dishes (+ 4 refills) and 6 drinks. For us that is a very nice price. Tourists will probably think they had the cheapest Chinese meal ever :). I always like these small shops along Old Klang Road, Peng Hwa is one of these. We are definitely no experts on Chinese food, but we all really liked the meal we had over there.
Contact details
Restaurant Peng Hwa (non-halal)
No 19A
Jalan Klang Lama (Old Klang Road)
Batu 4 1/3
58100 Kuala Lumpur
Opening hours: Daily from 11am to 5am!
How to get there
The restaurant is located along Old Klang Road. If you're coming from the city center you have to drive all the way to Pearl Point. You can do a u-turn at Pearl Point, or a little bit further down the road. From Pearl Point it is only a 100 meter drive until you see the Public Bank at the corner of a block with about 10 shops. Usually only two or three are opened in the evening, the first one seen from the Public Bank is Peng Hwa.
Map
Note: Reviews are subjective in nature. What we find fantastic others may find atrocious. Some don't mind waiting for a few minutes, others would have left by then. Some don't care about a minor mishap in service; others don't visit the place ever again. Try to read through the subjective parts and decide for yourself whether you do or do not want to visit the place!
Subscribe now to never miss a post!
Subscribe to our email updates or join us on our Facebook page, right now!
Travel related questions can be asked in our Telegram channel or in our Travel community.