On any visit to Malaysia it is essential to visit Kuala Lumpur. The chances are that, if you'll be flying here for your trip, then you'll be landing in the capital city anyway, so be sure to leave yourself plenty of time to explore this incredible place before heading off to your next destination. Although the landscape isn't quite as lush here, the incredible skyline more than makes up for it. Here are some of the places that you're bound to fall in love with.
Adventure Through the Batu Caves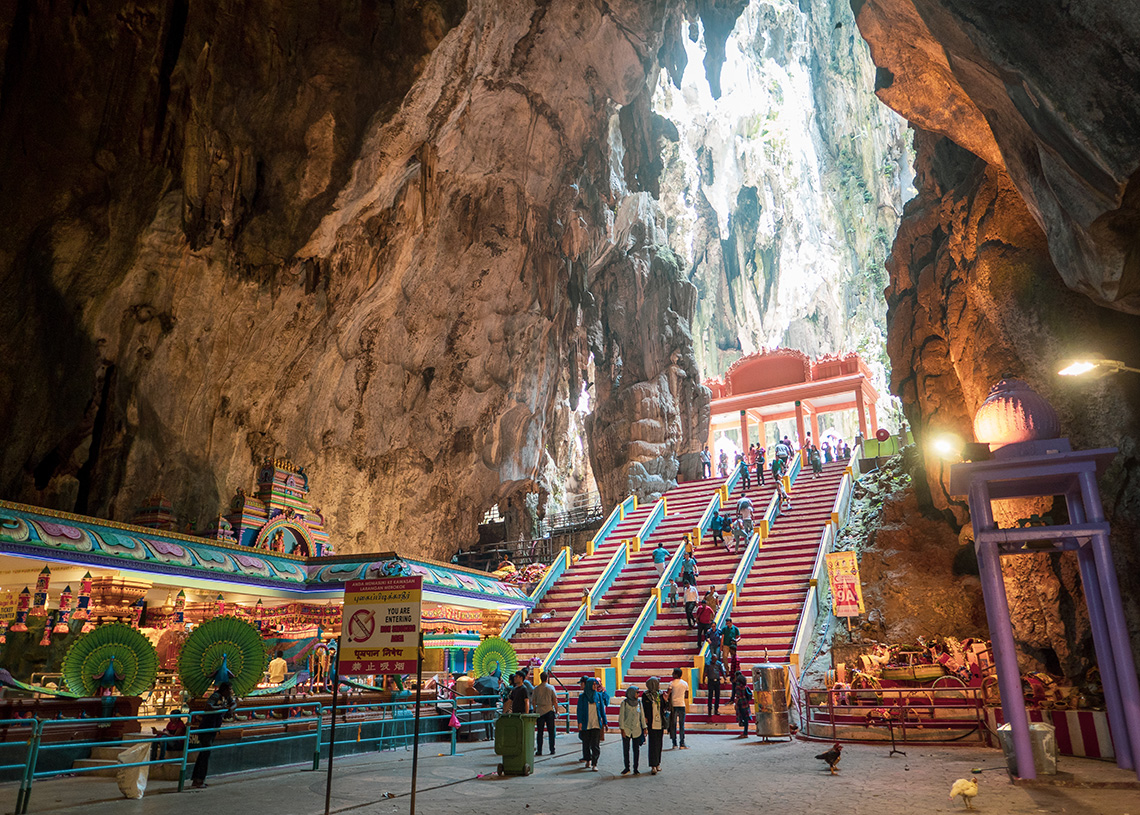 Climbing to the temples in the caves is a challenge, but it's worth the effort
If you're feeling adventurous then take a trip out to the suburb of Selangor. Here you'll find the Batu Caves, a fascinating network of caves and temples carved out of a limestone cliff face. The temples are Hindu shrines which are still used by the local Tamil residents. Take a trek through the caves and spot local flowers and shrubs as well as the occasional monkey if you're lucky! Bats also live in these caves and, even if you can't quite spot them, you'll be sure to hear them. If you're not exercised out yet then there are many opportunities for keen rock climbers including more than 160 different climbing routes. Perhaps you could be the first person to try them all in the space of your visit!
Visit the Sri Mahamariamman Temple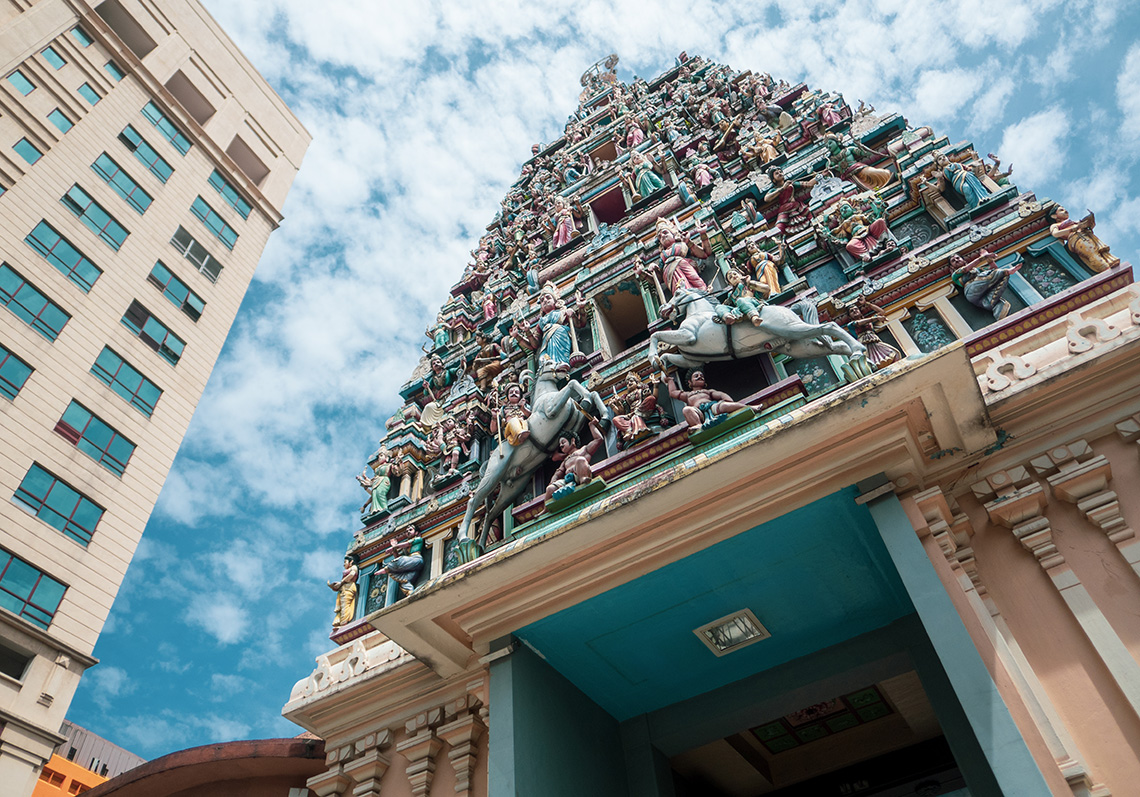 First on the must see list is the oldest Hindu Temple in the whole of the city. Sri Mahamariamman was built in the nineteenth century and it's architecture is truly breathtaking. The facade is brightly coloured and richly decorated with Hindu deities. If you look closely you can see them acting out famous stories. Whilst the outside of the temple is staggering, it's equally fascinating inside. The temple is still in use, so the local Tamil community frequent it and might be happy to answer a question or two. Be sure to check out the grounds also, because they are beautifully manicured and can provide a relaxing oasis in the heart of the city.
Visit the Genting Casino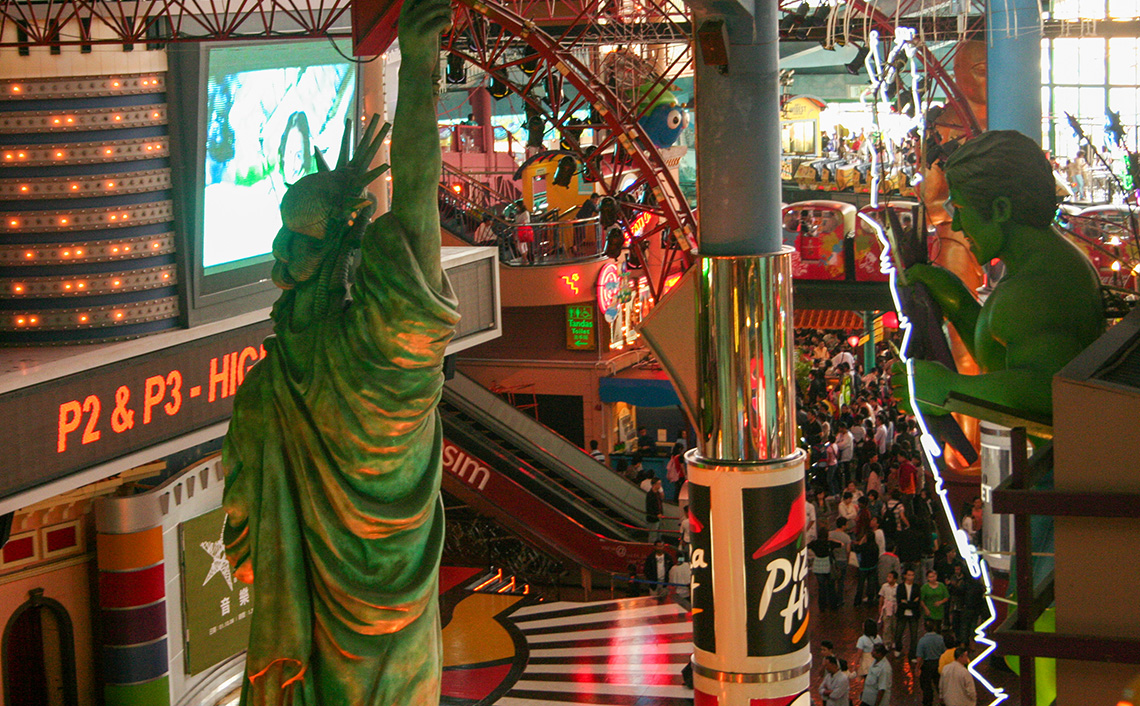 Although Malaysia has had a complex history with betting, it's now totally legal and Kuala Lumpur boasts the country's largest casino. Genting Casino was built in 1971 and was the first land based casino in Malaysia; to this day it attracts thousands of visitors every year. If you're the kind of person who usually sticks to online sites such as Ufabet, then a visit to the Genting Casino can be an exciting alternative way to spend an afternoon. There are a wide variety of machines to choose from, as well as card tables and the option to bet on plenty of sports. If you're looking for fast paced fun then this is the place for it.
Besides the grown-up stuff like the casinos, there's also much to offer for travelling families. The whole Genting complex is filled with attractions and activities for all ages, like theme parks, play zones, a big shopping mall, numerous f&b outlets, an escape room, snow world, a huge bowling alley and much, much more.
Visit the Petronas Towers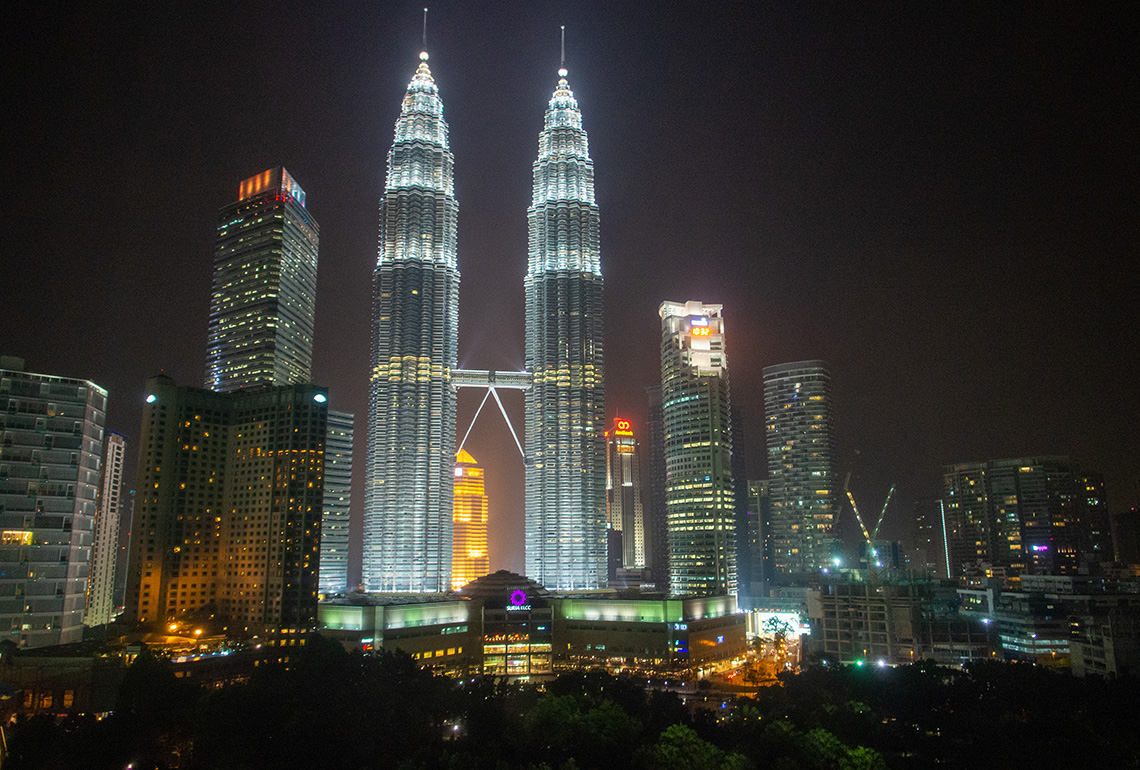 The Petronas towers are even more dramatic when viewed at night
If you are fortunate enough to be at a vantage point in Kuala Lumpur then one of the attractions you cannot miss is the Petronas Towers. These architectural behemoths are the tallest twin towers in the world and feature an enchanting blend of post modern construction with traditional Islamic design. Though the towers are indeed spectacular to look at, they're perhaps best experienced from the famous sky bridge that links the two together. From this bridge you have one of the best views in the country, looking out from an incredible vantage point onto the city below.
Eat at Limapulo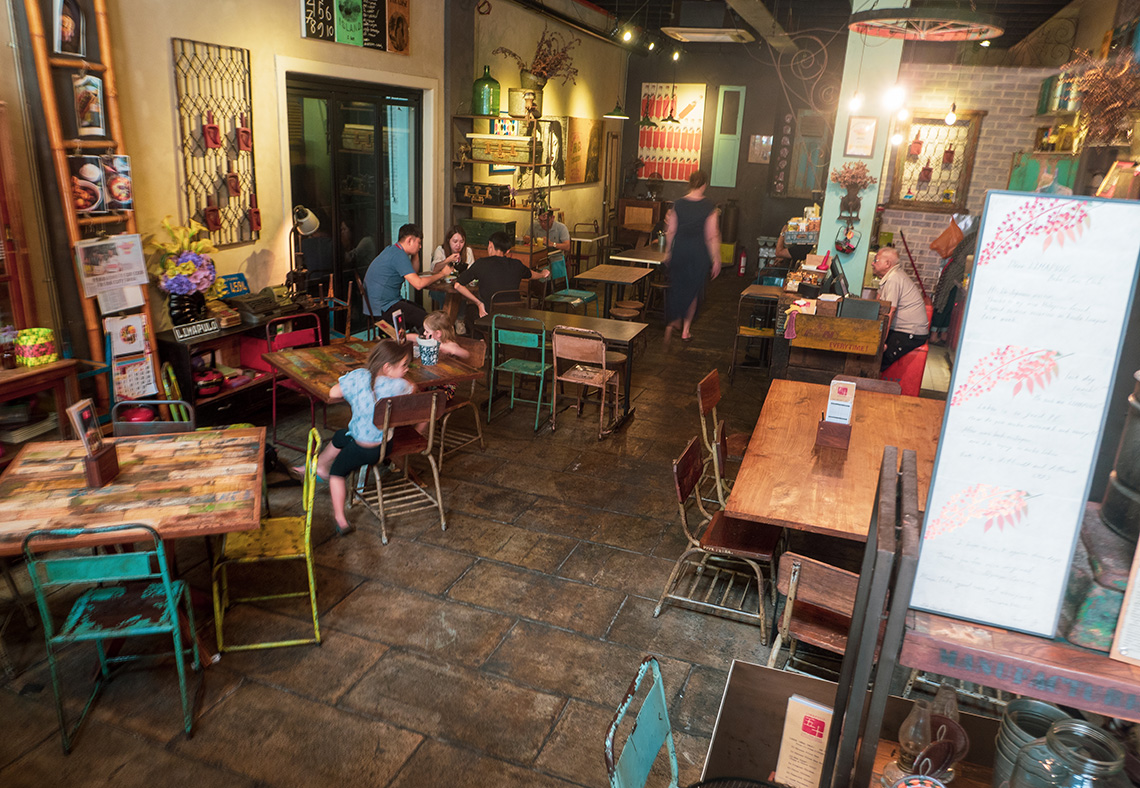 If all of that exploring has left you feeling a little peckish, then there are so many options for great food. First on the list is Limapulo, owned by Baba who is a true delight. This 70 something man is behind all of the cooking at Limapulo and his godson keeps everything else running smoothly. The outdoor area is a beautiful place to sit and eat, but if you prefer to stay out of the sun then the interior is almost as special. Their most famous dish is the Nyonya Laksa which is a spicy broth of boiled eggs, tofu, vegetables and, of course, noodles. Be sure to come only on a Monday, Wednesday, Friday or Saturday as the soup is only served on these days. If you do mess up and turn up on the 'wrong' day then fear not, the Nyonya Fried Mee Hoon is also delicious and consists of noodles fried alongside chicken, shrimp, eggs and vegetables. Delicious.
Swim with the Fishes as Aquaria KLCC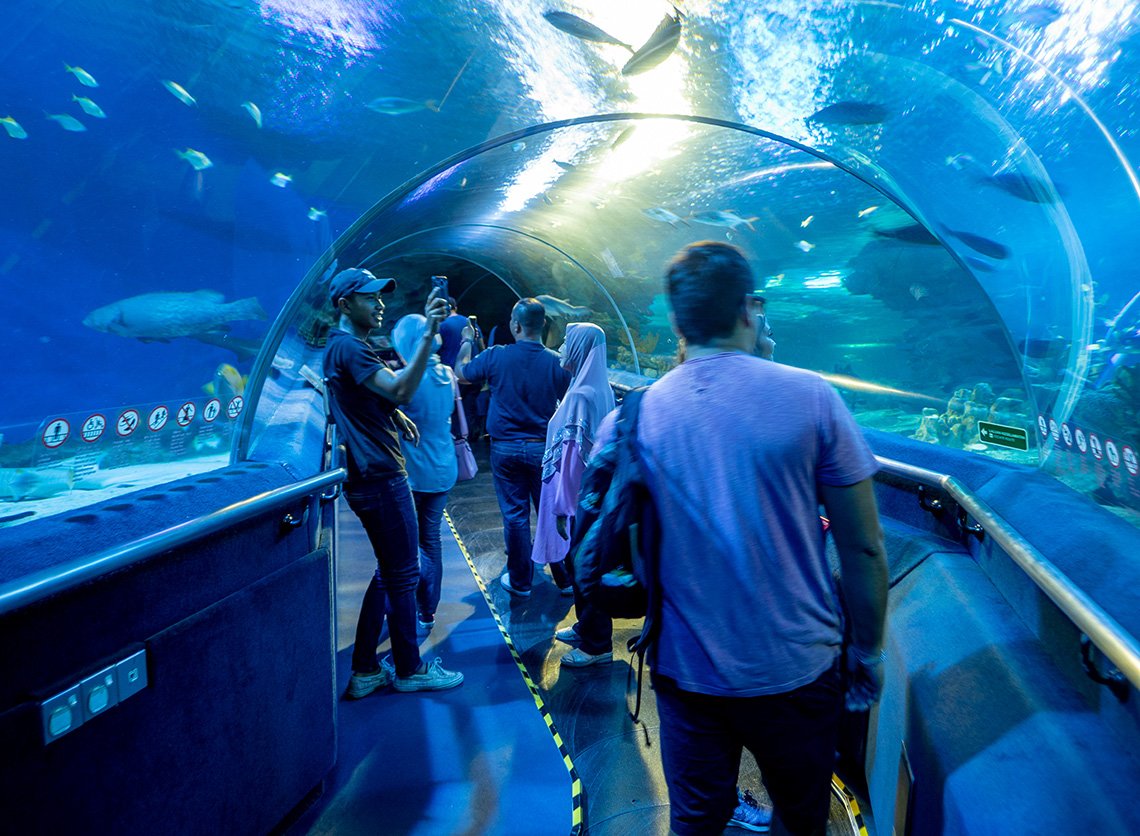 If you fancy getting the full under-the-sea experience without getting your toes wet, then Aquaria KLCC has got you covered. This oceanarium is in the Kuala Lumpur Convention Centre, so it's incredibly easy to find. The tanks span more than 60,000 square feet and are home to some 5000 aquatic creatures. The exhibits span from land right through to deep ocean and are presented in a way that is not only beautiful, but very educational. The 300 foot tunnel in the centre of the aquarium is undoubtedly the most special part of the experience and allows visitors to be surrounded by water and truly explore the depths of the ocean.
Rest Your Head
Kuala Lumpur has a plethora of hotels to choose from, and the comfort and convenience of having clean sheets every night and freshly laundered towels is certainly not to be sniffed at. However, one of the most special (and depending on how you do it, most affordable) ways of sleeping in the city, is by booking through Airbnb. Simple but fresh and clean rooms start at $12 per night, but for the best experience look to spend at least $30; the extra few dollars really make the difference. The other lovely thing about Airbnb stays is that you can stay for very short periods of time, allowing you to make your way around the country and have a different place to lay your head each evening.
Eat at the Kafe Old Market Square
If you've woken up from your rest with a hankering for a traditional breakfast then visit the Kafe on the Old Market Square. This building looks out on the Masjid Jamek Mosque, which is famous for its pretty architecture. The cafe has been here since 1906, but it's kept spotlessly clean and the original mosaic floors are really special. If you get a chance then have a closer look at the old photos on the wall as they're a really interesting slice of history. At breakfast time you can enjoy soft boiled eggs, Hainanese coffee and kaya (coconut jam) on toast. It's a traditional offering at this time of day and really is delicious. Of course, if you're visiting later on in the day then the Nasi Lemak is a must try. This is the national dish of Malaysia and consists of rice cooked in pandan leaf with coconut; it is served with crunchy peanuts, boiled egg, cool and refreshing cucumber, fried chicken and spiked with a dangerously hot chilli paste.
Subscribe now to never miss a post!
Subscribe to our email updates or join us on our Facebook page, right now!
Travel related questions can be asked in our Telegram channel or in our Travel community.