The Seven Wells (Telaga Tujuh) is a great attraction on the island Langkawi. The name of the water fall originates from the seven natural water sources which lie on top of the mountain. You can find the Seven Wells in the northwestern part of the island of Langkawi. After the ascent of a 600 meters high staircase you end up at the Seven Wells. If you are lucky, the wells are filled with water. If this is the case, take your swimming suit with you, so you can chill in one of the wells for a while. If you are not so lucky (especially during dry season) you will only find seven big dried up holes, with a small current. Nonetheless it is always a fun experience to get to the top of the staircase.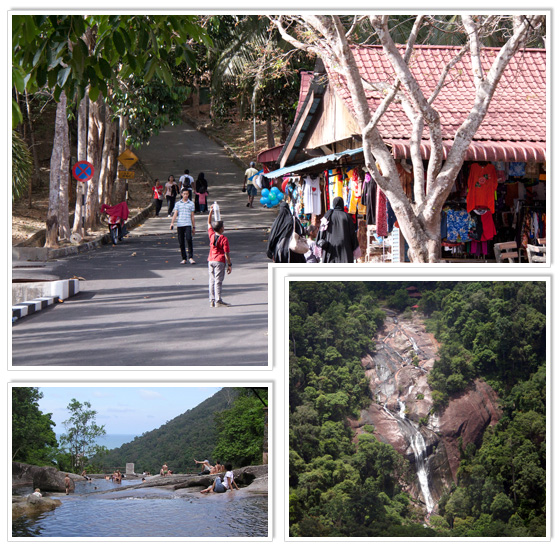 Halfway the staircase there's a junction to the left; here a path leads to the waterfall. Again, if you're lucky you'll find a great waterfall with an enormous amount of water falling down.
During your excursion to the wells or waterfall you may encounter some monkeys. Always be alert when you are face to face with them. The macaques that live here can be very aggressive at times. Always keep an eye out for your belongings, since the monkeys are eager to steal them. One time we witnessed a monkey stealing a bag from a tourist. In a flash the macaque ran with the bag into the surrounding forest. Only after a long search the guy found his bag and its contents. Lucky for him all his precious items were still there. The monkeys did however steal all food and drinks that were in the bag.
My own experience with the macaques at the Seven Wells was rather funny. At the beginning of the staircase you can find a couple of small shops where you can buy food, drinks and ice-creams. I bought a 'Cornetto' and was enjoying my ice-cream in front of the small shop. I was having a conversation with the store-owner and without noticing anything at all I suddenly realized my ice-cream was gone. I only had the wrapper in my hand, the cornetto was vanished. Nobody noticed at first where my ice-cream had gone, until the shop-owner looked up in the tree and noticed the monkey with my ice-cream. It all happened so fast, I didn't feel or hear a thing. Again a good example that shows you should really be alert when you're around monkeys in Malaysia.
Subscribe now to never miss a post!
Subscribe to our email updates or join us on our Facebook page, right now!
Travel related questions can be asked in our Telegram channel or in our Travel community.