I am planning to buy a digital (video) camera in Malaysia. What is the best place to buy a camera in Malaysia?
Tips on buying your video camera or photo camera in Malaysia
You can buy all types of electronics in Malaysia. Just like all other electronic devices the best place to buy a digital camera is in Kuala Lumpur (followed by shopping malls in Georgetown Penang). Especially at the popular shopping center Plaza Low Yat you can find the latest models of all famous brands. At this mall you can also buy all kinds of accessories and equipment for your camera.
I would advise to check out the available models on the internet first, before heading over to the shops in Malaysia. The best place to get an impression of what is available is at the following websites: DP-Review.com and Steve Digicams. Here you can find all information needed to make your choice up front. With this information in mind, you go talk to the store owners. Keep in mind that internet has become a very popular place to buy electronic devices. Not always are shops in Malaysia or Singapore the best places to buy a camera, prices often are very good on the internet. Make sure you check those prices up front, so you know whether it's worth buying the camera in Malaysia or Singapore.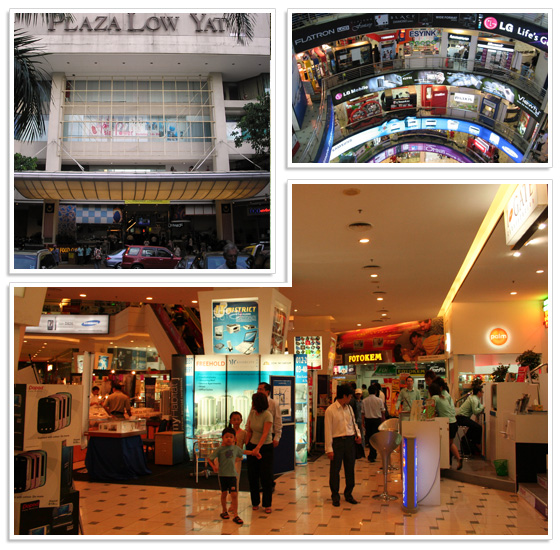 The best course of action when entering the shop would be to simply look around like you're not really interested. One of the salesmen will probably notice you (especially if you look like a tourist), and will come to you trying to sell you a camera. Just have a casual talk, do not let him know you already know what model you are planning to buy. After the small talk, let him or her show you some models and start bargaining for a good price. A good price is not always the lowest price. In Asia it is very common to talk about extras instead of lower prices. This means you can bargain about some extra accessories or some nice equipment for your camera. If you're not interested, head over to the next store and try your luck there. Often the salesmen will make a better offer if you try to leave the store.
A great tip for a real bargain is to take a local Malaysian you know to the store. Let him or her do the talking. It's common knowledge that tourists pay higher prices for products in Malaysia and Singapore. If you bring along a local, you should stay away from the store yourself. Generally a local can get real bargains. This goes for camera accessories and equipment too. Moreover, prices of accessories and equipment like batteries, lenses and camera bags usually are very cheap in Malaysia and Singapore, often cheaper than the usual internet prices.
A great shop is YL Cameras, located a bit out of KL City Center within the old Pudu Plaza Shopping Complex. They have a great range of cameras and accessories for real competitive prices. They also promote their products at Lowyat Forums (huge IT forums in Malaysia). Often they have the best price. You can also trade in your own equipment. Pudu Plaza lies just behind Berjaya Times Square (though too far to walk from BTS), a taxi brings you there in 10 minutes from the Bukit Bintang area.
Make sure you check out the guarantee provisions when buying products in Malaysia. Usually all well known brands have worldwide coverage, but this also depends on local coverage in your home country. For example; within Europe suppliers often stipulate that only products that were bought in Europe have full guarantee provisions and support. Always keep your receipts. It could come in handy when you go through customs.
Subscribe now to never miss a post!
Subscribe to our email updates or join us on our Facebook page, right now!
Travel related questions can be asked in our Telegram channel or in our Travel community.