Kuchai Lama Food Court (KLFC) is a very popular food court along Old Klang Road just outside of Kuala Lumpur. The food court used to be found at a different location, but was moved to this new area as it had much more space. This shows as it is a massive food court, with numerous stalls to get your food. Most of the stalls serve Chinese dishes, but there are also a few other styles; for example Thai cuisine, typical Sarawak dishes, Vietnamese cuisine, Japanese cuisine and Indian cuisine. You can get very nice pizzas at the small pizzeria.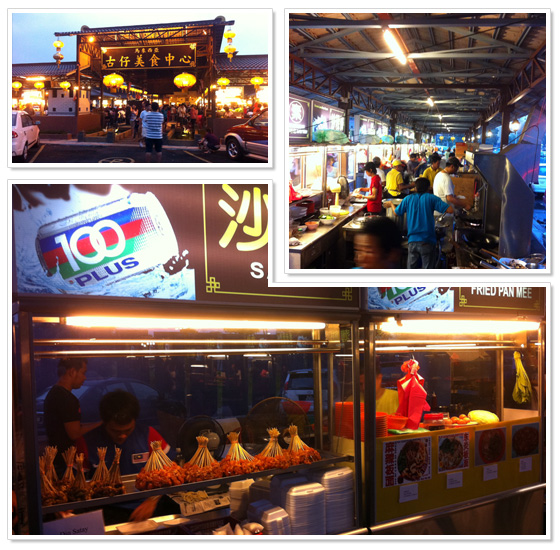 As usual we will start off with the negative aspects of KLFC.
The negatives
The main things many local visitors complain about are the high prices of the local dishes. Almost every dish is a few ringgits more expensive than at similar places. Tourists will not be bothered by this as the prices are still very low. We paid not more than RM5 to RM9 per dish.
Another thing that some may notice and find annoying are the 'beer ladies' that can be quite aggressive by refilling your glass after every sip of beer. We once ordered a few beers, and had to ask the ladies politely to not fill our glass after every small sip. Of course they do this so you drink more and order more from them. I assume their commission is based on how much beer they are able to sell each day. It can get really annoying as you have to ask not to refill after every sip numerous times as there are many different beer ladies running around the place (so once you asked one to stop refilling, another will show up and try the same).
There are not that much bigger tables and as the food court can get really crowded you have to sit at a small table to at least have a place to eat. With a small group a table can get really crowded in a very short time. Luckily you can move the empty plates to the big garbage bins.
Always get a table under one of the roofs. If you are sitting at the tables that are not sheltered you are out of luck when it starts raining. The sheltered tables will almost always be in use by others.
Parking can be difficult, especially during dinner time (7pm – 10pm) and it is even more crowded during weekends. A tip is to drive past the Nice Hotel and park the car at the spots outside of the food court.
The positives
Though the list with negatives seems quite long, most of the points described are not really a nuisance for tourists. Kuchai Lama Food Court also has many positive aspects; besides the many choices and great atmosphere it is also a very nice local place to visit. Tourists will find that they have had dinner at a unique non-tourist place in Kuala Lumpur.
Taxis will know how to find the place, as all of them are known with the area around Old Klang Road. Finding a taxi back to KLCC (city center) might not be so easy; you have to cross the main road (Old Klang Road) to get a taxi that already goes the right way. At typical taxi trip on the meter from KLCC would not cost more than RM15, but some taxi drivers might be reluctant to use their meter (un-metered fare will be around RM25).
We love the Milano pizzas at the pizza place. We also really enjoyed the Thai dishes, Dim Sum, Sarawak Kolo Mee, Vietnamese Lemongrass Chicken, Satay (nice but not the best ever), Carrot cake with Fried Oyster Egg and numerous other dishes.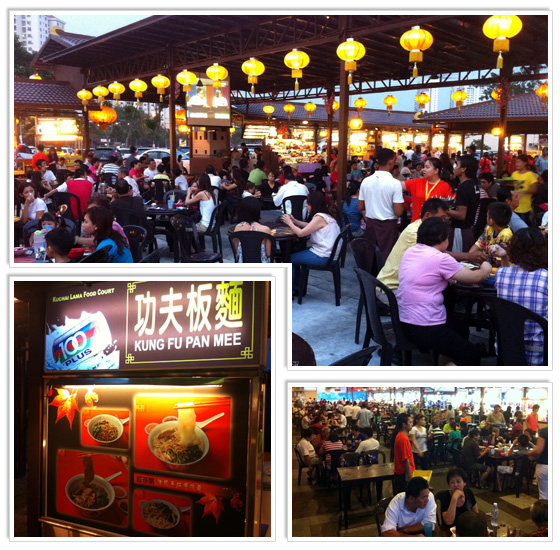 Verdict
Most tourists will find Kuchai Lama Food Court an amazing place to visit. It is very local and because of its size you will always find something to your liking. The atmosphere is very nice and especially during big soccer matches or formula 1 races the people really go up into the match (or race). The dishes are very affordable; you will have a great meal that consists of numerous local dishes for below RM25 per person including drinks.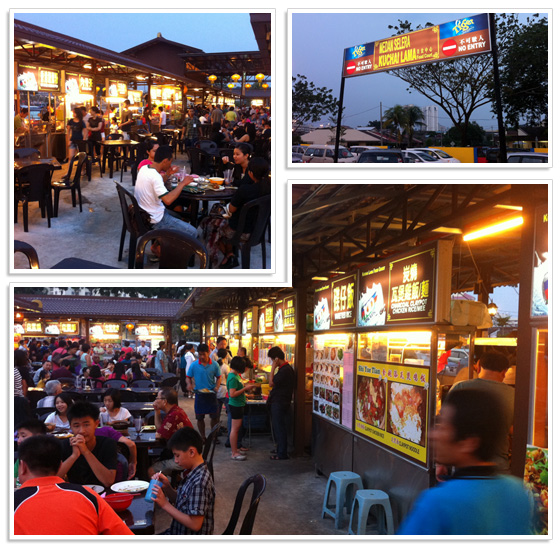 The quality of the food is good, though we would advice those that just arrived in Malaysia to stick to the more tourist places (like food courts within the shopping malls in KLCC) first. Though locals may state that they know better places for certain dishes, tourists will find almost every dish very tasteful.
KLFC has some similarities to other food courts we regularly visit, like Ming Tien (Taman Megah) and Asia Cafe (Subang Jaya).
We rate Kuchai Lama Food Court a very decent 7/10.
Contact details
Kuchai Lama food court (non-halal)
Jalan Awan Makmur (along Old Klang Road)
Taman OUG Square
58200 Kuala Lumpur
Opening hours: 24/7, though some stalls may close after midnight
Map
Note: Reviews are subjective in nature. What we find fantastic others may find atrocious. Some don't mind waiting for a few minutes, others would have left by then. Some don't care about a minor mishap in service; others don't visit the place ever again. Try to read through the subjective parts and decide for yourself whether you do or do not want to visit the place!
Subscribe now to never miss a post!
Subscribe to our email updates or join us on our Facebook page, right now!
Travel related questions can be asked in our Telegram channel or in our Travel community.